Five Easy Clicks = Total Website Protection
Overly complicated backup solutions wastes your time, productivity and causes unnecessary stress. With BoldGrid Backup, you can protect your website data with just five easy clicks. Enjoy automatic remote backups, protection from failed updates and more!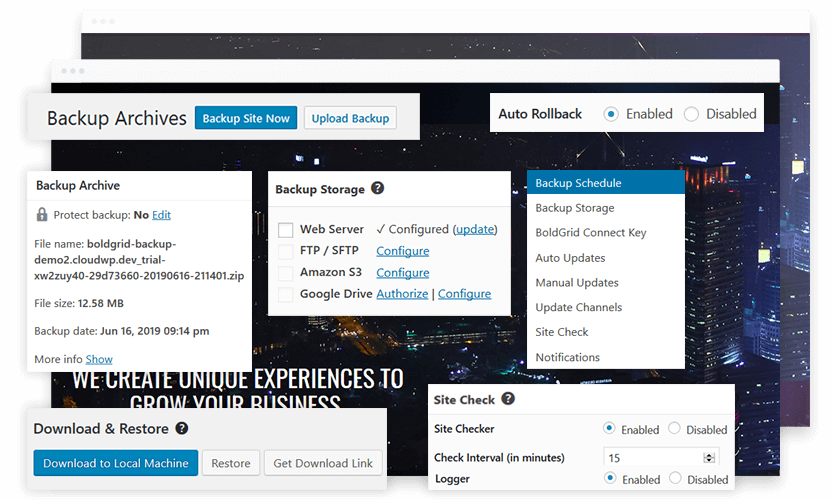 Partners & Supporters
1M+ People Have Experienced What We Have to Offer. Get Started Today!
"My website and hosting account got hacked, so I couldn't trust any of the local backups. With BoldGrid Backup Premium's remote backup feature, I was able to grab a clean archive from Amazon S3 and restore my site in an hour. It saved my business."
– Nemania Vujatovic, eCommerce Store Owner
A POWERFUL, FOCUSED TOOLSET TO HELP YOU PROTECT WHAT'S IMPORTANT.
Individual File Restorations
Backup Premium gives you the option to restore a single file within the backup browser.
Historical Versions
Search through all backup archives for a particular file and restore that individual file if necessary.
More Remote Storage Options
Store backups on Amazon S3 and Google Drive in addition to the free options of FTP / SFTP. All remote storage options are compatible with the automated backup feature.
Easy, Automated Backups
Just select a date and time and you're good to go! Download, restore and delete archives with a single click.
Automated Fault Protection
When activated, BoldGrid Backup will automatically create an archive before theme or plugin updates and will rollback your site to the last backup if an update fails.
Easy Site Migration
Install BoldGrid Backup on both websites, create a backup archive on the first site, then restore that backup on your second site. Use our "magic link" to automate the process.
Recently Modified Files
This feature allows you to search for all files modified within a certain time period. You can also look for other versions of that file within your backups.
Save a Copy Before Updating
When using the WordPress Plugin Editor function, Backup Premium will save a copy of the original file, just in case you need to undo any changes you make.
No one cares about your site the way you do. Give it the protection it deserves.
Use it on any website directly owned by you or your company.
Generally speaking, Backup Premium is compatible with any host that supports WordPress.
Get Premium Support, visit our official support portal, or join Team Orange — our official user group.