How to Create a Snap for Rapid WordPress Design
Once you've been in the business for a while, you know your routine. Spin up a new WordPress installation, grab your favorite theme, install all of your go-to plugins, and after all of that, you can start creating.
What if there was an easy way to skip right to the end and actually use your time designing websites? Cloud WordPress Snaps make it a reality.
What is a Cloud WordPress Snap?
Cloud WordPress gives you the ability to create brand-new, fully functional WordPress installations in seconds. Snaps give you the ability to create these new WordPress websites with a predefined Theme and set of Plugins.
Most WordPress design agencies have a workflow that includes installing their favorite theme and plugins whenever they begin a new website. Now you can save all of that time by simply using your Snap to spin up your preferred WordPress development environment.
How to Create your WordPress Development Environment in a Snap
Log into

BoldGrid Central

, then navigate to

Cloud WordPress -> My Snaps -> Create a Snap.

Choose your favorite Theme from the WordPress Repository, or use the Custom URL option to use any Zip file for your theme, then click

continue.

Select any number of your favorite plugins from the WordPress Repository, or use the Custom URL option to choose any Zip file, then click on

next step.

Name your Snap something easy for you to remember, and optionally add a description.

Click on

Save Snap.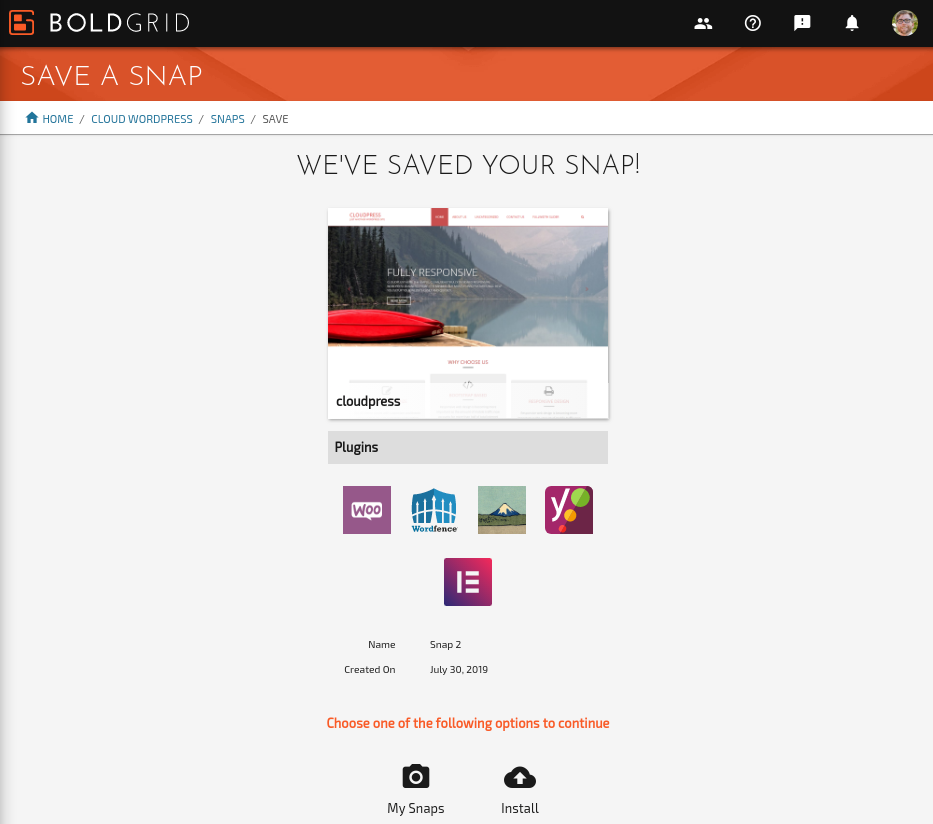 Once your Snap is saved, you'll be able to install this set of WordPress Themes and Plugins any time you need to create a new website! You can create as many Snaps as you like
SIGNUP FOR
BOLDGRID CENTRAL
200+ Design Templates + 1 Kick-ass SuperTheme
6 WordPress Plugins + 2 Essential Services
Everything you need to build and manage WordPress websites in one Central place.