How to use SEO-Friendly H1 Headings in the Crio WordPress Theme
The Crio WordPress Theme is engineered to be SEO-Friendly from the ground-up. Search Engine Optimization is a constantly evolving field, especially as the major search engines constantly update their algorithms to deliver the most relevant results to users. Google's search team consistently emphasizes one major rule for content creators— write your content for your readers, not for search engines.
One particular area that SEO experts agree on, is that H1 headings matter. A lot. It's generally accepted that Google will regard the H1 heading on any given page as the most important to the relevance of the content.
But don't take it from us, let's see what Google's Webmaster developer John Mueller has to say about the subject:
Why You Need to Use Your H1 Tags Deliberately
Wait, did one of the world's foremost experts on Google's search algorithm just say that H1's don't matter as much as everyone thinks they do? He even said you can have more than one on each page, as long as that makes sense for your readers! This is practically blasphemy to the ear of an SEO professional. But reading in between the lines, what he's saying is that H1's do matter, and as long as it makes sense for your users.
Using h1 Tags in Crio
In order to give you the most control over your headings, the BoldGrid Crio SuperTheme only uses one built-in H1 tag on your entire website, and only if you have your front page set to display a static page. If you are using a static page for your front page, then your Site Title will be displayed as an H1.
If you're using a logo instead of a Site Title, it will still be an H1, but it will not be visible to your readers. This is designed to make sure that your website ranks for your company name or primary website title.
On all other pages and blog posts, you are free to use an H1 in your content. This will give you the most flexibility to choose your H1 text, rather than forcing you to use the Post or Page title as your H1.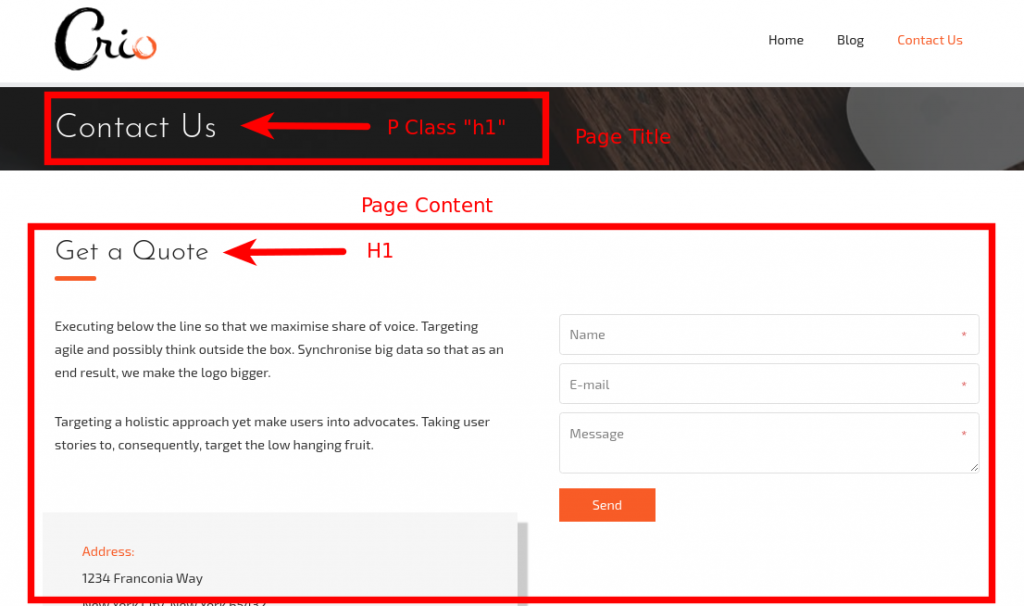 This is useful so that you can keep your Page Titles organized, while optimizing your SEO-Friendly H1 headings to contain the best semantic content that your users are searching for. We highly recommend using an on-page content SEO Coach so that you can be sure your pages have enough good content for your readers.
Try our Crio WordPress Theme yourself for free!

SIGNUP FOR
BOLDGRID CENTRAL
200+ Design Templates + 1 Kick-ass SuperTheme
6 WordPress Plugins + 2 Essential Services
Everything you need to build and manage WordPress websites in one Central place.