The Headings Typography section globally controls all of your heading font sizes in your WordPress website theme using a base font size. These are the h1, h2, h3, h4, h5, and h6 elements on the site that are used for headings and to help search engines identify the hierarchy within your site's content.
In the Dashboard, navigate to Appearance → Customize
In the Customizer menu, navigate to Fonts → Headings
The font size you enter will be used for h5 elements
The Font Size input value can range from 6px-42px
Based on your setting, the theme will calculate the corresponding h1 – h6 sizes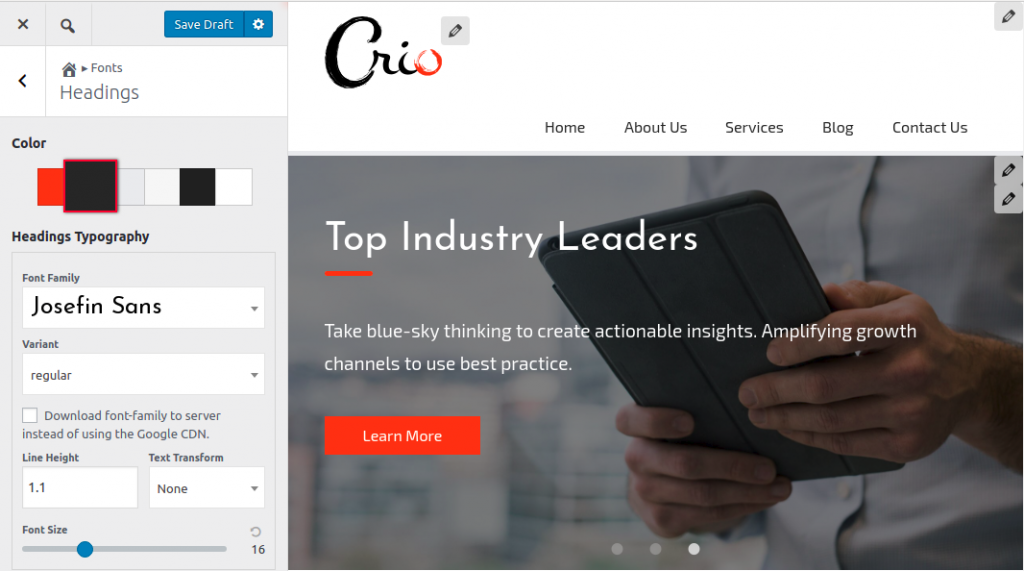 The default Font Size of 16px results in the following heading sizes:
h1 : 36px
h2 : 30px
h3 : 24px
h4 : 18px
h5 : 14px (Customizer value)
h6 : 12px
The heading sizes are calculated by using percentages, which are relative to the font-size of the h5 heading. The following is a list of the approximate values used to calculate the heading sizes in BoldGrid Crio:
h1 : 2.6
h2 : 2.15
h3 : 1.7
h4 : 1.25
h5 : 1
h6 : 0.85
SIGNUP FOR
BOLDGRID CENTRAL
200+ Design Templates + 1 Kick-ass SuperTheme
6 WordPress Plugins + 2 Essential Services
Everything you need to build and manage WordPress websites in one Central place.