Keywords are ideas and topics that help to define what your website's content is about, and help search engines index your site to serve it to users when they search for phrases your site contains. The following guide will provide you with information on using BoldGrid Easy SEO plugin to help your content rank better for your targeted keyword phrases.
Keyword Phrase Basics
Selecting the focus keyword for your page is a strategic first step for search engine optimization (SEO). The keyword or key phrase for your page helps you focus your writing so it remains concise and on topic. What words would you use to describe you page or post? It is good to be specific. The keyword density, which is how many times the keyword or phrase is used in a specific page helps determine your page rank.


Keyword Phrase Length
Your keyword phrases for posts and pages will depend upon the content. The most widely recommended keyword strategy used today is to start with a general (shorter) primary keyword phrase and move down toward to more specific (longer phrases) for pages that will link to your main pages. For example, if your Home Page provides general information about your tax law business, your main keyword on the Home Page could be "tax law virginia beach". Then, assuming you start a blog to generate more content, your blog posts can have longer, more specific keyword phrases like "picking a good tax lawyer in virginia beach". The latter is referred to as a "long tail keyword".
Status Indicators
Below the main text area of the page editor, you will see the BoldGrid SEO plugin status indicators. The status indicators for the SEO Keyword Phrases section advise you of several of the most important options. The red status indicates a high level of concern, yellow is medium, and green indicates you have completely satisfied the recommended option. Throughout this overview article, we will cover why the status indicators are so important and how you can abide by their recommendations.

Title
The SEO Title of your page will figure most prominently in search results, highlighted as a link to your page. It is important that the title contains your SEO keyword phrases so that the search engine can provide your page as a result if someone searches one of your keywords. It's important to include your keyword or phrase in the Title of your page or post.


Description
A description will figure beneath the title in your search results. This is a good opportunity to let the search engines know what this page is about. Likewise, make sure that your focus keyword is represented here. While your title and description do not directly affect where you show up in organic search results, they do help a person searching select which page is the most appropriate to click on.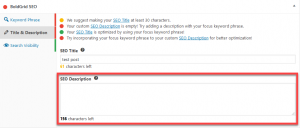 Content
When we refer to the content of your page or post, we are talking about the main text (what you are reading now). It is well advised by marketing experts that you should make frequent reference to your keywords relative to the overall length of your content. Our plugin monitors the length of your page for you and will recommend that you use your keyword less or more often. Using your keywords too often will be considered "keyword stuffing", and it is not recommended.


Headings
The importance of using headings in your page or post cannot be overemphasized. Headings are invaluable web design tools, especially for longer pages. Headings provide the outline of your page, helping search engines identify the structure of your page itself and the kind of information you are providing. Providing headings helps your readers absorb information sequentially and, for you, the writer, provides an opportunity to emphasize your SEO keywords phrases in them.


H1 Usage
An H1 tag represents the first heading (Heading 1), or, highest level heading, for your page. This heading is the first indicator of what your page or post is about. By default, the title of the page or post will be your H1. For example, the title and H1 for the About Us page is "About Us". It's best practice to have only one H1 tag on your page or post. As the tags number increases (h1, h2, h3, h4) the relative SEO value decreases. You should never have more h1 tags than h2 tags. And you should not have more h2 tags than h3 tags. Keep in mind, the more you use the heading tags in your pages the relative weight or value is lowered. Use heading tags judiciously.


Images
Images help illustrate the subject of your post or page. Images are also indexed and searchable by most major search engines including Bing and Google. For some sites, this image could be a graph or a chart communicating statistical data, or it could be a stock image of a baby. An image relevant to your content can dramatically boost the quality of your page and help your reader grasp your message or your post or page. Be sure to name your images with something meaningful. BoldGrid Connect Search helps you easily search through thousands of images for any topic instantly.
The Importance of Using ALT tags
When adding an image to your page, make sure to add an alt tag. This helps tell the search engines to interpret what is happening in the image. Be careful not to stuff or your alt tags with SEO keyword phrases. Alt tags are considered content on the page by search engines. They also help non-visual browsers and visually impaired visitors help understand and visualize the image.
Adding an ALT tag to an image
In the Dashboard, navigate to Media Library
Select an image from the library
In the details section, fill in the Alt Text field with a keyword or description
Content Length
Experts generally agree that a higher word count encourages healthier search results. Writing more keyword rich content about your topic helps establish you as an authority on the subject. This is why the SEO plugin encourages a minimum word count of 300. Depending on the kind of content you are writing, 300 may be just right, but don't be afraid to write more. There are times when writing 300 words are difficult. Don't feel like you have to write 300 words. It's more important for you to write concise targeted keyword-rich content than to hit the 300 word threshold.

BoldGrid's Easy SEO Plugin is part of our WordPress website builder, Inspirations. With hundreds of beautiful WordPress theme designs and layouts, coupled with a complete suite of easy to use tools for your creative use, creating a website has never been easier!
SIGNUP FOR
BOLDGRID CENTRAL
200+ Design Templates + 1 Kick-ass SuperTheme
6 WordPress Plugins + 2 Essential Services
Everything you need to build and manage WordPress websites in one Central place.