BoldGrid uses connect keys to allow installation and for use of BoldGrid coins. In this guide, you will learn how to view BoldGrid connect keys from within your Plesk Onyx 17 Web Host dashboard.
Viewing BoldGrid connect keys in the Plesk Web Host
Log into your Plesk Web Host interface.
Next, click on the Manage BoldGrid option from the left-hand menu.
Now, click on the View Connect Keys tab on the BoldGrid extension page.
Locate the specific site you want to work with and click on the Manage Key link for that site.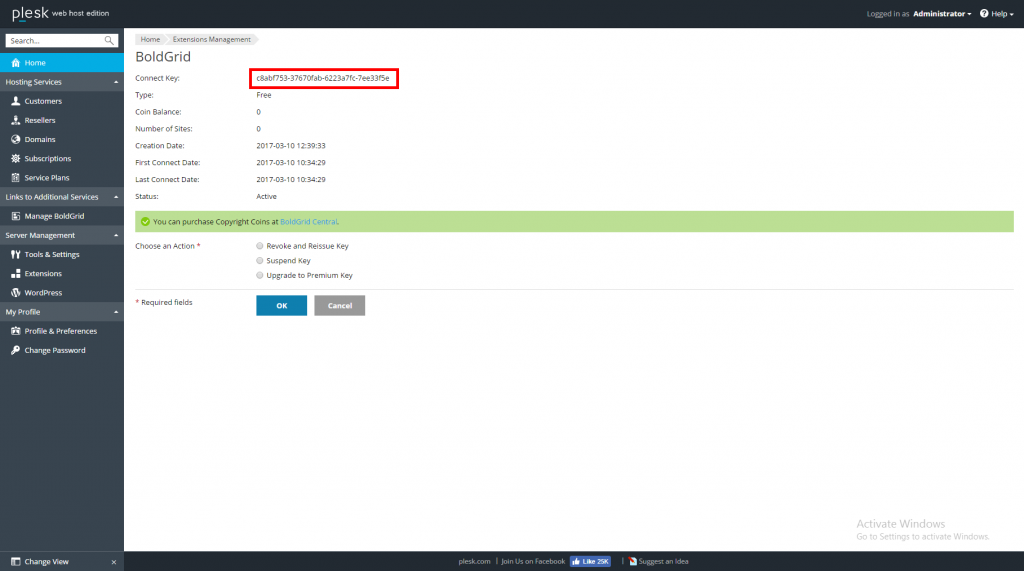 The specific key and information will appear. The key itself is at the top of the screen in the field named Connect Key.
If you get stuck at any point along the way, make sure to stop by and ask us a question.
SIGNUP FOR
BOLDGRID CENTRAL
200+ Design Templates + 1 Kick-ass SuperTheme
6 WordPress Plugins + 2 Essential Services
Everything you need to build and manage WordPress websites in one Central place.