You may have noticed after installing BoldGrid that the WordPress admin menu has been modified. Some buttons have been added, others have disappeared. For example, the WordPress Appearance tab is gone. You now have Customize instead. If you are new to WordPress and BoldGrid, then this may not affect your experience at all.
However, if you are a WordPress veteran, you may want to bring back the look and feel of your default WordPress admin menu. Learn how to restore the WordPress admin menu after you have installed BoldGrid.
Restore WordPress Admin Menu
Follow the steps below to restore your default WordPress admin menu:
Click Save Changes.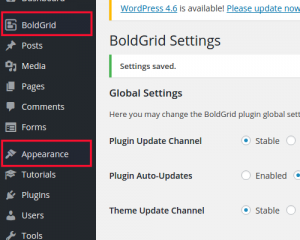 Notice how the admin menu has changed. The BoldGrid menu options have now been placed under the single BoldGrid icon, and the default WordPress options have appeared. For example, the Appearance options have appeared again.
If you would like to return to the BoldGrid admin interface, you can follow the same steps as above and re-check the box labeled Use BoldGrid Admin Menu system.
SIGNUP FOR
BOLDGRID CENTRAL
200+ Design Templates + 1 Kick-ass SuperTheme
6 WordPress Plugins + 2 Essential Services
Everything you need to build and manage WordPress websites in one Central place.