Once the BoldGrid Inspirations plugin is installed, you are well on your way to using our
WordPress website builder
to install your first BoldGrid Inspiration! A BoldGrid Inspiration will include everything you need to create a website and update it with your business information and content. The following article will walk you through the steps of creating your first BoldGrid Inspiration.
Getting Started with your first Inspiration
Login to your WordPress Dashboard
In the left-hand side of your Dashboard, navigate to Inspirations
Here, you will see an overview of the process that Inspirations follows
To continue, click the button labeled Let's Get Started
Content Check Warning
If you have existing content on your website, Inspirations will make some changes if you proceed. Any existing pages and posts will be put in the "Trash" which is easily recoverable later. Existing images will stay in your Media Library, and your current theme will be deactivated, but it will not be removed. If you have important stuff on your site, you may want to take a backup to ensure peace of mind.
When you are ready to continue, Select the blue button labeled I understand, Let's Continue → to move on to choosing your industry type, content and WordPress theme.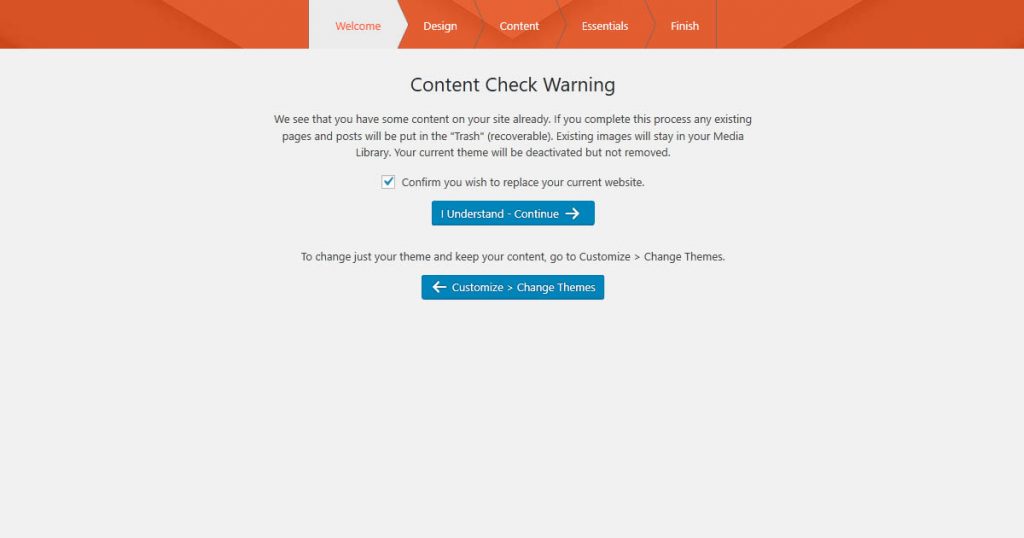 The Design
Choose a category on the left, and theme style on your right for your WordPress website
Hover over the BoldGrid design you want, and click the blue button labeled Select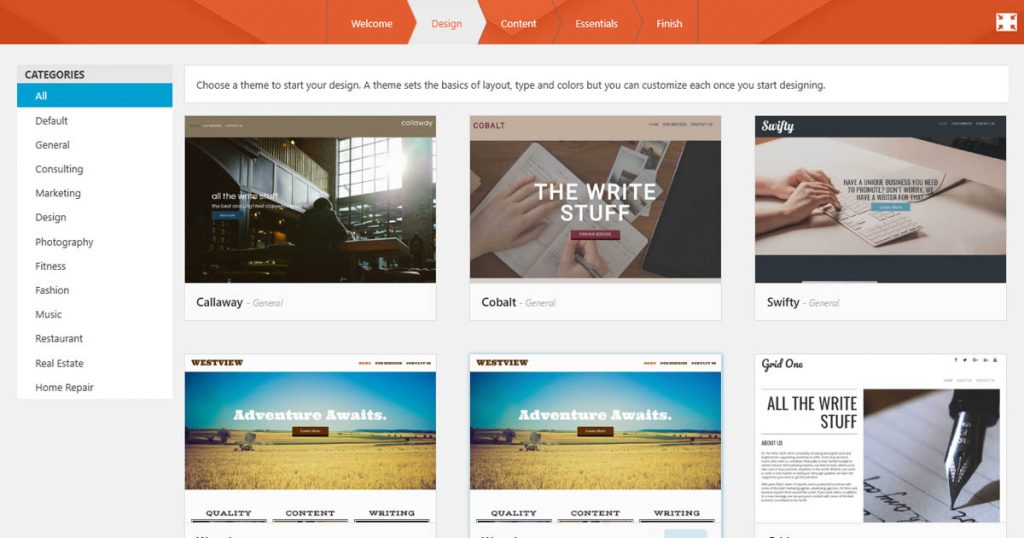 The Content
Selecting Change Content at the top of the page will provide you with options for your pre-installed content set.

Control the number of pages included automatically for your website: 3, 5 or the kitchen sink!

3 will install the default pages, "Home," "About," and "Contact Us."
5 will install two additional pages, specific to the category you chose.
"Kitchen Sink" will install all of the available pages for your category. This is not an actual kitchen sink.

Set up a blog or other functionality

To continue with your selection, click Next

The Essentials
The information you provide here will be used to populate contact information and social media icons throughout your BoldGrid powered WordPress website. This information can be edited anytime in the WordPress Customizer, so feel free to decide later.
Adjust your contact information and preferences
Click Finish and Install when you are ready to proceed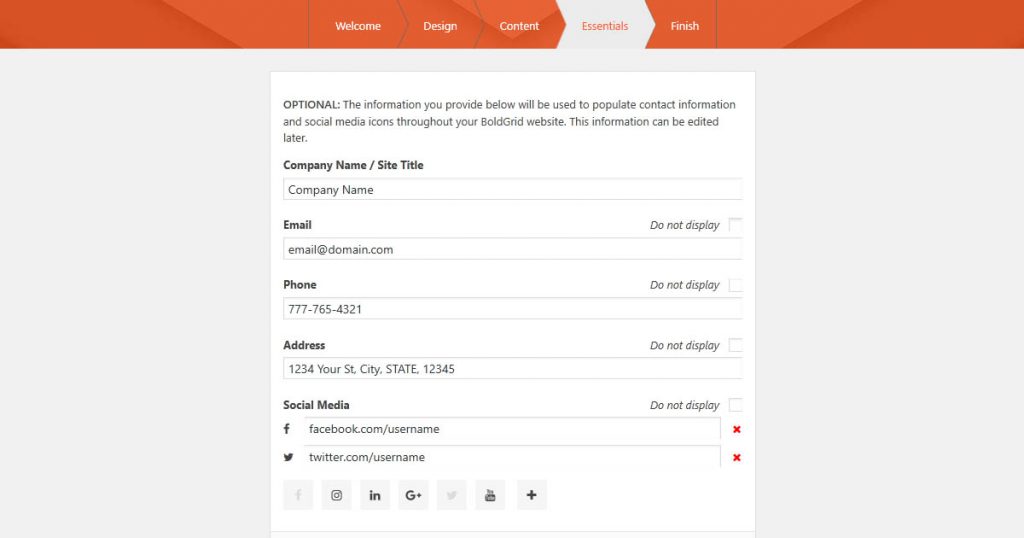 Congratulations, You have installed your first BoldGrid Inspiration, using our revolutionary WordPress website builder! Next, you may want to learn how to Customize your WordPress website.
SIGNUP FOR
BOLDGRID CENTRAL
200+ Design Templates + 1 Kick-ass SuperTheme
6 WordPress Plugins + 2 Essential Services
Everything you need to build and manage WordPress websites in one Central place.