When you use an image that you did not create yourself, you must respect the copyright for the image. Using an image without consent from the copyright holder can lead to legal issues. As the owner of a website, the responsibility for obeying copyright is yours.
What is Attribution?
"Attribution in copyright law, is acknowledgement as credit to the copyright holder or author of a work."
Many images in BoldGrid Connect search are licensed under the Creative Commons – Attribution license, which means that you are free to use, modify and display the image on your website— as long as you provide credit to the original owner of the copyright. These images are also free of cost!
But you don't have to worry about how to give attribution! BoldGrid Connect Search will automatically create an attribution page on your website and a link in your footer to that page.
Free attribution images are denoted with a globe icon in BoldGrid Connect Search.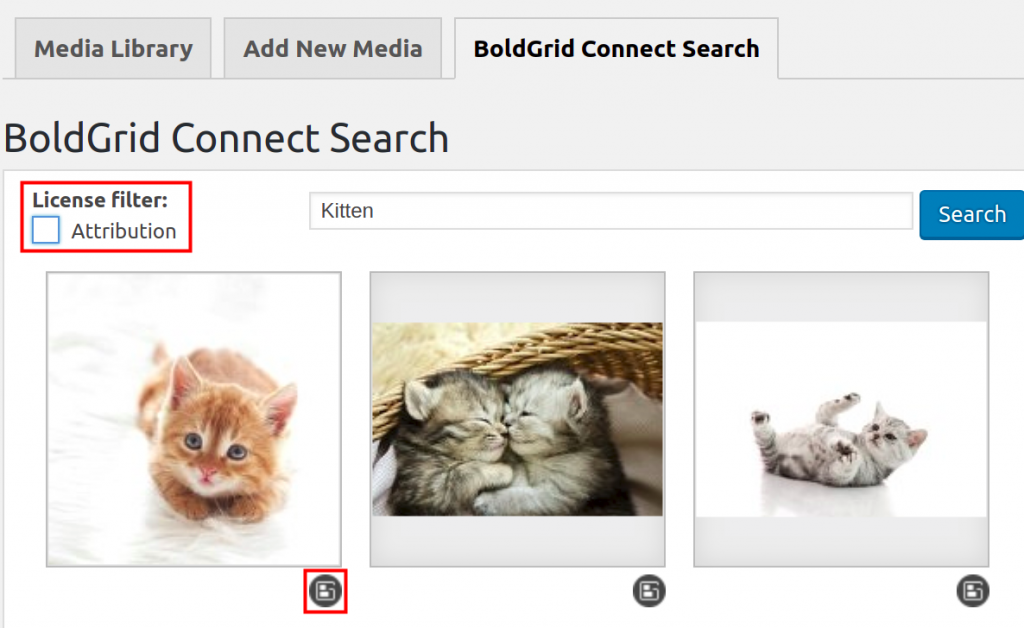 Important Note about Attribution Images.
The images in BoldGrid Connect Search were designated as Creative Commons: Attribution by the person who uploaded them to the internet. If that person did not own the rights to the image, they may still be in violation of copyright law. Use these free images at your own risk.
You can find more information about the actual license from Creative Commons here.
What if I don't want an Attribution page on my site?
Depending on your needs for your website, you might not want to include an Attribution page. If you don't want an Attribution page, you need to either use your own original images or purchase a license to use copyrighted images.
BoldGrid Connect Search makes this easy! Simply un-check the Attribution option under "License Filter." Images that are available for purchase are denoted with the BoldGrid Logo.
BoldGrid Connect Search uses the 123RF Stock Image Library to provide you with easy access to millions of images that you can purchase at an affordable cost. When you first download a paid image, it will be inserted into your website with a watermark, until you purchase the image with BoldGrid Connect Coins.
123RF Standard License
Images that come from the 123RF library come with a standard license. When you select an image from the stock photography site you will see a link to the standard license. Make sure to review the license link so that you are familiar with the restrictions and rights attributed to the image. The license section will be in a gray area under the list of different licenses that 123RF provides for its content.
What's next?
Congratulations! You now know all about Attribution for Creative Commons images. Next up, see how to purchase copyrighted images using BoldGrid Connect Coins.
SIGNUP FOR
BOLDGRID CENTRAL
200+ Design Templates + 1 Kick-ass SuperTheme
6 WordPress Plugins + 2 Essential Services
Everything you need to build and manage WordPress websites in one Central place.