BoldGrid is company that offers users a suite of WordPress plugins and themes that work together to give you the ability to create and manage a great looking WordPress website with minimal time and effort. Like the WordPress application itself, the BoldGrid plugin and theme options are flexible. You have many customization options that allow you to create a complex site. Or, you may simply choose to create a quick informational website. Both the simple and complex designs provided with BoldGrid Products use a responsive design that allows your site to be easily seen on different device screens. And you have the same great administrative options that are a part of all WordPress installations. The following article gives you a general breakdown of the components that make up the BoldGrid brand, and its capabilities.
What Products are part of the BoldGrid System?

Inspirations – BoldGrid Inspirations are WordPress themes and content that come with the BoldGrid installation. Each Inspiration is a complete website that comes with a full set of pages filled with text and images relevant to your industry. Don't start with a blank slate, simply replace the stock content with your information, and your site is ready to go!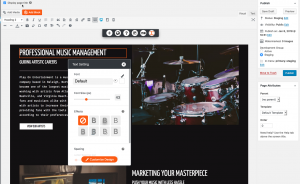 The Post and Page Builder – This component is the heart and soul of the BoldGrid ecosystem. It provides the interface for creating content through posts and pages. You can use existing Blocks to quickly publish content that will work with your theme. Or, you can create original blocks of your own creation and then use them for your WordPress site.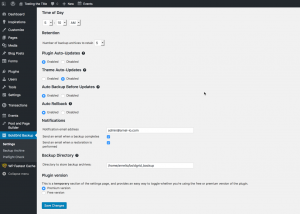 The Backup Plugin – The BoldGrid Backup application is a full-featured backup program that allows you to backup, restore, and migrate your BoldGrid website.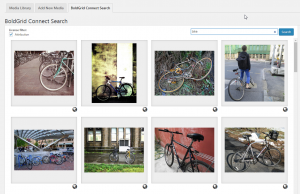 The Image Gallery Plugin – This plugin provides the interface for handling the media library and also provides the BoldGrid Connect options which gives you access to a stock library of images.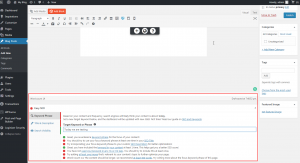 Easy SEO – Provides Search Engine Optimization(SEO) options at the bottom of each page or post that you create. It allows you to create the related meta-data within the provided interface and keeps your entries within the optimized range for SEO.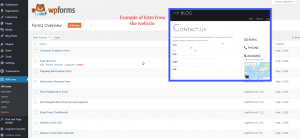 WPForms – The Forms plugin is used to support pre-made forms that come with each Inspiration provided by the Website Builder. The plugin also provides the option to create your own form and insert easily into your content using shortcodes.
Putting it all together
Using BoldGrid products and services begins with installing WordPress. Once you have WordPress installed, you can load up the BoldGrid plugin, select the theme you wish to use and then begin customizing to meet your website needs. When the site looks the way you want it, you can then begin adding new content. If you don't want people seeing your incomplete site, simply load a Maintenance Mode plugin for WordPress and then only you or a trusted few will be able to see your site until you're ready.
Once you have all of your pages and posts in order, review the site, make sure that all of the forms work the way you want them to, check your links and then you can publish the site. If you're working on the Active site, then it simply means turning off the Maintenance Mode plugin if you loaded and activated one. If you were using the Staging feature, then you would need to deploy the Staging site so that it is active.
Managing your WordPress site is a simple matter using the WordPress Administrator dashboard. You can add new users to help with your content creation and curation. You can also easily manage your feedback and add other features to your site using the WordPress interface. During off-peak periods you should also plan on making regular backups of your site using the BoldGrid Backup tool. This will to help give you peace of mind and provide an easy to restoring the site should if needed.
This is an oversimplified vision of using BoldGrid and WordPress to build and manage your website. However, using WordPress with the full suite of BoldGrid plugins provides you a simple and quick way to create a beautiful website that meets your needs. You don't need to be a developer to easily add new content, create forms, improve your SEO and make scheduled or manual backups. WordPress provides the easy to use management and also proves the scalability to grow your site's functionality. Together, BoldGrid and WordPress give you a timely solution for all your website needs.
SIGNUP FOR
BOLDGRID CENTRAL
200+ Design Templates + 1 Kick-ass SuperTheme
6 WordPress Plugins + 2 Essential Services
Everything you need to build and manage WordPress websites in one Central place.