Now that we have built the base site with an Inspiration and made some preferred changes with the Customizer, it is now time to modify the page content to represent our sample company. This will not involve changing colors and fonts as those have already been done via the Customizer. This is about changing the layout and content of the page itself. We will begin by learning how to edit the Home page.
Opening the Page for Editing
You will be dealing with several sections while learning to edit the home page. We will go over each section and discuss how to change them. We will go over title and text changes first and then do the images Home and The sample page here uses the Swifty theme. Your theme may contain different Blocks, but the concepts are the same.
The first area of the top Block is a title area. To change the content, click somewhere in the box containing the text. From here you can delete the existing title and replace it with your own.
Click in an area that contains the stock paragraph text. This opens the area for editing. Highlight all the content in the column of the box and delete it. Once deleted, add your own paragraph. Do the same for the second column.
Editing the Home Page Images
Working with the images is one of the elements you will manipulate when learning how to edit the home page. Using your own images, you will need to upload them to your site, then add them to the page. After that, each image may need configuration to get the right look.

Uploading Images to your Site
From the left-hand menu in the dashboard, hover over the Media option and then click on the Add New option.
From your local machine, highlight the images you want to upload and click Open. This will upload all the images to your media library.
Replacing Images
Once your images have been uploaded, you can replace the stock ones on the page.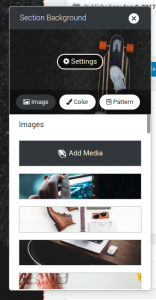 Once you have selected the Section Background button pictured above, you can choose from different background images, colors or patterns.
Your home page should now be complete and look vastly different than when you started. If you look at your page on your site you will see your content along with the theme changes you made in the Customizer. Our sample site is shown to the right. Now that you have learned how to edit the home page you can edit the "About Us" page.