Having a strong site title is a critical ingredient for making your website great. For business professionals, web designers, or anyone managing a website, formulating a strategic site title can help a site stand out to visitors and provide better search engine results. Whether you are using a site title in the layout of your page, or if you are using this tutorial to add a logo image to your site, the site title will appear in browser tabs and provide an important function in your SEO structure.
Likewise, having a dedicated area for a company logo can be a fitting tribute to your business or brand, and you will see exactly how to accomplish this in the steps below. This is one of the easiest and fastest ways to customize the look and feel of your site and help develop your presence on the Internet. Here is a chance to get creative and tell people what your site is about.
You can easily change your site title and logo at any time within the WordPress Customizer. If you are not already logged into BoldGrid, go ahead and log in now.
Click Customize.
Select Site Title & Logo.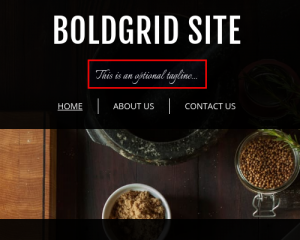 Here you can update your Site Title and Tagline in their respective fields. The tagline is a brief, optional description of what your site is about.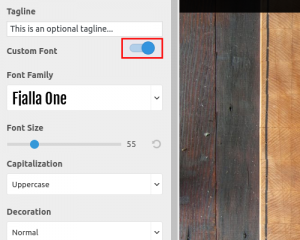 Proceeding down, you will see Custom Font options. Switch the slider button on to activate the Custom Font menu. You can choose from a wide variety of different fonts and control style options, these options are discussed below. Click through some of these options until you get a look you like.
Custom Font
Edit the size and font type of the title as well as capitalization or decoration.You can change things such as font type and size.

You can also modify the way the font is presented, such as all caps, all lower case, or normal capitalization. The title can be decorated with an underline, overline, or strikethrough. This decoration can also be applied to only appear when the mouse cursor hovers over the title.

Position
Change the margin and spacing configurations. You can modify the margins for top, bottom, or sides.

You can also change the distance between lines with line height or between letters with letter spacing.

Custom Shadow
Set up a shadow for your title text. You can add and configure the shadow horizontally or vertically as well as set the shadow's color.
Adding a Site Logo
You are not required to use only text in your header. You can easily select a logo image from your Media Library.
You will notice the logo image has replaced the site title.
How to Use a Site Icon
The site icon, also known as a favicon, will be the official "app icon" for your site. This icon will appear in the browser window, on bookmarks (depending on browser configuration), and only needs to be sized at least 512 pixels wide and tall. If your image is large than 512 pixels, don't worry, it will be resized to fit.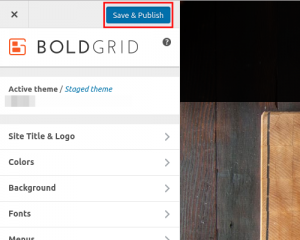 Make sure to click Save & Publish when you are done editing.
Now you know how to change your site title and logo. From here, you can proceed to learning how to customize colors in the WordPress customizer with new features from the BoldGrid site builder.
SIGNUP FOR
BOLDGRID CENTRAL
200+ Design Templates + 1 Kick-ass SuperTheme
6 WordPress Plugins + 2 Essential Services
Everything you need to build and manage WordPress websites in one Central place.