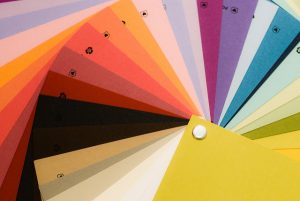 Choosing a color palette for your WordPress theme can have a far-reaching effect on the success of your website. Finding a balance between the color and content of your site can encourage your visitors to stay on your site for longer sessions. Changing colors can ultimately improve the authority of your business, or, for designers, make your WordPress website more attractive to new customers.
The BoldGrid website builder plugin and themes supplement the WordPress Customizer with extended functionality for color selections in your WordPress theme. You are now able to click, drag, and rearrange colors manually or choose from automatically generated color palettes.
The advantage of changing colors with color palettes instead of single colors means that if your logo or other branding materials change then you can quickly adjust all the colors of your site to match instead of editing each color separately.This can be a huge time saver for you when using BoldGrid Themes. Color palettes is not something that other themes usually have.
If you are a casual visitor and are interested in getting started using BoldGrid Inspirations as your WordPress website builder, download the plugin today to start your journey to create a WordPress website.
Follow along with steps below to see how easy it is to customize colors in your WordPress theme. If you have not already logged into WordPress, go ahead and log in now so you can follow along with the steps.
Colors in your theme will change live in the preview window on the right.
Using Color Palettes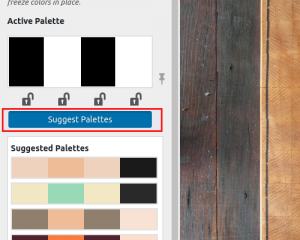 As mentioned, you can re-arrange the colors in the active palette and assign different color values, but you can easily get a whole different palette automatically by choosing Suggest Palettes. Click through the different palettes and notice how the colors on your site change.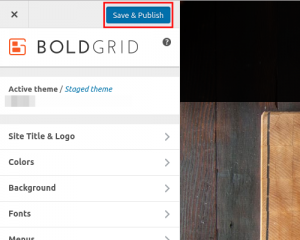 Make sure to click Save & Publish when you are done editing.
Now you are familiar with changing colors in the WordPress Customizer as part of our WordPress website builder series. In the next article you will learn about editing the background of theme through the WordPress customizer.
SIGNUP FOR
BOLDGRID CENTRAL
200+ Design Templates + 1 Kick-ass SuperTheme
6 WordPress Plugins + 2 Essential Services
Everything you need to build and manage WordPress websites in one Central place.