Visual editor is disabled
Within WordPress, there is a setting to disable the visual editor. If you have the visual editor disabled, you may have noticed that you cannot edit widgets.
You can enable the visual editor by following these steps:
In the left menu, hover over Users and click Your Profile.
Click the Update Profile button at the bottom of the page.
Sucuri Security – Restrict wp-includes access
If you have the Sucuri Security plugin installed and you "hardened" the wp-includes folder, an important WordPress file may have become blocked. Try reverting this change to see if it resolves the issue.
Login to your Dashboard.
In the left menu, hover over Sucuri Security and then click Hardening.
Find the section labeled Restrict wp-includes access and click the Revert hardening button.
Call to action is missing in the Customizer
When editing your homepage within the Customizer, you may find that the Call to Action widget is missing. The Call to Action widget area is only accessible from pages using the Home Template.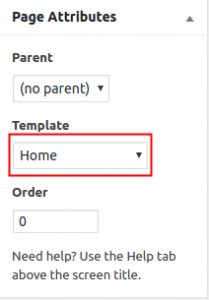 If your Home page is not showing the Call to Action widget area, changing the page's Template to Home should resolve the issue. To do this:
Login to your WordPress Dashboard.
In the left menu, click Pages.
Find and click on your homepage.
Under the section labeled Page Attributes, change the Template to Home. Click Publish. The next time you go to your Customizer, Call to Action should display.
SIGNUP FOR
BOLDGRID CENTRAL
200+ Design Templates + 1 Kick-ass SuperTheme
6 WordPress Plugins + 2 Essential Services
Everything you need to build and manage WordPress websites in one Central place.