BoldGrid's free Page Builder plugin replaces both the default WordPress "Gutenberg" editor as well as the TinyMCE "Classic" editor. However, you can use any of these editors on your WordPress website for an individual post or page depending on your preference.
Editor Selections
Post and Page Builder – Recommended, includes complete functionality
WordPress Editor – Modern WordPress editor. Requires WordPress 5.0 or Gutenberg plugin activated
Classic Editor – Basic TinyMCE WordPress editor without BoldGrid or Gutenberg features
Default – Allow your other plugins and WordPress to control the editor
Choosing an Editor per Post Type
In the Dashboard, navigate to Post and Page Builder → Settings
Choose an option for each post type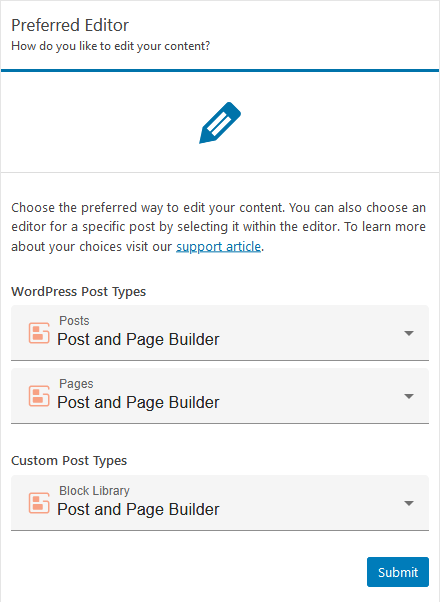 Choosing an Editor per Page
In the Dashboard, navigate any post or page
If the Post and Page Builder or Classic Editor are active, the editor menu is in the upper right hand corner, as shown below: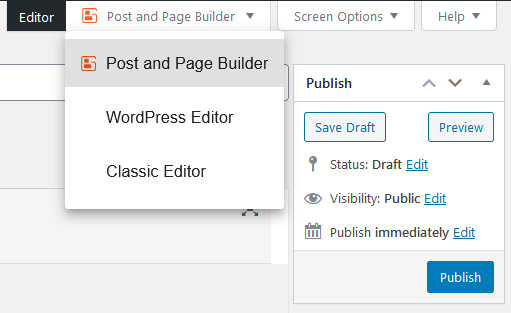 If the WordPress Editor is active, click the three dots in the upper right (outlined in red below) to show more. Other editor options will appear in the Plugins section: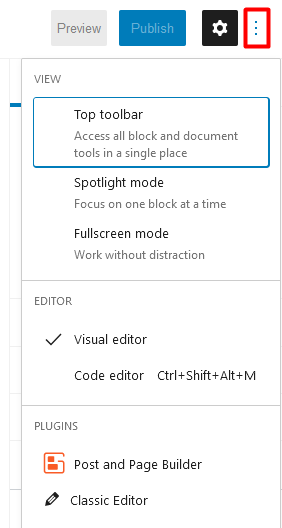 Congratulations!
Now you know how to set your preferred editor globally, as well as how to use a different editor on specific pages or posts. Next, you may want to learn how to use the Post and Page Builder.
SIGNUP FOR
BOLDGRID CENTRAL
200+ Design Templates + 1 Kick-ass SuperTheme
6 WordPress Plugins + 2 Essential Services
Everything you need to build and manage WordPress websites in one Central place.