WordPress Themes from BoldGrid
---
Both beginners and expert designers will benefit from using BoldGrid's WordPress themes. BoldGrid themes are highly customizable and feature a unique color palette system and global font controls to keep your website consistent across all pages and posts.
There are two types of BoldGrid themes – Crio, our newest SuperTheme with advanced customization options, and the classic themes. Each type has its own support section, please check your theme to ensure you are reading the correct support tutorials.
What WordPress Theme Am I Using?
It's easy to find out what theme you are using on your site. You will need to navigate to
Customize > Change Themes
or
Appearance > Themes
in your WordPress dashboard, depending on how it is configured.
Here you will see the list of all themes installed in your WordPress, and the active one will be shown first. In the example shown here, Crio is the active theme and Twenty Twenty-One is also installed.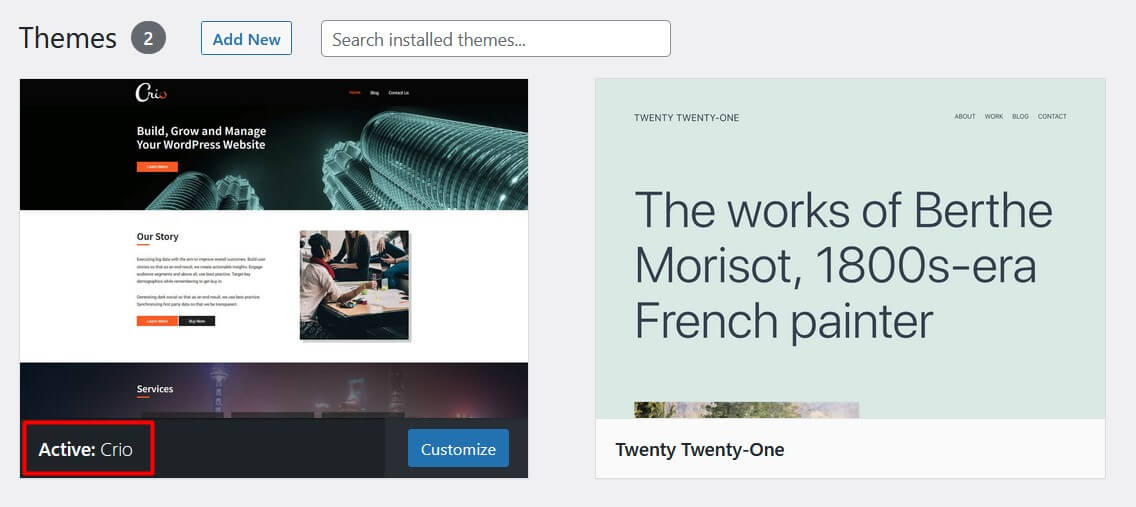 Featuring over 500 Customizer controls, BoldGrid Crio can customize your website like never before.
BoldGrid Inspirations now installs Crio with unique pre-set configs for each layout, cutting down on your design time and lessening the Crio learning curve.
Inspirations provides many website designs to get started with, without locking you into that design forever. As you become more familiar with the BoldGrid Crio Customizer, you will learn how to further polish your website.
Don't have Crio and are interested in seeing what it has to offer? BoldGrid offers free WordPress demos our with Cloud WordPress service.
Callaway
Cobalt
Diced
Evolv
Florentine
Grid One
Haven
Hifidel
Hydra
Linx
Monument
Pavilion
Primas
Resolve
Swifty
Uptempo
Vacation
Venetian
Wedge
Westview
200+ beautiful, responsive WordPress themes
1 kick-ass SuperTheme for full design control
6 WordPress Plugins to easily build and manage sites
2 Essential Services for performance and staging

No time limitations on free access

Start building your WordPress website in minutes

No credit card needed to sign up

Easy access to the best WordPress Hosting Providers