Keeping regularly scheduled backups is vital for any website. There are two main components of a WordPress website that you need to back up— the database and the WordPress files.
Your database contains all of the text on your website, including posts and pages, as well as all information about your users, theme options, and even data from plugins such as E-Commerce transactions.
Your WordPress files contain the core of WordPress, as well as the wp-content directory, which stores your themes, plugins, and media.
Keeping both your database and WordPress backups with the Total Upkeep plugin will allow you to rest assured that if anything happens to your website, you'll be able to recover.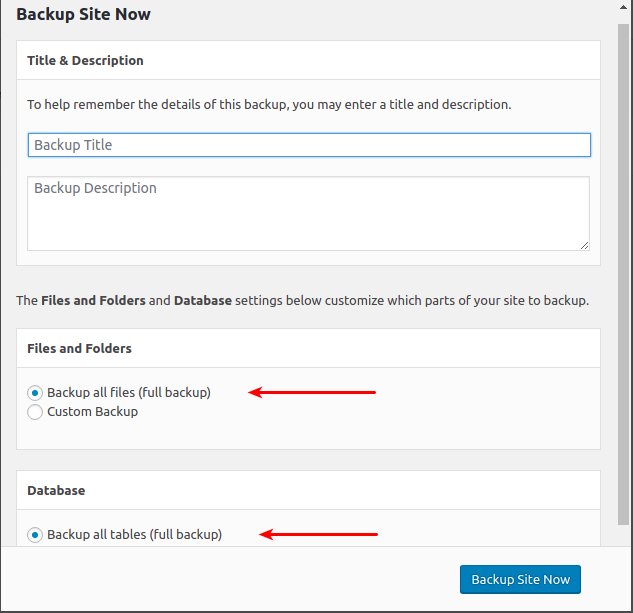 Backup WordPress with Total Upkeep
Log into your WordPress Dashboard and navigate to

Total Upkeep.

Click on

Backup Site Now.

Make sure that both

Backup all files

and

Backup all tables

are selected.

Optionally, name your backup something so that it's easier for you to remember.

Click on

Backup Site Now.

Once your backup completes, make sure to move it to a third-party location, such as

Amazon S3 or Google Drive

.
Congratulations! You can now rest easy that you have a full backup of your WordPress Website.
Troubleshooting
My backups don't complete
Backup Logs
If your backups are not completing successfully, the first thing you should do is review your Backup Logs. You can find them in Total Upkeep > Tools > Logs.
The following video shows you how to find your Backup Logs:
Sanity Check Backup
If a backup does not complete, and you don't get any error messages in your log, there's a good chance that your hosting provider / server may have auto killed the backup process. Usually this happens with the backup takes too long.
One thing you can do is run a "Sanity Check Backup" – which is only backing up .txt files, to make sure the backup process can complete successfully. If it does complete, this helps to further indicate a possible server intervention.
Please see the following video for more help with running a sanity check:
SIGNUP FOR
BOLDGRID CENTRAL
200+ Design Templates + 1 Kick-ass SuperTheme
6 WordPress Plugins + 2 Essential Services
Everything you need to build and manage WordPress websites in one Central place.