If you have any questions after reading this article, please be sure to
post a comment
at the bottom of the page. We're more than happy to help!

The Total Upkeep WordPress Backup plugin provides an option to send notifications through email. Notifications can be sent for completion of WordPress backups and for restorations. The following tutorial will show you how to set up the option in the Total Upkeep Settings.
Scroll down to the Total Upkeep menu
Here you can set the email address where the notification will be sent. Click in the box to set the email as needed.
By default, the options for sending an email for completed backup or restore are selected. Click on the box to select or de-select the options.
Click on the Save Changes button at the bottom of the page in order to save any changes.
Congratulations, you have now set up backup notifications.
You can now set the option to have an email sent whenever a backup or restoration is completed by the Total Upkeep plugin. Check out the screenshot below to see an example of the email that is sent: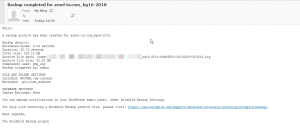 SIGNUP FOR
BOLDGRID CENTRAL
200+ Design Templates + 1 Kick-ass SuperTheme
6 WordPress Plugins + 2 Essential Services
Everything you need to build and manage WordPress websites in one Central place.