When you have a live website for your business, chances are that you do not want to make changes on that site in the case that it could cause downtime for a number of reasons. For use cases such as this, it is best to create a staging site for your WordPress installation. The following WordPress tutorial will help you understand how to use Total Upkeep to migrate WordPress from your live to staging site using just a few clicks.
By the way, the general steps in this article will work too if you've purchased new WordPress hosting and need to transfer your site to your new host.
Don't have a WordPress installation to use for staging? We offer a Cloud WordPress system that gives you one instance for free if you sign up for BoldGrid Central. If you need additional WordPress sites for staging, mockups or testing, you can upgrade at any time.
Taking a Fresh Backup of Your WordPress Website
To begin the process of migrating your WordPress website to staging, you first need to take a backup of your production site to use for transferring it. The steps below will outline that process for you.
In your WordPress Dashboard, navigate to Total Upkeep → Backup Archives
Click Backup Site Now
Depending on the size of your WordPress website, this could take anywhere from a few minutes to a half hour.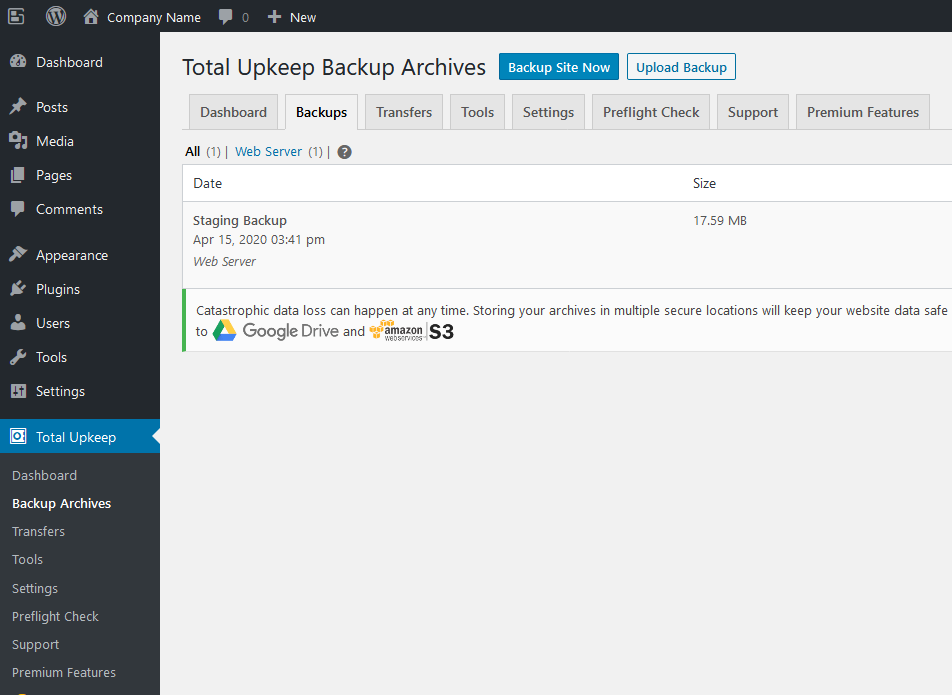 Create an Installation for Staging WordPress
While your backup is running, the next step is to create an installation that you can migrate the WordPress backup to. This can be a local installation on your computer, or you can use our Cloud WordPress system. Where the staging instance lives is completely up to you and should accommodate your workflow. For the purpose of this tutorial, we will explain how to create a new instance using Cloud WordPress for staging.
Using Cloud WordPress for staging is quite simple. Just follow the following steps to begin:
Login to BoldGrid Central
Click Cloud WordPress
Click Create New Install
Select WordPress only, and Click Install
Once the installation is complete, you will be presented with a screen that provides your new site credentials, and a link to login to WordPress instantly.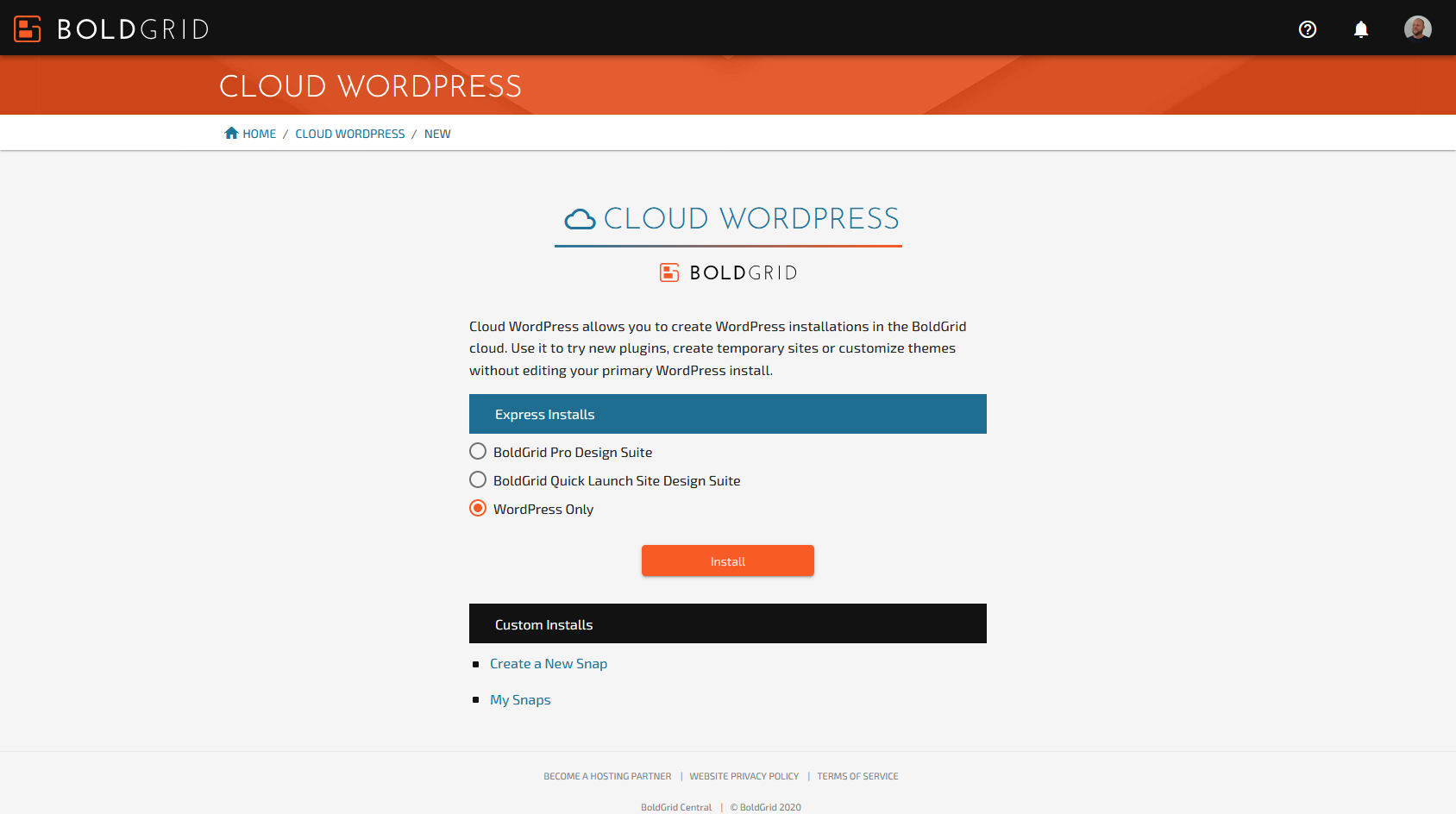 Install Total Upkeep on the Staging WordPress Instance
To migrate WordPress to the staging instance using a download link, you will need to ensure that Total Upkeep is also installed on your new site.
In the WordPress Dashboard, navigate to Plugins → Add New
At the top right, search for Total Upkeep
Click Install, then Activate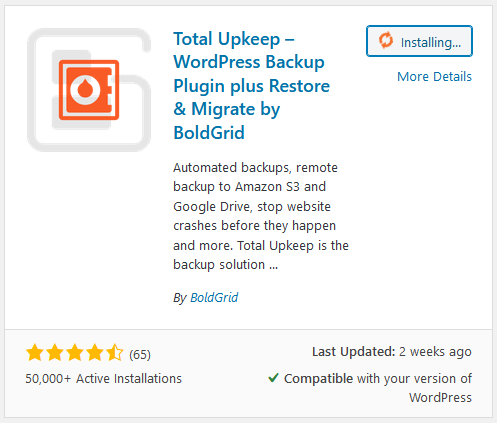 Once the installation is complete, it will be time to transfer your WordPress backup from live to staging. The next section will walk you through that process.
Migrating a WordPress Backup to Staging
Once your backup on the live website is complete, you can proceed to get a link to the backup to provide your staging instance for site to site transfer. This will save you the time of having to download the backup, then uploading it to the staged site. The steps below will walk you through what is needed to complete this.
In your live site's WordPress Dashboard, navigate to Total Upkeep → Backup Archives
On the backup that just completed, click View Details
Click Get Download Link
Copy it to your clipboard by clicking Copy Link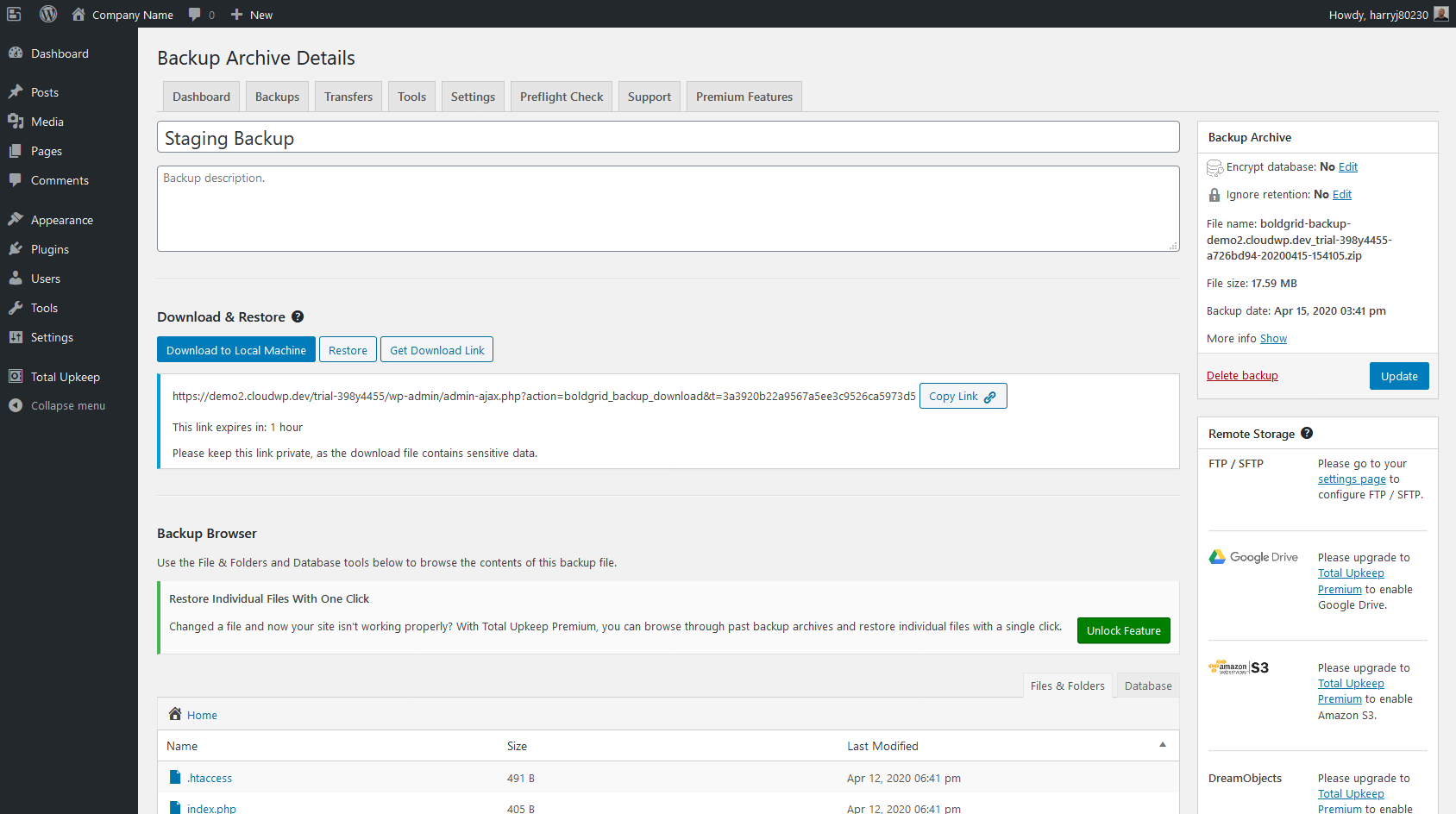 Now it is time to go back to the staging instance you created in Cloud WordPress.
In your staging site's WordPress Dashboard, navigate to Total Upkeep → Transfers
Select Destination
Paste the download link from the live site into the upload field
Click Upload
Once the upload is finished, click Restore
Keep in mind, that once you have migrated the WordPress backup and restored it, the login you created for staging earlier will be overwritten by the database backup you took from the live site, so you will be logged out of the staging site once the restoration has finished. To log back in, just use the same username and password combination you have on your live site.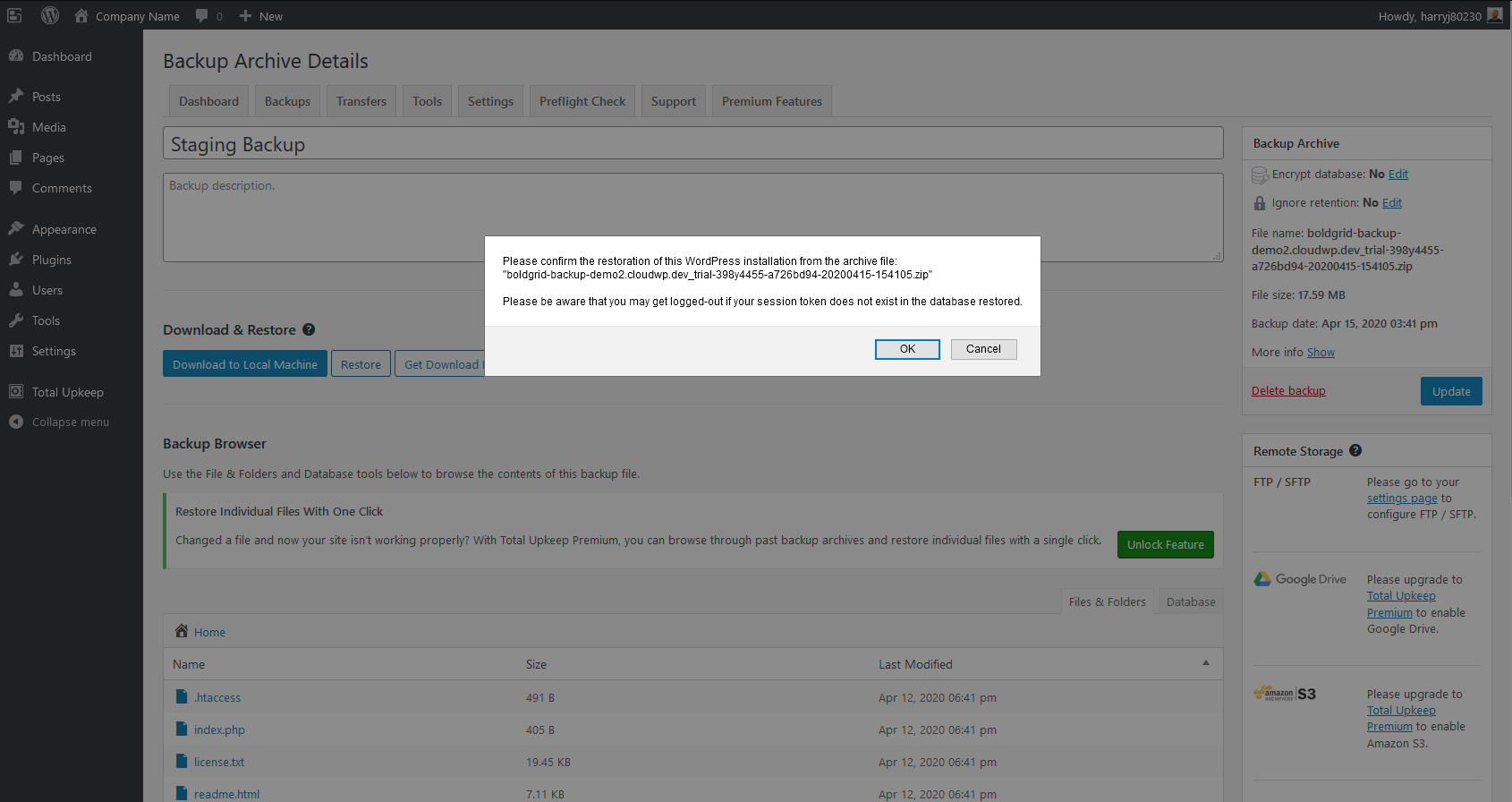 Moving Changes From Staging to Live
Once you have a WordPress staging installation that matches your live site, you can make changes to it and transfer them over using partial, or custom backups. Alternatively, you can also head over to your staging site when there are WordPress updates you wish to test prior to running them on your production website.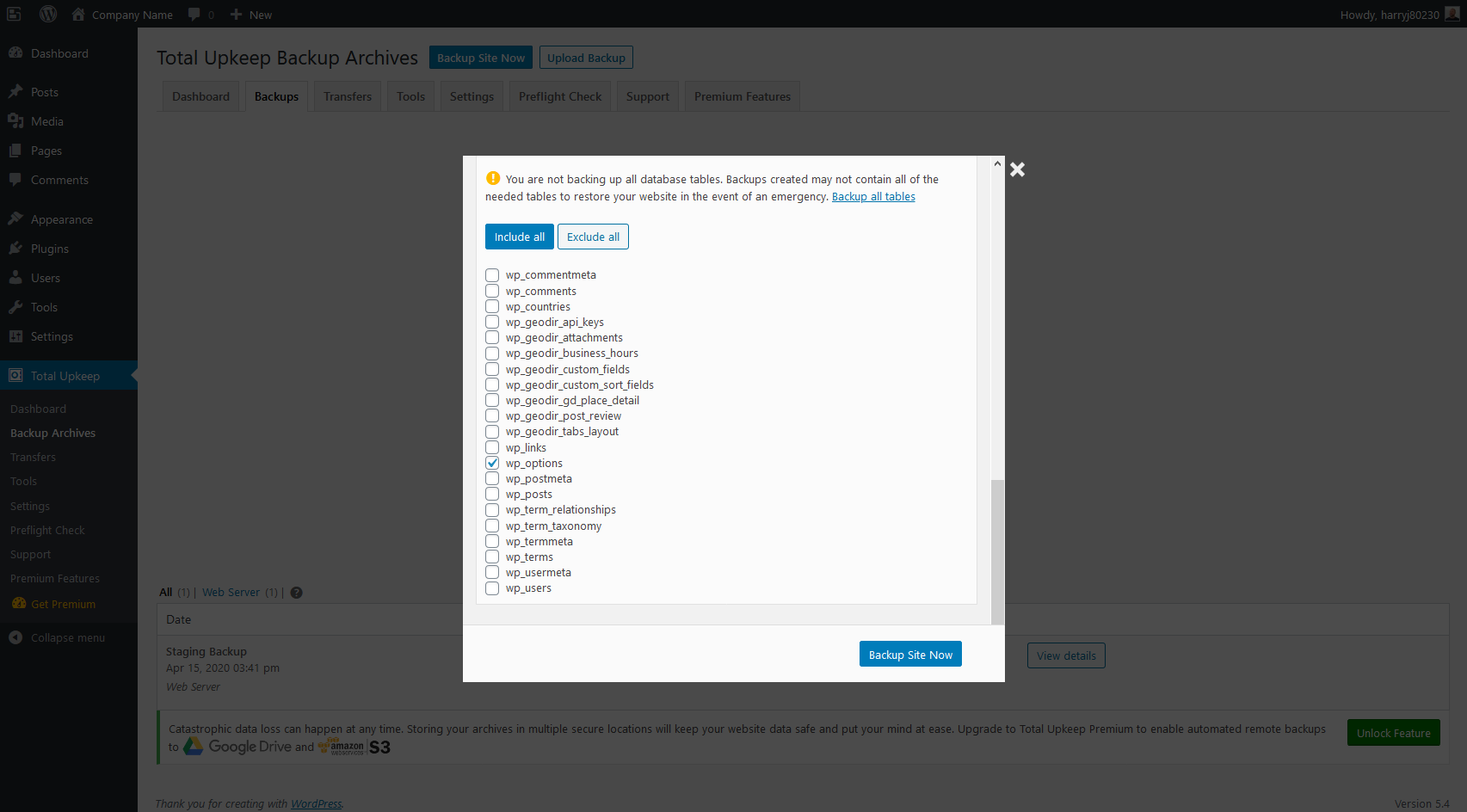 Congratulations, you now know how to create a WordPress backup and migrate a backup to a WordPress staging website. We would love to hear your comments on how you use Total Upkeep to help with your website migrations and other maintenance below!
SIGNUP FOR
BOLDGRID CENTRAL
200+ Design Templates + 1 Kick-ass SuperTheme
6 WordPress Plugins + 2 Essential Services
Everything you need to build and manage WordPress websites in one Central place.