Having a solid backup strategy is crucial to being successful online, because it provides the peace of mind that allows you to focus on your business instead of the technical aspects of managing a website.
Total Upkeep by BoldGrid is more than just a WordPress backup plugin. Not only is it a revolutionary way to protect your WordPress website and its assets, it also helps you manage a wide variety of backend technical issues.
In this guide, we'll explain all the other plugins that Total Upkeep will replace for you and help guide you in where you can find the information needed to ensure you are doing what you should to protect both yours and your customers' sensitive information.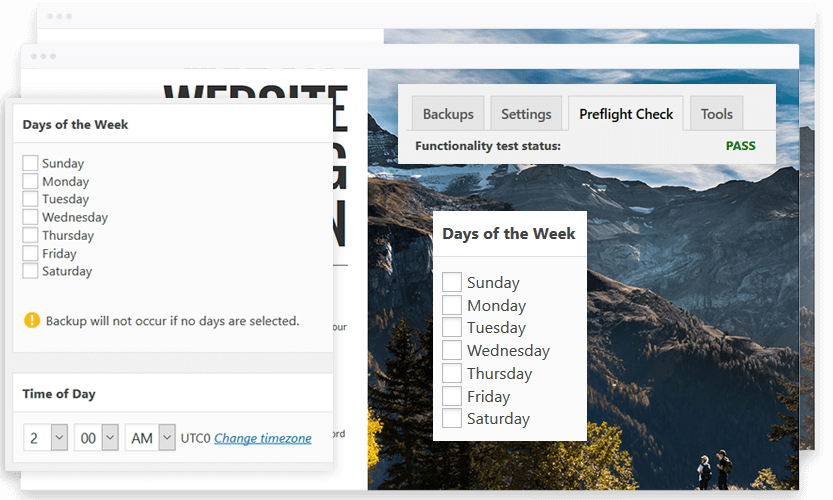 Total Upkeep is a WordPress Backup Plugin
When building or growing your WordPress website, you want to be sure to have a backup plugin in place, as data loss can be catastrophic if you don't. With Total Upkeep, you can schedule your WordPress Backups to occur any (or every day) of the week, and even choose the exact time the backup will run.
Total Upkeep will let you store your backup archives on your webserver (and you can download them to your local computer), but both of those options come with security risks. The most important thing to maintaining the integrity of your backups is ensuring you have a copy away from the server in a safe location. That's why Total Upkeep allows you to store your WordPress Backups on Google Drive, AWS S3, and even DreamObjects from DreamHost.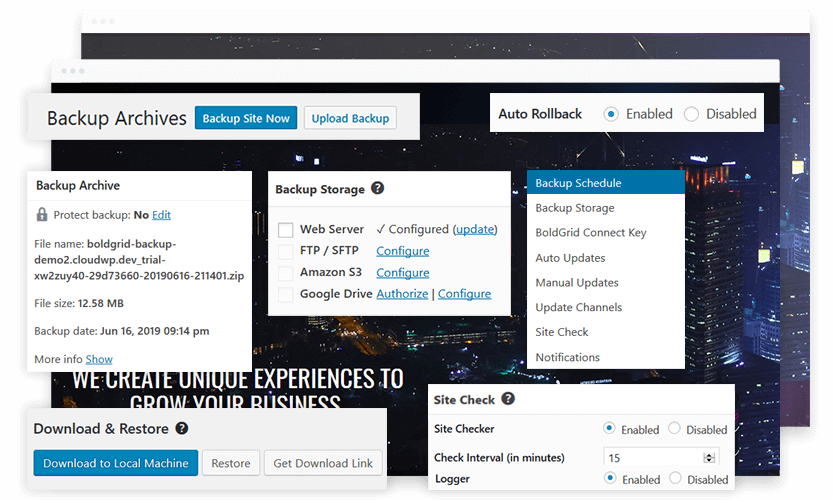 It is also a WordPress Backup Restore System
With Total Upkeep you can restore WordPress backups several different ways. There is an option within the Dashboard, but that will become an issue if the site is no longer running. You can also restore backups with WP-CLI or PHP commands, in the case your site is experiencing an error, and you are unable to login to restore.
Having more than one way to restore your site is a huge plus, because it will save you countless hours trying to restore it manually. Be sure you protect yourself with the most complete WordPress restore system that provides the best protection.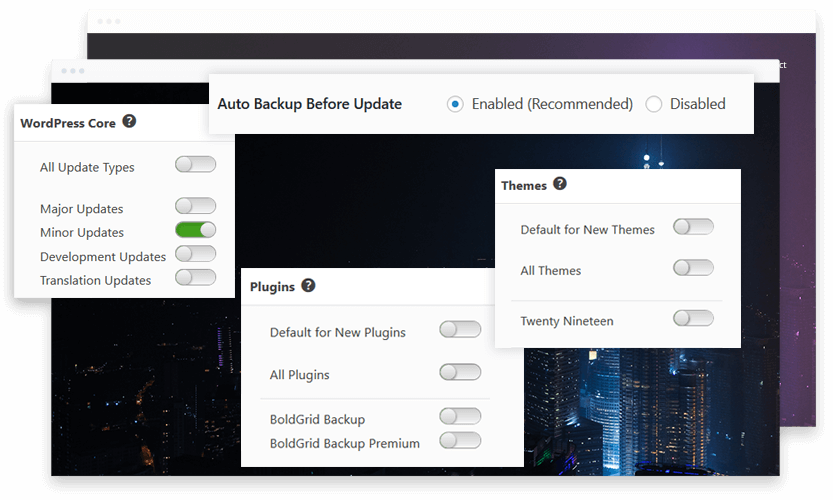 Total Upkeep is also a WordPress Update Manager
One of features you can leverage when using the Total Upkeep backup plugin is the ability to manage updates, and that feature is very unique in the type of protection it allows you to give your visitors. Updates are broken into 3 categories, and provide a per plugin or theme control. If you have an eCommerce plugin you know how much of a headache an update can be when the database structure is being updated, and having the ability to control when or if that gets automatically updated is important.
If you are using a spam filtering plugin may be something you do want to run automatic updates on instantly, however, to ensure you have the latest and greatest definitions to protect your comments and contact forms. With Total Upkeep as your WordPress backup plugin, every aspect of your site can be protected in ways you never thought of before.
It is a WordPress Migration Plugin
Whether you want to transfer WordPress to another WordPress hosting provider, move it to local development, or even create a staging site, Total Upkeep is the plugin you need. Offering various options when migrating WordPress, you can use site to site, remote storage to site and even a local PHP file to easily move your backups from one location to the next. Making your life easy is our main objective, so you can spend your time growing and running your business.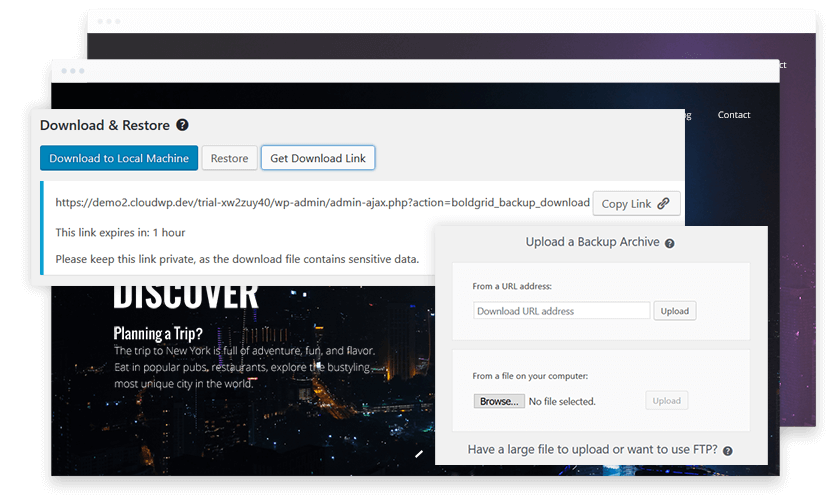 It is a WordPress Staging Plugin
Staging for your website is very important, especially when it comes to testing updates on your site. It is also very useful for things like redesigning your pages, making theme changes, updating WordPress, along with many other reasons too numerous to list here. Total Upkeep allows you to create effortless WordPress staging instances of your production site with the click of a button.
You can copy a URL from any backup on your server, and provide that URL to another WordPress installation to transfer the backup without downloading it. This will save you time and money, as well as loads of frustration. Server to server transfers are the best way to implement Staging and push back to live, and with Total Upkeep that becomes as simple as a button click!
It is a WordPress Security Plugin
When you think of a security plugin, Total Upkeep is not what you think, right? A solid backup strategy is actually the most essential piece when it comes to WordPress security, because if something goes wrong, and you have no way to restore it, you may spend countless hours, days or even weeks trying to get your online business back up and running.
Nobody has time for that, so that is why your security regimen should include WordPress backups first and foremost. And there is no better backup plugin out there that has the amount of features and level of support you will get with Total Upkeep.
Conclusion
Having a solid backup strategy is the best way to provide yourself peace of mind when it comes to your website, allowing you to concentrate where it counts: On your business! Total Upkeep is the most complete and best WordPress backup plugin in our opinion, but even if you use another competitor we still have the same advice for you – Backup your work investment and protect your website as soon as possible.
Interested in trying it out yourself? Learn how to install a WordPress backup plugin on your website, read our FAQs, and see how easy it is to protect your online investment today!
SIGNUP FOR
BOLDGRID CENTRAL
200+ Design Templates + 1 Kick-ass SuperTheme
6 WordPress Plugins + 2 Essential Services
Everything you need to build and manage WordPress websites in one Central place.