When using BoldGrid, and you run into an issue that you do not know how to solve, having a channel that can be used get Support is extremely valuable. The goal of this article is to provide you with information about those different channels offered to you as an end user, and give you direction in routing your support requests to them.
Using the Support Forums
Get help directly from our team of developers and support staff on WordPress.org.
Using an Official Partner Host
Currently, the best way to get support for BoldGrid plugins and themes would be using a BoldGrid offical WordPress host. If you are currently using an Official Hosting Partner, their technical support team will have training in both using and troubleshooting any BoldGrid and WordPress issues you may run across. In some cases, we recommend users to contact their host for issues that are outside of BoldGrid itself, and we can understand how this clarification can be confusing for users. Having a host that is familiar with WordPress and BoldGrid will expedite the resolution of any issue you may be facing.
Ask a Question
You can use our Questions forum to pose any question you may have to our Customer Facing Support team. We will do our best to answer as soon as possible, and provide you with the most accurate information we have.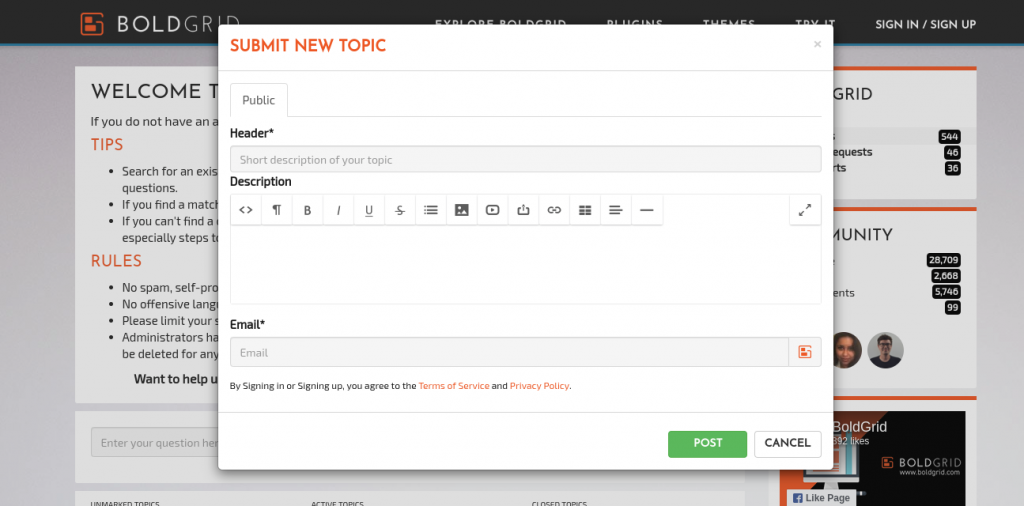 Using the Dashboard Widget
We have included a bug report and feedback widget within your BoldGrid Dashboard. If you use that widget to select Bug Report, it will populate the form with data to assist us in investigating the problem you are experiencing. This information includes PHP information, Themes and Plugins you are using, as well as BoldGrid configuration data. Having this additional information when troubleshooting issues is helpful, and if you wish to submit an issue to us directly, using the bug report option is recommended. The following step by step guide will explain the process for submitting a bug report to us directly from within your BoldGrid Dashboard.
Congratulations! You now know of multiple channels you can use to get Support for your BoldGrid Website.
SIGNUP FOR
BOLDGRID CENTRAL
200+ Design Templates + 1 Kick-ass SuperTheme
6 WordPress Plugins + 2 Essential Services
Everything you need to build and manage WordPress websites in one Central place.