One of the overlooked features with the BoldGrid Staging plugin is the the advanced tab that can be seen when you are deploying your Staging site.  Remember that the Staging site is an option that lets you prepare a new look or even a different website to replace your existing or Active site.  The Active site is what your viewers are seeing right now.  Only Administrators can see the Staging site.  In order to use the instructions in this tutorial, you will need to have a BoldGrid Staging site already loaded.
In order to see the Advanced tab when you ready to deploy, you need to click on Deploy Staging.  Don't worry if you're not ready, as the site will not deploy unless you click on the button labeled Launch Staging!  
To deploy your

Staging site

, you will need to be in the

BoldGrid Administrator dashboard

Click on

Customize

in the menu at left and then click on

Deploy Staging

Click on the

Advanced

 tab.  You will see some instructions on deploying your

Staging site

. The screenshot below is an example of what you will see in the

Advanced

 tab.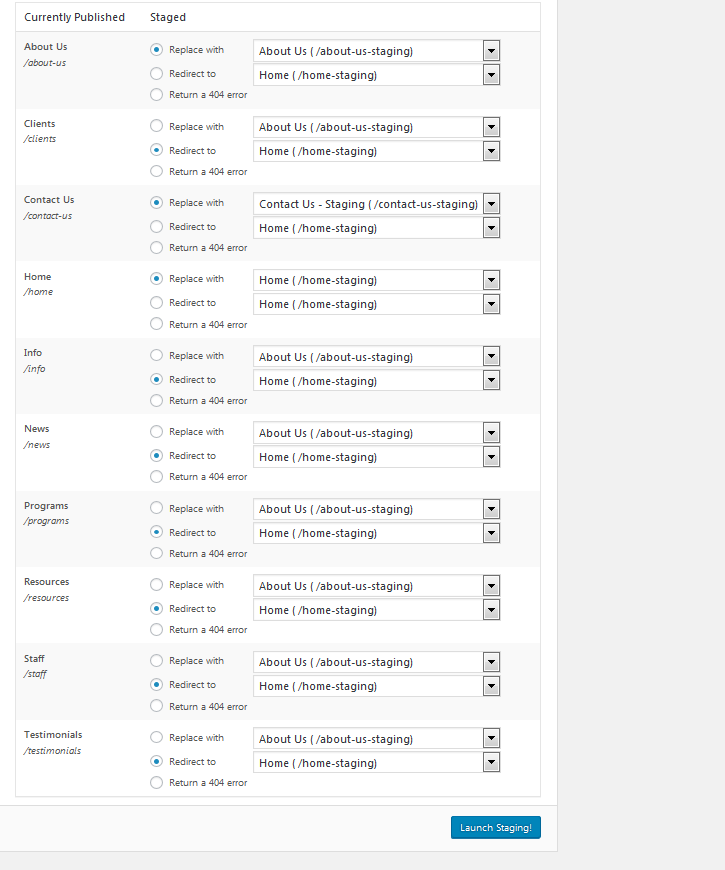 Staging allows you to replace the existing pages of your website with new pages that you may have created in your Staging site. You have three options that you can use in the Advanced tab to change your pages:

Replace the pages with the exact same page or choose another existing page in Staging

Redirect your page to a specific page in Staging

Return a 404 error

These different options allow you the flexibility to choose how the replaced sections of your staging site will appear when it is active.  
The Advanced tab will list all of your current active pages so that you can make a decision for each one.  When you're ready to deploy, simply click on Launch Staging! and you'll be ready to go.