WordPress websites currently power 40% of the web, making it the most popular way to create websites in 2021. In order to run a WordPress site you need three things – the WordPress software, your website content, and WordPress hosting to provide storage for all that code.
While WordPress offers web hosting directly from the WordPress.com site, this may not be the best option as you will be limited in what you can do with your website.
WordPress.com vs. WordPress.org
You may have noticed there's a WordPress.com and a WordPress.org. So what's the difference? Which should you use? Let's start with a basic overview.
WordPress provides hosting for websites created directly from the WordPress.com website. Matt Mullenweg, the co-founder of WordPress, created this for-profit service. You design and launch your personal website directly from the WordPress.com site.
WordPress.org provides open source (free) software you use on your personal web hosting. It is sometimes called self-hosted WordPress because you need your own web hosting and a domain name. When you hear the word "WordPress", it means this open source software.
WordPress.com uses a custom version of the software provided by WordPress.org, so there are limitations. The full power of WordPress can only be accessed with personal WordPress hosting.
Does WordPress Do Hosting?
Yes, WordPress does hosting on WordPress.com and has both free and paid plans available. When you host directly on WordPress.com there are no upfront costs, and you will not need to purchase a separate domain name. WordPress will be automatically installed and kept up to date for you.
However, even on the paid plans there are limitations so you may find yourself outgrowing WordPress.com fairly quickly. The tools, plugins, and themes you have access to are limited to those integrated with WordPress.com, not the full catalog available directly from WordPress.org.
Limitations of Free WordPress.com Hosted Websites
Custom domain names cannot be used, and you are limited to a subdomain.
Themes and plugins cannot be installed, and themes provided cannot be customized with CSS.
Users see ads on the front end of your site and do you make money from them, nor can you add your own ads.
WordPress branding in the footer cannot be removed.
Limited SEO and Analytics website tools.
No website backup options.
Limitations of WordPress.com Hosted Websites
The tools, plugins, and themes you have access to are limited to those integrated with WordPress.com, not the full catalog available directly from WordPress.org.
The cost can be higher than traditional web hosting.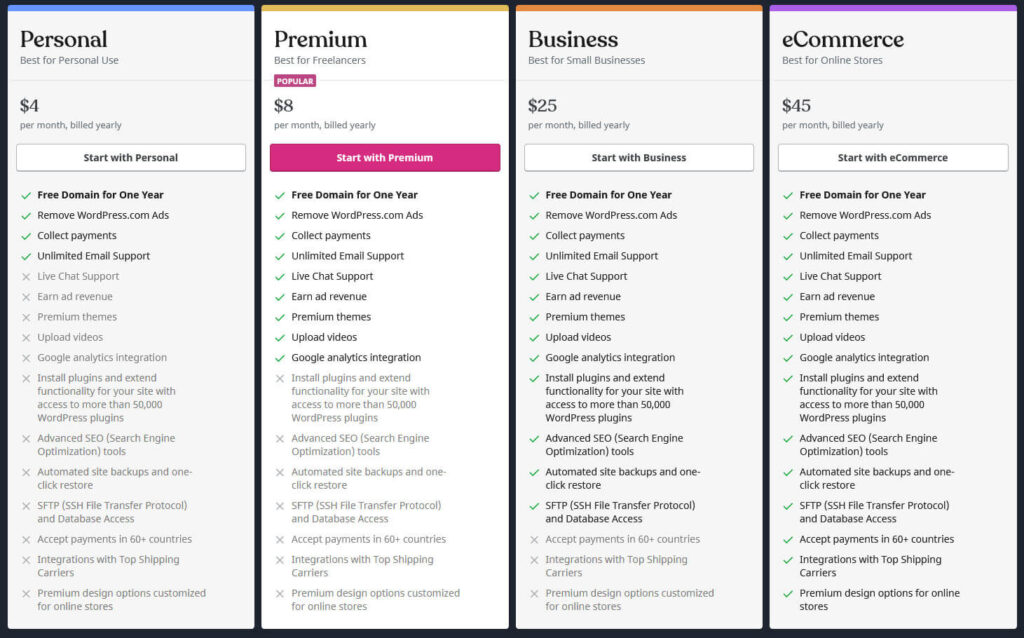 Cost
Currently WordPress.com has 4 main paid plans available, ranging from around $50 to $540 per year.
In order to use WordPress.com professionally, you will minimally need to purchase the $50 per year plan so you can use a custom domain name and remove the ads on your website. Domain names can be registered through many different companies, but if needed you can register a domain name directly from WordPress.com when you create your account.
The next tier is Premium for $96 per year. It mainly adds Backups, Google Analytics integration, the ability to add custom CSS, and display your own ads to monetize the site. However, you will have to share the revenue earned with WordPress.com.
The $300 per year Business plan allows you to install compatible themes or plugins. It also adds the ability to remove the WordPress footer link and provides SEO tools.
In order to create an online store, you will need the $540 per year eCommerce plan. There are also VIP plans for enterprise level sites, however they start at just over $20,000 per year.
Themes & Plugins
There are about 100 free themes to choose from and another 80 available for standalone purchase. All of these themes were built specifically for use on WordPress.com and are not the same ones available for self-hosted WordPress sites. Keep in mind these themes cannot be customized with CSS unless you are on the Premium plan.
While core WordPress contains the basic functionality to get a website up and running, most users end up needing additional features only provided by plugins. If you are on the Business plan or higher, you can install certain plugins, otherwise you are limited to the functionality provided by WordPress.com.
Some basic Jetpack features are available on WordPress.com sites, including the ability to add contact forms, polls, and ratings. It also provides a log of site activity, including when pages/posts are published or modified and if a new theme is activated.
It's important to keep in mind not all themes and plugins will work on WordPress.com hosted sites. Be sure to check with the developers if you want to use a specific theme or plugin.
Should I Host with WordPress?
If the limitations listed above won't prevent you from reaching your website goals, hosting with WordPress.com may work for you. However, most professional WordPress websites are self-hosted with traditional WordPress hosting providers.
Advantages of Self-Hosted WordPress
The main advantage of using WordPress.org software is the ability to unlock everything WordPress has to offer.
You own your website 100%.
You can monetize the website and keep 100% of the profits.
Any theme can be installed on your website, free, paid, or custom coded.
Access to over 3,000 free themes.
Add custom CSS or make child themes for advanced design customization.
Any plugin can be installed on your website, free, paid, or custom coded.
Access to over 55,000 free plugins.
There's a wide range of SEO and Analytics tools available.
You can create a membership site or a store.
Cons of Self-Hosted WordPress
There are a few things with self-hosted WordPress sites you will need to consider before starting.
You are responsible for installing WordPress on your website, but many times your web hosting provider has quick install options to help.
Updates are not automatic, you will need to be comfortable updating your themes, plugins, and WordPress itself. If this seems overwhelming, you may want to consider Managed WordPress Hosting, as many times updates are included with the service.
Backups are not a core feature and while they are not required, we strongly recommend finding a plugin or talking with your hosting provider about their backup options available.
There are upfront costs required for the web hosting and domain name registration.
Cost
Core WordPress is free. The required costs come from domain name registration and website hosting.
Additional costs can come from purchasing themes and plugins, and those vary greatly. Prices can be anywhere from $15 a year to over $100 a month or more! Keep in mind you can make a fully functional and safe website using a free theme and free plugins, or no plugins at all.
Themes & Plugins
You can install any themes or plugins on self-hosted WordPress sites, giving you maximum control of your website. Since there are over 3,000 free themes and 55,000 free plugins available directly from WordPress.org, it's easy to find the perfect one for your needs.
FAQs
I already have a WordPress.com account. How do I transfer?
You may have found WordPress.com worked for your initial website needs, but the time has come to move to your own hosting account. Luckily you can migrate followers from WordPress.com to your new installation, so you can keep your hard earned followers.
Conclusion
Hopefully you now have a better understanding of how WordPress provides hosting, and why self-hosted WordPress provides the best value and the most options. If you have any additional questions, please leave a comment at the bottom of this page.
SIGNUP FOR
BOLDGRID CENTRAL
200+ Design Templates + 1 Kick-ass SuperTheme
6 WordPress Plugins + 2 Essential Services
Everything you need to build and manage WordPress websites in one Central place.