There is a point where you may want to save a block so that you can reuse it in a different location. Fortunately, this can be done very simply by using reusable blocks in the WordPress editor. Note that as of WordPress 5.0, the Gutenberg editor has been integrated into the Administrator dashboard as the default editor. Follow the directions below to learn how to save a Reusable block.
What is a reusable block?
A reusable block is a modified or formatted block created within the WordPress editor and saved so that you can apply that same block in a different part of your WordPress site. The screenshot below identifies a reusable block.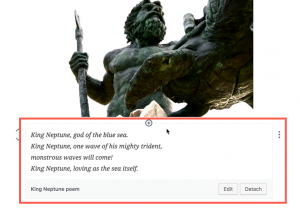 How to Create a reusable block
Learn how to create a reusable block in the Gutenberg editor by following the directions below.
Open a page or post to edit or create a new one as needed.
Add a block and then format or add styles to it as per your preference.
 Once you're done with the formatting of the block, click on the three vertical dots to the right of the block.
 Click on Add to Reusable Blocks.
You will then need to name the block that you are saving. Click on the box where you see the box with the holder text, "Untitled Reusable Block".
Click on Save to finish.
Once the block is saved you can access it from the blocks menu at any time. If you ever need to make changes to the block and then save it as a different block, simply detach the block, make your edits, then convert it a reusable block again and name it differently.  That completes our tutorial on saving reusable blocks in the Gutenberg editor. For more information on using Gutenberg, check our article on How to set the Pending Review option.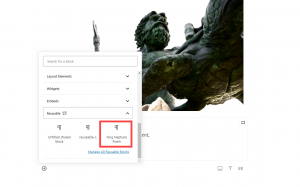 SIGNUP FOR
BOLDGRID CENTRAL
200+ Design Templates + 1 Kick-ass SuperTheme
6 WordPress Plugins + 2 Essential Services
Everything you need to build and manage WordPress websites in one Central place.