By the end of this article, you will know how to embed a video into a BoldGrid page. Embedding a video from a popular video site (like YouTube) is as easy as pasting a link to that video into your page. WordPress uses oEmbed to provide support to embed various media types easily. In this tutorial, we'll work specifically with Youtube. Other video services can be embedded using the same method.
Follow along with the steps below to see how: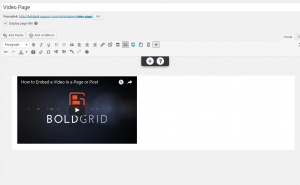 Notice how the video will automatically replace the text link. WordPress (and thus BoldGrid) uses a format called oEmbed, which can open the video or image automatically from the link itself.
Well done! You now know how to embed a video into your BoldGrid page! You are now ready to Update or Publish your page with the video included.
SIGNUP FOR
BOLDGRID CENTRAL
200+ Design Templates + 1 Kick-ass SuperTheme
6 WordPress Plugins + 2 Essential Services
Everything you need to build and manage WordPress websites in one Central place.