The title tag is one of the most important meta tags that can have a significant impact on your page's performance with search engines and users. The meta description tag contains a short description or summary of the webpage. The following guide will provide you with information on optimizing your title and description in BoldGrid Easy SEO.
Status Indicators
The status indicators for the Title and Description section involve adjusting your title tag and meta description to fit recommended guidelines. Our plugin does all the calculating for you. All you need to do is read the guidelines next to the red, yellow, or green dots. If the dot is red, you will need to take the recommended step to fix the issue. Yellow means you have improved, but green is the color you should go for.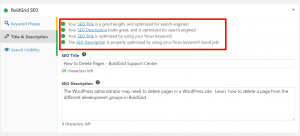 Title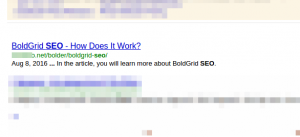 The title tag should be considered the first thing your potential visitors will see about your page in a search engine results pages (SERPs). Remember, your goal is to be found but once you are found in search results, you want the search visitor to click on your results and the title tag is the first thing they will see. The title should be over 30 characters long and contain your keyword phrase. Once the page has been indexed by a search engine, your title will appear in the results and provide a link for your visitor to click on.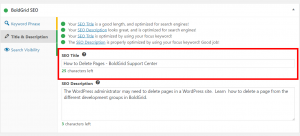 Description
The meta description will appear under your title, as seen in the image of the Google Search results. The meta description does not directly affect your organic search position however, it does provide the search visitor an explanation of what they should expect on the page. It is not advised to stuff your keyword in the description unnaturally, but you should definitely have the keywords in the seo title and meta description.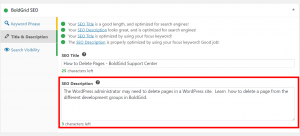 SIGNUP FOR
BOLDGRID CENTRAL
200+ Design Templates + 1 Kick-ass SuperTheme
6 WordPress Plugins + 2 Essential Services
Everything you need to build and manage WordPress websites in one Central place.