These days, image is everything. A website in need of a strong, impressive visual presence will not hold a visitor's interest long. Recent trends in web design favor immense high-resolution background images.
BoldGrid makes it easy to integrate this kind of style into your WordPress site with virtually no effort at all. This is an easy goal to accomplish for business people and an effective time-saver for WordPress-savvy developers.
This is important because your BoldGrid theme will have a default theme background image after you have gone through the inspirations process. You may want to replace that image or use a pattern with a background color. This article tells you how to make those changes.
Now you can quickly and easily swap and customize background images, patterns, and colors for your theme right from the WordPress customizer.
Changing the Background Image
Follow along with the steps below to switch your background image and set scale, scrolling, and position options.
Using a Background Pattern with Color
As an alternative to a background image, you can use colors and patterns: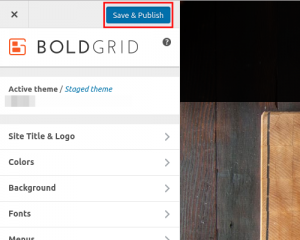 Make sure to click Save & Publish when you are done editing.
Well done completing this tutorial! You now know how to customize your theme background through the WordPress customizer. You should now proceed to customizing typography.
SIGNUP FOR
BOLDGRID CENTRAL
200+ Design Templates + 1 Kick-ass SuperTheme
6 WordPress Plugins + 2 Essential Services
Everything you need to build and manage WordPress websites in one Central place.