In the previous WordPress Customizer tutorial regarding background images, we learned about the importance of immense, impressive images in the layout of your site. Aside from images, your site visitors will be expected to read the typographic content of your site as well.
For a business, the detailed text passages should not be missed. Likewise, web designers will want to make sure the font size and style is creative, appealing, and highly readable. Emphasis is encouraged where appropriate, and subtle touches will help win the visitor's attention.
With the BoldGrid plugins installed, customizing font through the WordPress customizer is fast and easy. In the steps below, we will cover the basics. Consider playing around with different designs. For example, mixing stylized fonts with more conventional ones can make the text stand out to your readers.
Getting to the Font Customizer
Click Customize.
Choose Fonts.
Select a text area (Menus, Headings, Main Text, etc.).
Changing the Font Family
Choosing a Font Family will make the most significant impact on your site right away. The font family selection will include the various sizes and styles associated with the selected typeface.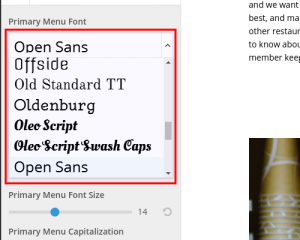 To change typography in WordPress, choose a font from the drop-down menu.
Text Areas
The font customizer lets you change typography in WordPress across your whole site. Below you will find a description of the primary text areas you can edit.
Menus
The menu areas are the main sets of navigational buttons most often seen in the header and footer of a site.
| Before | After |
| --- | --- |
| | |
Headings
Headings are typically identified as the largest, boldest items on the page. They can introduce new sections, give emphasis to headlines, and draw the readers' attention.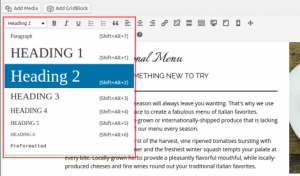 These headings are available in the visual editor under Heading 1 through Heading 6.
| Before | After |
| --- | --- |
| | |
Main Text
The main text of the site is the text read most often in paragraphs, comments, and, in some cases, categories and tags.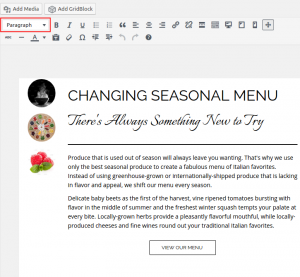 In the visual editor, the main text is classified as Paragraph.
| Before | After |
| --- | --- |
| | |
In the next tutorial, we will continue on in the WordPress Customizer when we start working with menus.
SIGNUP FOR
BOLDGRID CENTRAL
200+ Design Templates + 1 Kick-ass SuperTheme
6 WordPress Plugins + 2 Essential Services
Everything you need to build and manage WordPress websites in one Central place.