With thousands of custom typography choices, the Post and Page Builder WordPress plugin gives you the ability to have complete control over font size, weight, decoration, color, and more.
Choosing a Font Family
By default, the text will use theme settings from the Customizer
If using a BoldGrid Theme, choosing the Theme Fonts will use the Main Text and Headings settings from the Customizer
Common Fonts are professionally selected fonts that look great on any website
System Fonts are fonts already installed on your computer
The Google Font library is included with hundreds of font options
Font Styles
Each font has it's own Font Weights to choose from
Use Font Style to make your text italic or normal
Text Transform will change your text to Uppercase, Lowercase, and more without retyping the text
Text Decoration adds design touches like Overlines and Underlines
The current Color is shown, to change it click the Edit button

The Color Picker appears with the Theme Colors at the top

Set the Size anywhere from 6px to 200px
The Line Height and Letter Spacing can also be adjusted
Text Effect has 8 designs to choose from to make your text really stand out
Or a Text Shadow can be added
Using Spans
You can use different fonts or colors within a single element with the Span control. A single word or group of words can have a unique font and color, like shown below.
Highlight the word or words you want to change
Click the Span icon (horizontal line) in the DropTab
Choose new font options only for the highlighted text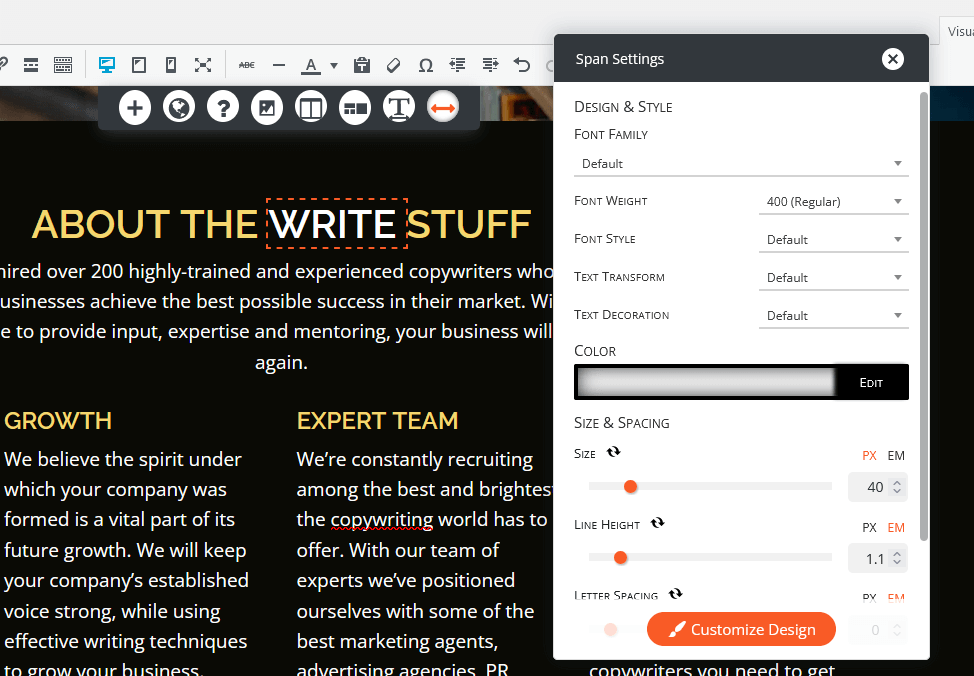 BoldGrid Crio Customizer Integration
When using the Post and Page Builder with our Crio theme, a Span will override the Customizer settings. If a new font is selected for a heading, that heading will no longer respond to the Customizer heading control. If a new size is entered, any responsive font values entered in the Customizer will not be used.
Congratulations! You now know how to work with fonts from the BoldGrid Post and Page Builder.
SIGNUP FOR
BOLDGRID CENTRAL
200+ Design Templates + 1 Kick-ass SuperTheme
6 WordPress Plugins + 2 Essential Services
Everything you need to build and manage WordPress websites in one Central place.