The BoldGrid Post and Page builder uses the Bootstrap grid system to create Sections, Rows, and Columns for you to control your website content. This article will discuss the controls specific to Sections. For more information on how the Post and Page Builder works overall, you can read about how to use the Post and Page Builder.
How to Use Sections in the Post and Page Builder
The largest containers in the Bootstrap hierarchy are Sections, and each section can contain one or more rows. BoldGrid makes it easy to use this grid system by adding extra controls that appear on hover, called Drag Handles or Popovers. Once you click into the section you want to work with, these popovers will appear.
Sections > Rows > Columns > Elements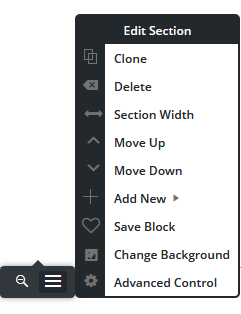 Sections are the outermost area.
To access options that affect the entire section, click the Black popover found at the bottom of the section.
The Magnifying Glass icon on the left takes you to the Add Block screen where you can rearrange the sections on the page by dragging and dropping. You can also add new Blocks to your page from here.
The right Hamburger Menu icon brings up a menu that allows you to perform tasks related specifically to that section, as discussed below.
| | |
| --- | --- |
| Clone | Creates a duplicate of the existing section. |
| Delete | Removes the entire section and all its content. |
| Section Width | Choose between a fixed container or full-width so the content touches the sides of the screen. |
| Move Up | Swaps the section with the one above it. |
| Move Down | Swaps the section with the one below it. |
| Add New | Hovering here will give you two options – add a new row to the current section, or add an entirely new section. |
| Save Block | Saves the section as a Block in your Block Library. |
| Change Background | Brings up the background panel to use a color, image, or pattern. |
| Advanced Control | Adjust padding, margin, border, animation, and more. |
Congratulations!
Now that you have a better understanding of how to work with Sections on your WordPress website, you may want to learn how to work with Rows.
SIGNUP FOR
BOLDGRID CENTRAL
200+ Design Templates + 1 Kick-ass SuperTheme
6 WordPress Plugins + 2 Essential Services
Everything you need to build and manage WordPress websites in one Central place.