One of the best parts of using WordPress, and BoldGrid with it, is that you are always free to take your website to any WordPress hosting service that you would like. Migrating WordPress can be a hassle, but follow these easy steps using the Total Upkeep backup plugin to migrate your WordPress website backup easier than ever.
Important Considerations – Preparing to Migrate WordPress
Please Note: This guide is for moving a WordPress website from one host to another. If your website is currently on WordPress.com, we have another article for moving from WordPress.com to self-hosted WordPress.
Be sure to consider that after you migrate your WordPress Databases and files, you will still need to point your DNS records to your new provider. This is typically done at the registrar, by setting the nameservers to those of your new host. In most cases there is usually downtime, but you still want to do this change when the least amount of people are known to visit your website.
You also want to think about email. Are you are hosting your email on the same server as your WordPress website? If so, you may need to transfer WordPress separately from your mail services. Usually a quick chat with your web host will help you know what to do here.
Consider that if your WordPress website has frequent visitors who make purchases on your website, or contribute content, you may want to migrate WordPress during the least-busy time of day, so that purchases are not made during the DNS propagation period. You may even consider placing your website in maintenance mode during the transfer
Above all, we recommend that you do not change your DNS until you have made certain your website is working on the new host. There are a number of ways to accomplish this, and most Managed WordPress hosting providers have a solution to this problem.
Throughout this guide, we'll be using the terms "Current Host" and "Current Site" referring to the source site— the website you are migrating away from. We'll be using the terms "New Host" and "New Site" referring to the destination site— the website you are migrating to.
Install WordPress on Your New Host
Install WordPress using your new host's instructions. Keep in mind that you don't need to customize or make any content in your new site, the following steps will overwrite any changes you make
Install our Total Upkeep backup plugin in your new WordPress site.
Back Up on Your Current Host
Log into your WordPress Dashboard
Navigate to Total Upkeep > Backup Archives and click on Backup Now.
Ensure that you have both options selected for Full Backup. Optionally, you may name your backup so that you can remember which one you used to migrate to your new host
Allow time for the backup to complete. Once it does, click View Details
Ensure all of your files and database tables are included in the details
Create Download Link on Your Current Host
On your current site, navigate to Total Upkeep > Backup Archives > View Details
Click Get Download Link and then Copy Link
Upload Link on Your New Host
Navigate to Total Upkeep > Transfers > Destination
Paste the Download Link into the Download URL Address field and click Upload
Allow time for the upload to complete. Once it does, click Restore
Click Restore. Acknowledge the warning that you may be logged out during the restoration process, you will use your username and password from your original host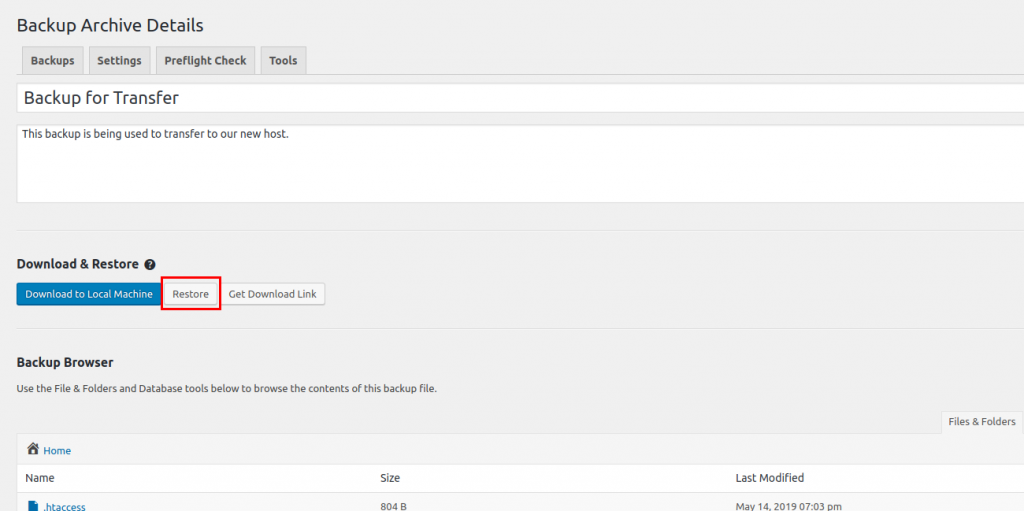 Test Your Website on Your New Host
If your new site is using a temporary URL, you can test it using that address and update your Site URL after changing your DNS
If your new site is using the same URL, test it by modifying your computer's hosts file to your new IP address
Once you are certain your new site is functioning correctly, proceed to update your DNS to your new host
Congratulations! You now know how to migrate WordPress Website to a new host using the Total Upkeep WordPress Backup Plugin. There are a number of things besides backups that Total Upkeep can do for you, including helping you manage automatic updates, emergency restoration, store backups remotely and help you with scheduling automatic backups. Total Upkeep is a complete website management system.
Troubleshooting
Download link is not working
If you're having an issue when using the download link, there are additional log files that may help us in diagnosing the issue. To view these logs files:
Go to Total Upkeep > Tools > Logs.
Find and click on the transfer-archive.log log. This file should have more information to help us troubleshoot – feel free to create a new topic in our forums with this information for additional help.
For additional help troubleshooting the download link, you can watch the following video:
SIGNUP FOR
BOLDGRID CENTRAL
200+ Design Templates + 1 Kick-ass SuperTheme
6 WordPress Plugins + 2 Essential Services
Everything you need to build and manage WordPress websites in one Central place.