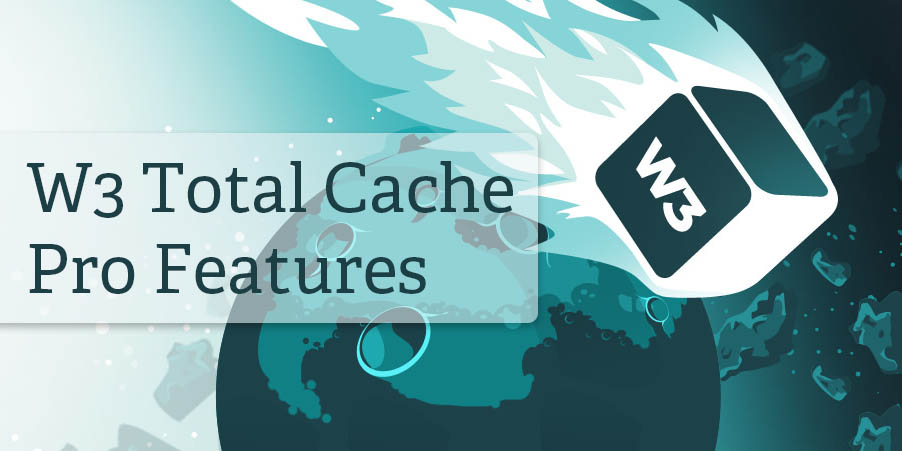 We may be biased, but here at BoldGrid we believe that W3 Total Cache is the best WordPress caching plugin to help speed up your website. With plenty of free features like browser caching, page cache and lazy loading, you can get your site performing super fast with just a few tweaks.
W3 Total Cache is unique from other WordPress caching plugins because it has the features needed to grow with your business. Initially, the community, or free version can be enough for smaller sites and options like Page Cache and lazy loading are all you need. As your user base grows, caching your website can become more complex to ensure everything behaves accordingly and you maintain the best user experience. The larger your WordPress website grows, the more meaningful W3TC's Pro Features will become to you.
This article will cover the Features in the premium version, give an overview of what they are and the benefits your website loading times will see when leveraging them. With W3 Total Cache, you are guaranteed to get superior performance from your WordPress website.
Speed Up Your WordPress Website.
A Difference of Just 100ms in Page Load Speeds Can Cause a Visitor to Prefer Your Competitor's Website.
W3 Total Cache Pro Features
Full Site Delivery via CDN
With full site delivery, your visitors will get the fastest possible response times for all your website content including HTML, media, CSS and JavaScript. When hosting both your website and DNS with your provider, every component of your website will be delivered using a worldwide network of servers. This results in better performance, especially when used with other features such as Browser Cache, Minification, Fragment caching, and lazy loading.
The following CDN Types are supported by W3 Total Cache for both Objects and Full Site Delivery:
Origin Pull / Mirror:

Akamai
Amazon CloudFront
Contendo
Generic Mirror
Highwinds
LimeLight
MaxCDN
Rackspace CDN
StackPath (Recommended)
EdgeCast

Origin Push:

Amazon CloudFront Over S3
Amazon Simple Storage Service (S3)
S3 Compatible Object Storage
Google Drive
Microsoft Azure Storage
Rackspace Cloud Files
Self-hosted / FTP Upload
For any assistance with configuring your Full Site CDN, we offer Pro Support from directly within your WordPress Dashboard. Visit Performance → Support to view our available options.
Fragment Cache
Fragment caching extends the core functionality of WordPress by allowing you to enable caching policies on groups of objects that are cached. The benefit of this approach is not only that capabilities in themes and plugins can be optimized to use caching to save resources and reduce response times, but caching methods like Memcached or Redis can be used to scale. Instructions for use are available in the FAQ under the help menu or you can contact support for premium services to help improve website performance.
Rest API Caching
If you use WordPress as a backend for integrations, API caching may be for you. Similar to page caching, repeat requests will benefit will have significantly lower response times and consume fewer resources to deliver.
Eliminate Render Blocking CSS
Render blocking CSS delays a webpage from being visible in a timely manner.
Every one of your css files delays your page from rendering.
The bigger your css, the longer the page takes to load.
The more css files you have, the longer the page takes to load.
Extension Framework
Add accelerated mobile pages (AMP) support. Improve the performance of your Genesis, WPML-powered site, and much more. The following Pro Extensions are available after upgrading.
Genesis Framework by StudioPress Acceleration
Increase the performance of WordPress websites powered by the Genesis Theme Framework by up to 60%.
WPML Extension
Improve the caching performance of websites localized by WPML.
Localization is a type of personalization that makes websites more difficult to scale. This extension reduces the response time of websites localized by WPML.
Caching Statistics
Statistics provide transparency into the behavior of your caching performance. Without statistics, it's challenging to identify opportunities for improvement or ensure operations are working as expected consistently. Metrics like cache sizes, object lifetimes, hit vs miss ratio, etc across every caching method configured in your settings.
An at-a-glance version of your statistics is available directly on your Performance Dashboard, however, the comprehensive suite of statistics are available on the Statistics screen. Web server logs created by Nginx or Apache can be analyzed if accessible.
Use the caching statistics to compare the performance of different configurations like caching methods, object lifetimes and so on.
Contact support for any help optimizing performance metrics or troubleshooting.
Purge Logs
Purge Logs provide information on when your cache has been purged and what triggered it.
If you are troubleshooting a complex issue in which you are not sure why your cache is being cleared, Purge Logs can tell you why
Now that you have more information about what is possible with W3 Total Cache Pro, you may want to upgrade now, or view the complete W3 Total Cache Documentation to learn more about the possibilities with both the Community and Pro versions.
Interested in having us help optimize your WordPress website further? Try our Premium Services located in your WordPress Dashboard by visiting Performance → Support. Thanks for reading!
W3 Total Cache
You haven't seen fast until you've tried PRO
Full Site CDN + Additional Caching Options
Advanced Caching Statistics, Purge Logs and More