Keeping your WordPress backups in a secure, remote location is an important part of keeping your Website safe from harm. With the Total Upkeep plugin's Premium Extension, you can use Amazon's Simple Storage Service (S3) to safely store your WordPress backups in case anything happens to your web server.
Why Amazon S3?
Amazon S3 is designed to have 99.999999999% durability and is extremely affordable. With S3, you pay for what you use in a scaling fashion, which makes it a perfect solution for websites of all sizes to keep secure offsite backups.
How to Configure Amazon S3 Storage
You must already have an

AWS account set up

in order to follow these instructions.

Sign into your AWS Management Console, and navigate to

Security, Identity, and Compliance ➡ IAM.

Click on

Users

in the left-hand menu, then click

Add User.

Name your new user and click

Programmatic Access

, then click

Next: Permissions.

Choose

Attach existing policies directly.

Type

AmazonS3FullAccess

into the filter and select the matching policy, then click

Next: Tags.

Click

Next: Review

, then

Create User.

Copy the

Access Key ID

and

Secret Access Key

to a safe location. This is the only time you will have access to them without creating new credentials.

Log into your WordPress Dashboard and navigate to

Total Upkeep ➡ Settings ➡ Backup Storage.

Next to Amazon S3, click

Configure.

Paste your Access Key ID and Secret Access Key into the corresponding fields, and click

Save Settings.

Exit the pop-up settings menu, check the box next to

Amazon S3

, and click

Save Settings.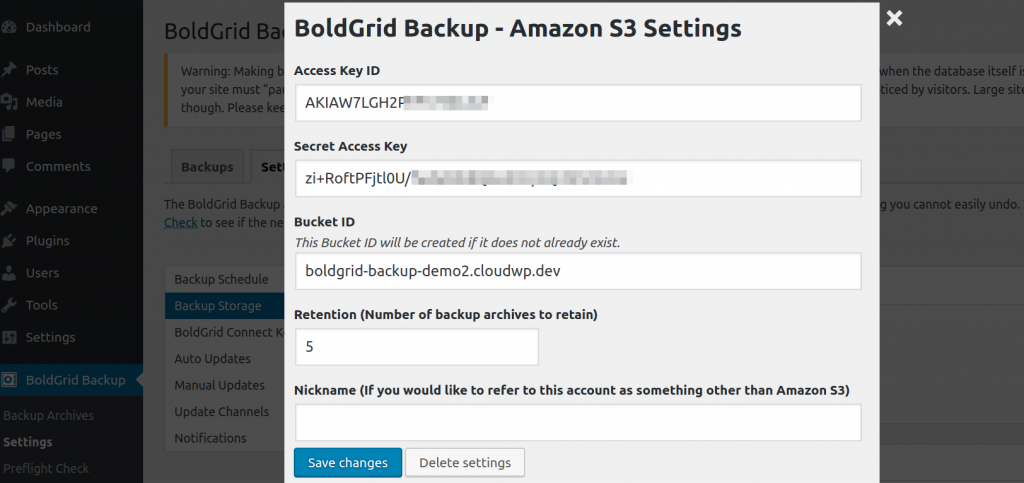 Using an s3-compatible Storage Service
You can also use Total Upkeep Premium for any S3-Compatible storage service, but the interface is a little confusing because it was originally designed for DreamHost's DreamObjects service, which is an S3-Compatible object storage service.
You can set up your S3-Compatible storage service by navigating to Total Upkeep > Settings > Backup Storage and selecting the option to Configure DreamObjects. From there, you'll just need your Access Key and Secret, as well as the hostname of your storage, and you'll be able to store your backups there.
Congratulations! Your WordPress Backups will now be securely saved on Amazon S3 so you can rest easy knowing your website is safe.
PREMIUM FEATURE
Total Upkeep Premium
3 Remote Storage Options
Additional Tools + Single File Restorations
These instructions require the Premium Upgrade.