What is CloudFlare?
CloudFlare is one of the biggest networks in the world, having over 200 data center locations. It is used by millions of website owners around the world, and can provide several benefits to you as a website owner as well. Their mission is very much like ours here at BoldGrid, to help improve the internet and even more so, help speed up the web.
Since 2011, W3 Total Cache and CloudFlare have been fully integrated for WordPress using the extension framework. The following WordPress tutorial will walk you through the steps needed to set up CloudFlare, and enable CloudFlare for WordPress within your Dashboard using W3TC.
Speed Up Your WordPress Website.
A Difference of Just 100ms in Page Load Speeds Can Cause a Visitor to Prefer Your Competitor's Website.
Registering a Cloudflare account
To get started, you need to register an account with CloudFlare. Once that has been completed, you can begin adding your site. If you already have an account, you just need to login.
After you've created an account you need to add the website by clicking on + add a site.

To complete this step, you need to enter your website's domain name, and click on add site to continue.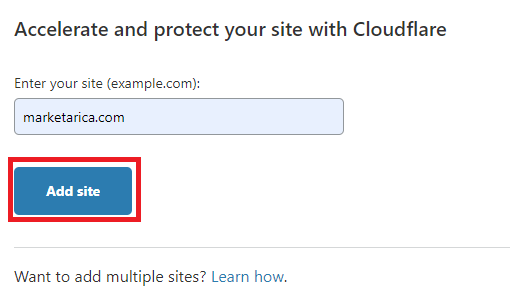 After this you will be prompted to another page to select your plan. Select your plan and confirm it. We recommend beginning with the free plan, as you can upgrade later anytime you decide.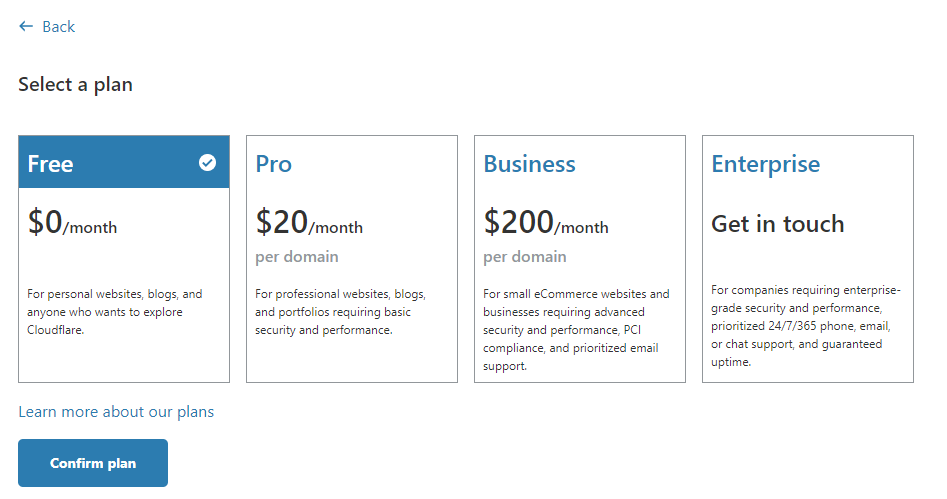 Once you have confirmed the plan, Cloudflare will begin scanning for existing DNS records. Once that has been completed, you will be taken to another page to Review your DNS records. If you are unsure of the accuracy, it is recommended to confirm these DNS records with your web host.
Next, you will need to change your domain nameservers. This can be done with the company who you have registered your domain with directly. Pointing to Cloudflare's nameservers is critical for enabling CloudFlare for your WordPress website. Otherwise, Cloudflare is unable to manage your DNS and serve your website from their Content Delivery Network.
If you need assistance with changing your domain nameservers, we would recommend contacting your registrar's support directly. Note that it may take anywhere from 1 to 24 hours for the changes to take effect completely. But don't worry – your site should not experience any downtime.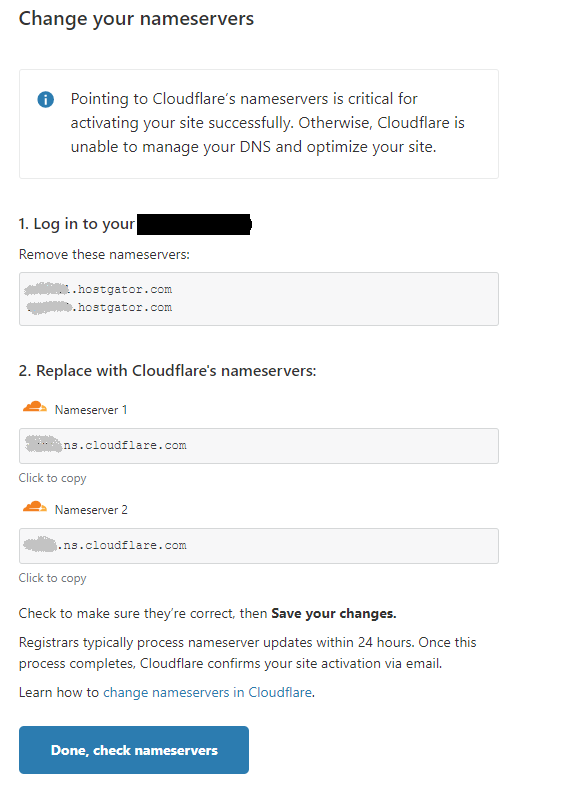 Activating Cloudflare in W3 Total Cache
Next, to ensure that WordPress is configured optimally for CloudFlare, you will need to activate the Cloudflare extension.
In the WordPress Dashboard, Navigate to Performance → Extensions
Click on Activate under Cloudflare.

After the extension is activated click on the Settings to authorize the Cloudflare credentials.

Click on the Authorize to enter the email address for your Cloudflare account as well as your Cloudflare API key.

*Note that the Authorize button may not work if your Dashboard is in the language other than English. If you are experiencing any issues, please set the language to English temporarily to Authorize Cloudflare.
You can find your Cloudflare API key by going to My Account and finding the API Token section.
After clicking on the "next" button you will be prompted to select the zone. Click on the radio button next to your site and confirm:

Congratulations, Cloudflare is now activated. Note that if you've activated Cloudflare before confirming the DNS records changes it may not have an effect until DNS Propagation has completed.
WordPress CloudFlare Minify Settings
To ensure you do not have a conflict, you need to configure minify to work in either W3 Total Cache or CloudFlare. Since both methods have a different approach, they do not work well together. This includes HTML minify, Javascript minify, and CSS minification settings.
Changing CloudFlare Configuration Settings
When adjusting the CloudFlare configuration in W3 Total Cache, or purging the CloudFlare Cache, it is possible that it may take up to 24 hours for your cache to fully rebuild.
If you need assistance with configuring CloudFlare for WordPress, and wish to have our Eneterprise Level Support Team assist you, you can navigate in the WordPress Dashboard to Performance → Support and submit a plugin configuration request. It will require access to your domain registrar, WordPress Dashboard and CloudFlare account. Learn more about our W3 Total Cache Premium Support Services.
W3 Total Cache
You haven't seen fast until you've tried PRO
Full Site CDN + Additional Caching Options
Advanced Caching Statistics, Purge Logs and More