Elementor vs BoldGrid:
Which WordPress Website Builder Platform Is Better For My Business in 2020
If you're new to building websites, choosing between Elementor vs. BoldGrid can be a difficult decision. The platform you choose to build your website with is integral. You don't want to waste time and resources creating your perfect website only to realize that you'll have to begin again from scratch because the tool you chose doesn't meet your needs. Take a look at the following comparison chart. It should help you choose the best website builder for you.
| | Elementor | BoldGrid |
| --- | --- | --- |
| Introduction | Elementor is a popular and well-known website builder that purports to let you build websites with a drag-and-drop interface. | BoldGrid is an entire suite of themes and plugins that not only allows you to build websites, but also manage them and help you grow your audience. |
| Ease of Use | Elementor's drag-and-drop features are easy to use if you'd like to build a site quickly. You'll have to delve deeper into its various customization options if you want to create your perfect design. That means understanding frontend coding principles, particularly knowledge of CSS. The best blocks comes with Elementor Pro. | In addition to other tools, BoldGrid comes with Post and Page Builder, a visual builder that allows you to create with a WYSIWYG interface. It's most powerful feature is the procedurally generated blocks, which gives you a near infinite selection of blocks to build your site with. The feature is included with the free version. |
| Themes | Elementor Pro comes with 150+ customizable templates. You can also use the "Theme Builder" functionality to create custom templates. | BoldGrid Inspirations comes with 200+ templates separated by industry. Each template is completely customizable and pre-populated with content to help inspire you and make the design process faster and easier. |
| Blogging | According to their official documentation on blogging, while you can use Elementor to build blog posts, if you ever decide to switch to another builder, those blog posts may no longer function correctly. | BoldGrid's Post and Page Builder allows you to place blog widgets on any page you like and customize the amount of posts shown. The block library also includes a number of specialized blocks just for bloggers. You can deactivate Post and Page Builder with minimal disruption to your design. |
| Site Maintenance | Elementor doesn't ship with any site maintenance tools. You'll have to download third party WordPress plugins to get features like backups. | BoldGrid offers the free Total Upkeep plugin, an automated backup and site maintenance solution. The premium version comes with automated remote backups, tools to restore your site even if your WordPress installation is corrupt, the ability to automatically rollback failed updates and more. |
| Plugins and Addons | Elementor does support addons, but they are made by 3rd party vendors. Each time you update WordPress, you may have to worry about compatibility and security issues, as each plugin will follow its own update schedule. | BoldGrid was built to provide you with everything you need to build, grow and manage websites. You won't have to worry about creating a patchwork of questionable plugins — it comes with everything you need. Click here to take a look. |
| Pricing | At the time of writing, you can download Elementor for free. Upgrading to the premium version (and unlocking the best features) costs $49/year for the basic tier at the time this was written. Upgrading to Elementor Pro unlocks a number of free templates, blocks and more. | The Post and Page Builder costs $30/year. If you'd like the entire BoldGrid suite, which consists of Post and Page Builder Premium, Total Upkeep Premium (automated remote backups), BoldGrid SEO, BoldGrid Inspirations (200+ Templates), Speed Coach (automated website speed tests) and Cloud WordPress (create WordPress instance in the cloud), is only $60/year. |
When choosing between Elementor vs. BoldGrid, understand your needs and how they are best. Elementor is exceptionally easy to use in regards to building a website, but BoldGrid provides a 360, comprehensive solution to building AND maintaining your website. It also doesn't lock you into any system. You're free to switch if you'd like.
BoldGrid Makes Building WordPress Websites Easier
BoldGrid's robust web design tools allow you to focus on creating beautiful websites, while its automated website maintenance tools handle everything else.
BoldGrid empowers you — regardless of skill level — to build and manage expert-level websites easily and quickly.
Try our WordPress powered website builder.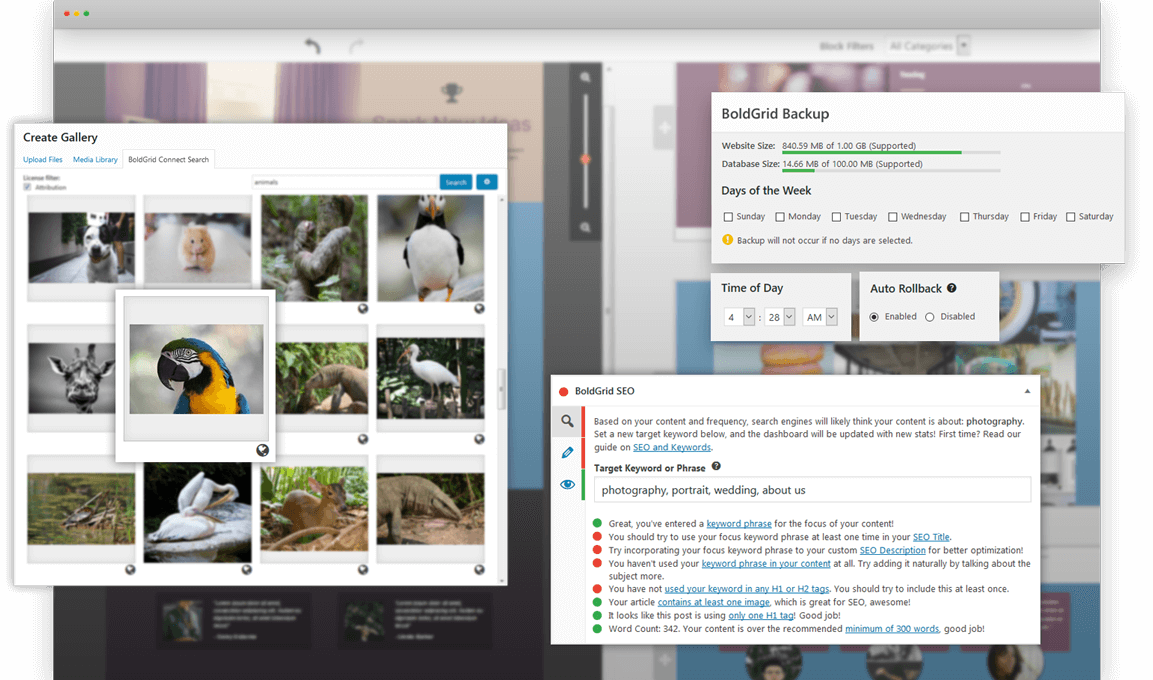 Inspirations
200+ customizable website templates, organized by industry and interest, and a guided setup to help pre-populate important site elements.
Post and Page Builder
Our drag-and-drop editor that allows you to build visually without shortcodes or coding on ANY theme.
Total Upkeep
Total Upkeep is an easy-to-use automated backup, fault protection and migration solution. If updates crash your site the last backup is restored.
SEO
BoldGrid SEO analyzes your content in real-time and advises you on important SEO factors, ensuring your website ranks highly in the search engine results.
Cloud WordPress
Quickly launch a WordPress demo installations. Safely test new plugins and theme changes without risk of breaking your live site.
WordPress + BoldGrid
You can use WordPress to make almost any kind of website. See what you can create with BoldGrid today.