Build, Grow and Manage WordPress Websites
BoldGrid's integrated ecosystem of plugins, themes and services makes building and managing WordPress websites easier for beginners and more efficient for professionals.
1 Million+ Active Installs of BoldGrid Plugins for WordPress
Explore more BoldGrid Products for WordPress
USE BOLDGRID TO
BUILD ON POWERFUL WEB DESIGN PLATFORMS
Every business, project or bright idea deserves a beautiful website. Now you can pick how you want to build it.


BOLDGRID CAN
MANAGE YOUR SITES AND KEEP THEM SECURE
Rapidly test and deploy secure sites with BoldGrid's site management tools. Build and manage single sites or a network of client WordPress installs.

BOLDGRID HAS
Website Performance Optimization
A faster website means higher rankings in search engines, an increase in site traffic and happier customers. BoldGrid's optimization tools are exactly what you need to get an edge over the competition.

SPEED COACH helps you identify factors causing your page to load slowly, provides recommendations on best website practices, and has a detailed report with actionable steps.

USE BOLDGRID TO
Master Your Workflows
Using the Post and Page Builder, you can make an entire site from reusable blocks, cutting your design down from days to hours. Use our pre-built blocks as-is or customize them completely. Share blocks with your production and marketing teams to ensure design consistency.
New blocks are generated as you scroll, meaning you will have an infinite supply of designs to choose from, all using your custom colors and fonts.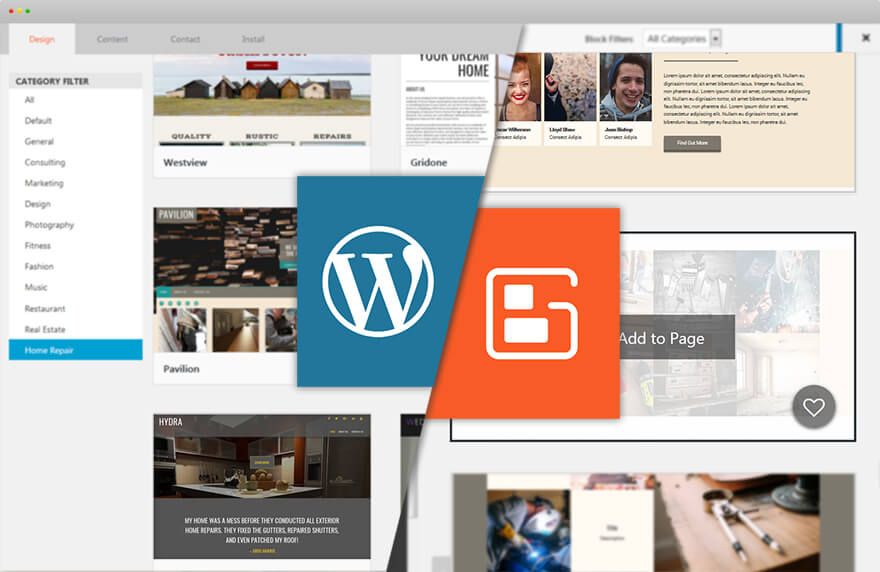 With Cloud WordPress you can design, build and test websites in fully functional WordPress instances in the cloud (no hosting needed!). Mess up a design? Simply delete the cloud instance and start again! You can share multiple test sites with clients, allowing easier collaboration.
Upload your WordPress site to Cloud WordPress and test plugins safely in this dev environment before you use on your live site. No more hair-raising testing of plugins on live sites and crashing them.
We B WordPress LD
BoldGrid fully stands behind WordPress by sponsoring WordPress events and integrating with other WordPress providers to create the best website builder and management solutions. Our developers contribute to the WordPress Core code and create WordPress tutorials and other educational content.
You can also join our Facebook User Group to discuss WordPress and BoldGrid with our support staff and others, as well as submit feature requests and bugs.
Partners & Supporters

OUR MISSION
Make your WordPress experience better with BoldGrid.
BoldGrid has the solutions to build beautiful websites easily and manage them effectively. We will continue to serve you and all WordPress users by creating products that are practical and useful.