A Free Website Builder With Everything You Need
Build a Beautiful Website with BoldGrid. Build it Today.
BoldGrid enhances your creative instincts by automating or reducing the difficult elements in building a beautiful website. You're free to follow wherever your inspiration may lead without distractions or limits.
BoldGrid gives everyone the ability to express themselves
You'll start your journey with BoldGrid Inspirations. Inspirations is designed to give you a complete starter site, content and all. You can explore different website designs, pages you may want, professional content specific to your industry, and functionality you may need.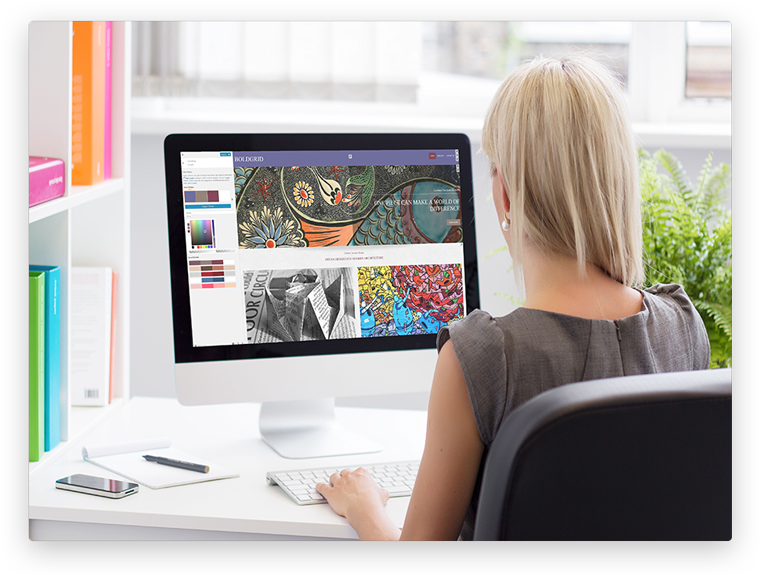 Fine-Tune Your Creation Using Our Free Website Builder
Once you've chosen an Inspiration, use the BoldGrid Post and Page Builder to tailor your site to your specific needs.
The drag-and-drop Post and Page Builder allows you to build visually with zero coding knowledge. Build pages lightning-fast with beautiful pre-designed blocks and automatically generated sections pre-populated with custom content.
Powered by Cloud WordPress
With Cloud WordPress, you can create one click WordPress sites and use them to build or test websites and themes. When you're done, you can use the free backup plugin to easily transfer your site to a live host.
A Free WordPress Website Builder in the Cloud
Cloud WordPress installations come equipped with Post and Page Builder pre-installed, so you can immediately engage your creative instincts.
Share Your Work With Others
Each Cloud WordPress installation comes with a unique access link that allows others to view what you've built. Share your beautiful websites easily with the world.
Fast and Easy Site Migrations
You don't need a hosting plan to get started. After you've designed your perfect website, use the BoldGrid Backup plugin to easily transfer your Cloud WordPress site to any host.
Design Websites Fearlessly
Don't like the design? Made a mistake? Messed with some settings that you don't know how to reset? No worries! Wipe out the Cloud WordPress instance and start with a fresh install. We won't tell...
We Support WordPress
BoldGrid is built on the WordPress platform and we strongly believe in and support the WordPress community. You can use Cloud WordPress to test any WordPress plugin or theme in the WordPress repository.
Includes a Premium Connect Key to all BoldGrid plugins. Limited time offer.
Instantly launches WordPress in the cloud. No credit card needed.
How to Build a Free Website on WordPress Using BoldGrid
No other free WordPress website builder provides you with the same unique workflow and varied feature set as BoldGrid with out-of-the box easy to use design tools and automated site maintenance features. Be Inspired. Be Empowered. Be Bold. Get started today.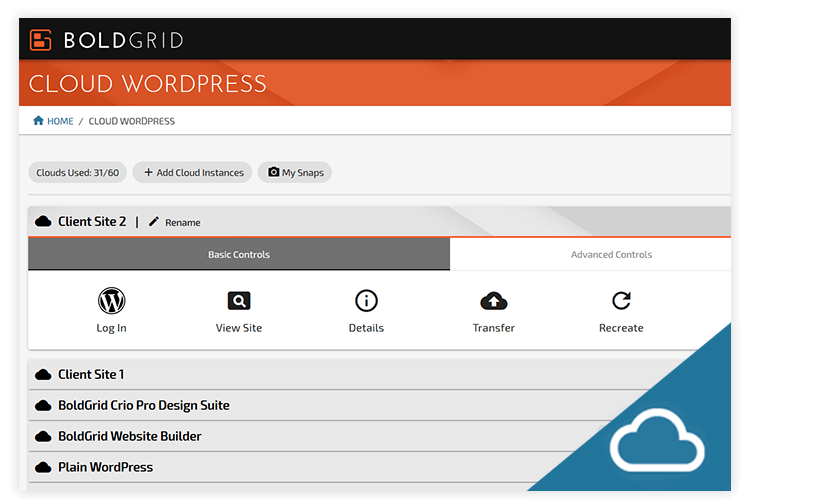 1. Launch the free website builder on Cloud WordPress.
2. Sign in to create a free BoldGrid Central account. This account will let you manage your Cloud WordPress install.
3. Once inside Cloud WordPress, go into Inspirations which will walk you through step-by-step to select the design and custom content you want to start with.
4. Once you have selected your base theme and design, you can then customize the website using the Post and Page Builder.
5. Share your design using the demo URL.
6. When ready, you can move your site to a host by downloading the site using the free BoldGrid Backup plugin.