WordPress Page Templates And Content Blocks by Boldgrid
Create
<

Faster

>

by keeping all of your website content just one click away

The Inspirations plugin by BoldGrid drastically reduces the time it takes to create new websites by bringing all the content you need directly to your WordPress dashboard. With direct access to WordPress themes for BoldGrid, multiple page templates per theme, pre-designed content blocks, icons, and other page elements, you can stop scouring the internet for the resources you need to make a great looking website.

Or try our BoldGrid Demo and see just how fast you can create your own layouts.
Find Inspiration in Beautiful Free Content
The Inspirations plugin eliminates all the web searching usually involved with sourcing the content needed to create your new website.
WordPress Themes for BoldGrid
Get direct access to 200+ responsive BoldGrid themes for every industry. Browse, preview the desktop and mobile views, choose your page sets, and install your theme all directly in your WordPress Dashboard.
Page Templates
Each BoldGrid theme includes various page templates so you can easily add pre-populated or blank pages to your website with just a click.
Blocks
Blocks are pre-formatted page sections consisting of images, text, and other page elements. Blocks come in all shapes and sizes and make it easy to create complex page layouts in seconds with drag and drop.
Easily Build Your Site with Page Templates
Each BoldGrid Theme comes with multiple page sets and templates so you can quickly choose exactly the pages you need. You can add a new page via templates consisting of Blocks, or you can create a blank page and slide your preferred Blocks into place to create an intricate layout in seconds.
Create Page Layouts in Seconds with Blocks
We have created dozens of pre-built content blocks consisting of various designs and page elements in the form of Blocks. To add a new section to your page simply pick the Block design that fits best, drag and drop it onto your page exactly where you want it, and then customize the content using Post and Page Builder by BoldGrid.
Blocks utilize a wide variety of content that can be completely customized to fit your needs such as icons, buttons, free and premium images, font packs, and more.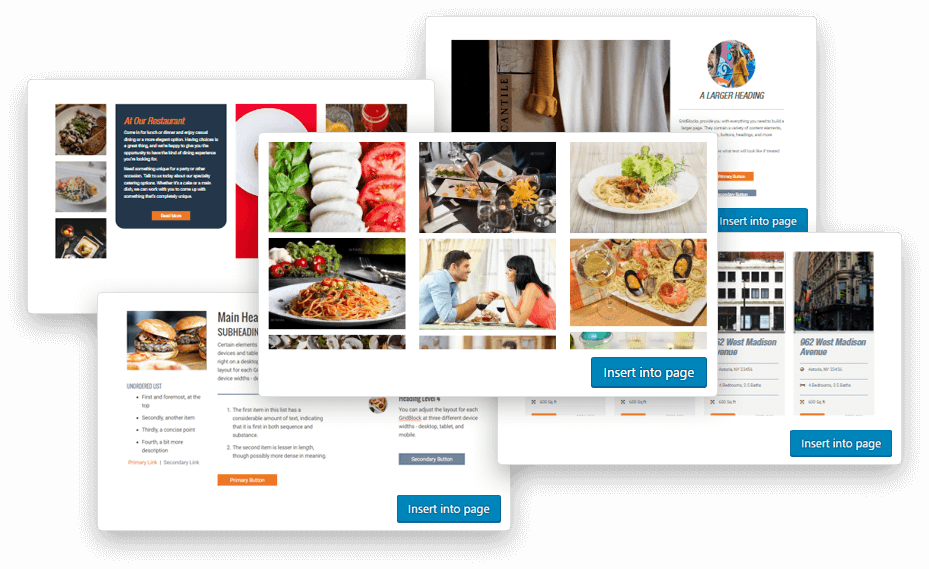 Create Your Website Now.
WordPress is already used by more than 60 million websites on the internet. Be bold and stand above the rest with BoldGrid.