WordPress SEO Plugin by BoldGrid
The BoldGrid SEO Plugin is the Easy Way to Get Your Site Noticed
The WordPress SEO Plugin by BoldGrid ditches the complicated settings most SEO plugins use to give you the easiest way to maintain the best SEO practices and write effective content that search engines love.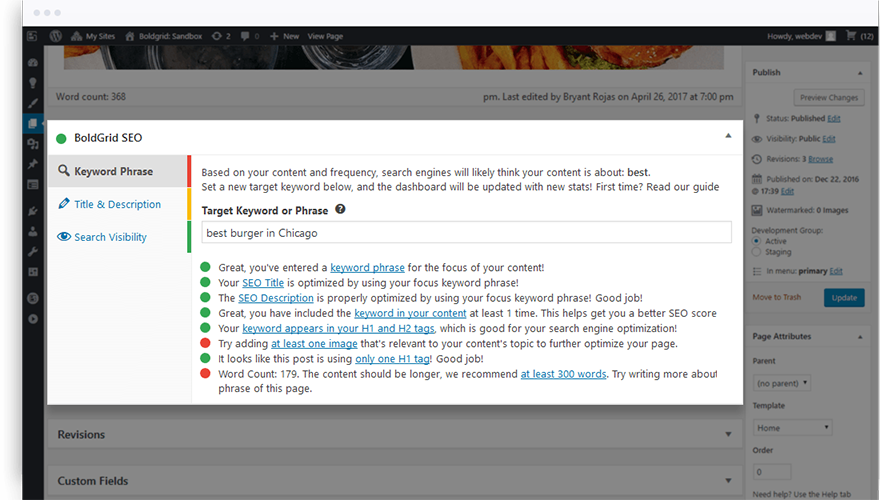 Write Confidently with SEO Checker
The WordPress SEO plugin by BoldGrid analyzes your page content in real-time and makes recommendations to help you maintain best SEO practices while writing content. You just have to set your target keyword or phrase and the BoldGrid SEO dashboard will update your stats on all important on-page SEO factors.

Page Titles and Descriptions
Control and Optimize how your pages appear in Google rankings with the Title and Description editor. The BoldGrid SEO checker will ensure your target keyword is included.
Keyword Density
Analyzes your content to make sure your keyword appears often enough, and in the right places.
Header Tags and Content
Correct use of headers is important for SEO. The BoldGrid SEO checker will help you use header tags correctly and make sure they include relevant content.
Image Alt Tags
Checks your images for alt tags to help you identify areas for SEO improvement.
Content Length
Writing more keyword rich content about your topic encourages better search results. BoldGrid SEO will track your progress toward reaching a sweet spot.
Search Engine Indexing
Set your pages to be indexed by search engines with a single click after optimizing your page.
Follow/No Follow Links
Make your links visible to search engines and count toward your SEO, or hide them if necessary.
Canonical URLs
You can easily avoid duplicate content penalties by indicating a canonical URL where applicable.