THE BEST FREE WORDPRESS BACKUP PLUGIN
Included in both Free and Premium versions:
Easy Backups
It takes only a couple of clicks to schedule your automated backups. The BoldGrid backup plugin performs a preflight check to ensure your web hosting account offers necessary support.
Schedule Automation
Make your backups automatic by scheduling your preferred day and time of the week. You can also perform auto-backups before updates and auto-rollbacks in case an error occurs.
Migrate and Restore
Restore your site from up to five stored backup archives at any time. You can even import your BoldGrid backup to restore in a new WordPress installation for easy migration.
Improved Backup Retention
Store up to 10 backup archives you can manage from the WordPress dashboard. Download, restore, or delete backups with a single click.
Granular Automation
Get greater control over your automatic backups with BoldGrid premium, allowing you to schedule backups on any and every day of the week.
Larger Backups
BoldGrid Premium allows you to automatically backup a WordPress site of up to 10GB, up from 1GB with the free version.
HOW TO BACKUP YOUR WORDPRESS SITE
The BoldGrid Backup Plugin will backup your entire WordPress site with just a couple of clicks right in your WordPress dashboard. Just select a time and day for backups to run automatically. Or manually create a backup at any time with a single click. You do not have to worry about how to backup a WordPress site when using BoldGrid.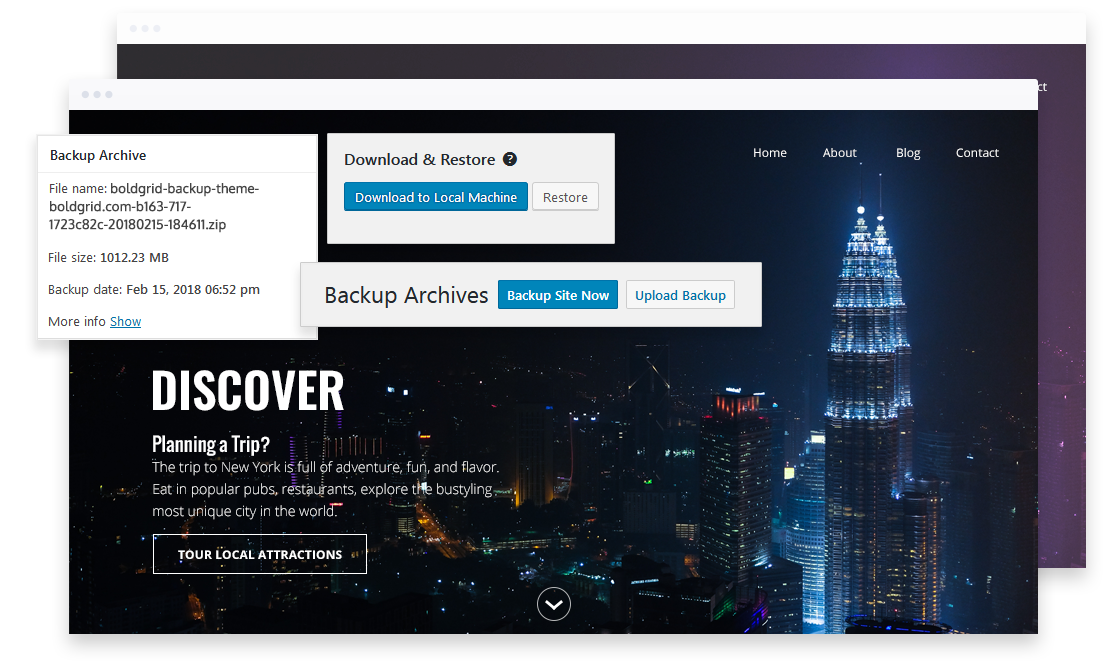 Includes a Premium Connect Key to all BoldGrid plugins. Limited time offer.
Instantly launches WordPress in the cloud. No credit card needed.
Download the free BoldGrid plugin from the WordPress repository.