The Best WordPress Backup Plugin
Included in both Free and Premium versions:
Easy, Automated Backups
Simply install BoldGrid Backup, select a date and time for automatic backups and you're good to go! Download, restore, or delete backups with a single click.
Automated Fault Protection
You can set BoldGrid Backup to automatically backup your site before updates, and automatically rollback your site to the last backup if an update fails. Automatic updates can be set for WordPress core, plugins, and themes individually.
Easy Site Migration
Simply install BoldGrid Backup on both WordPress sites, create a backup archive on the first site, then restore that backup on your second site.
Individual File Restorations
Need to restore only one file from a backup? The BoldGrid Backup Premium gives you the option to restore a single file within the backup browser.
Historical Versions
Do you have a file that needs to be restored, but not sure which backup it's in? Historical Versions shows you a list of all of your backups containing that file, and offers an easy way to restore the file.
More Remote Storage Options
BoldGrid Backup Premium allows you to store your backup on Amazon S3 or Google Drive in addition to the free options of FTP / SFTP.
EXCEPTIONALLY EASY BACKUPS
BoldGrid Backup Plugin will backup your ENTIRE WordPress site, including pages, posts, settings, and more — with just a few clicks!
Simply select a date and time for automated backups, or manually create a backup at any time with a single click. Safely store backups remotely via Amazon S3, Google Drive, or FTP / SFTP.
SAFE AND CONSISTENT BACKUPS, EVERY TIME
BoldGrid Backup checks to ensure your web hosting account offers necessary support, ensuring the integrity of your backups. You can also perform auto-backups before theme updates and auto-rollbacks in case an error occurs.
EASY SITE RESTORATION AND MIGRATION
Download, restore, or delete backups with a single click. You can even import your backup to restore in a new WordPress installation for easy migration.
Use our restoration script to restore a backup from outside of WordPress in the event WordPress itself has been corrupted.
Site Check monitors your site at specified intervals for errors that could lead to catastrophic data loss. If Site Check detects an error, it will send you an email alert and auto restore your website using your latest backup.
You can configure Site Check's settings from the BoldGrid Backup settings page, or via command line. If your site is totally non-functional, you can use the command line to easily restore your website from the last full backup archive.
How does Site Check differ from the WordPress Site Health feature?
Since Site Check runs outside of WordPress, it can detect errors that the WordPress Site Health feature cannot.
Site Check keeps a running log of errors, providing you with a historical record of issues to easily diagnose problems.
Site Health is only available with WordPress 5.2+. Site Check protects your site even if you haven't upgraded yet.
Site Check includes easy recovery options. While WordPress' Site Health alerts you of errors, BoldGrid Backup's Site Check functionality can auto restore your website.
Manage Automatic Updates
BoldGrid Backup gives you control of automatic WordPress updates. Select whether to auto update for major, minor, development, and/or translation updates. You can even set Auto Backups to run before the update. Each plugin and theme can have auto updates enabled individually.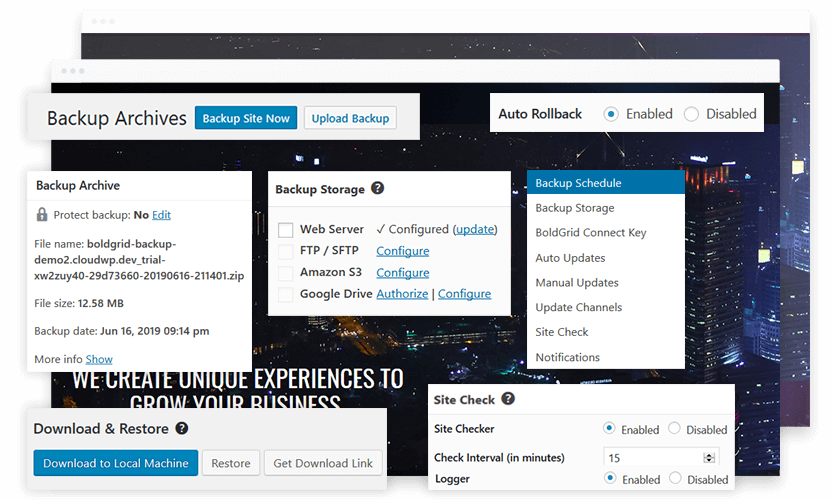 BoldGrid Backup is an automated backup, fault protection, and migration solution that allows you to secure, restore, or move your website with ease.
Google Drive & Amazon S3 Support
Update History
Individual File Restorations
Update History
The Backup Premium Plugin is also available as part of the suite of plugins, tools and services activated by the BoldGrid Premium Connect Key.