Billed annually

WordPress Pro Design Suite
Unleash your creativity with BoldGrid Post and Page Builder, an easy-to-use website builder that allows you to build visually, and BoldGrid Crio, our WordPress SuperTheme. With intuitive controls on the front-end, and powerful back-end customization options for advanced users, you can create anything — your imagination is the only limit. Also comes with Total Upkeep (automated backup solution) and 15 Cloud WordPress installations (build WordPress sites in the cloud).
Build Visually With Our Easy, Yet Powerful Design Tools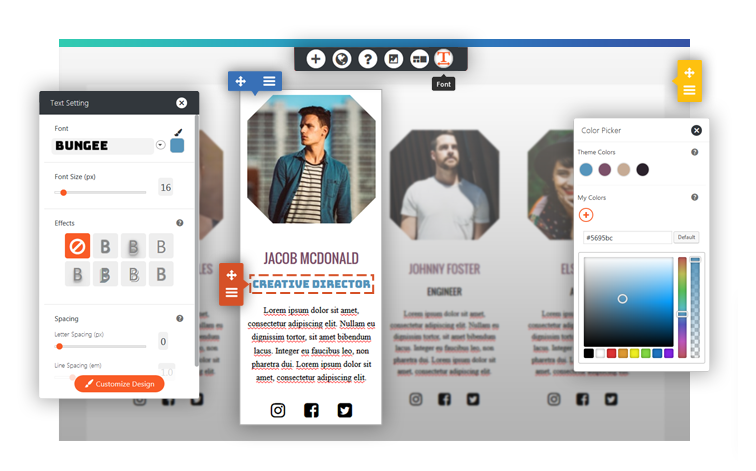 Easily create content rich layouts with a drag and drop builder without having to code nor manage shortcode. Control every aspect of your design.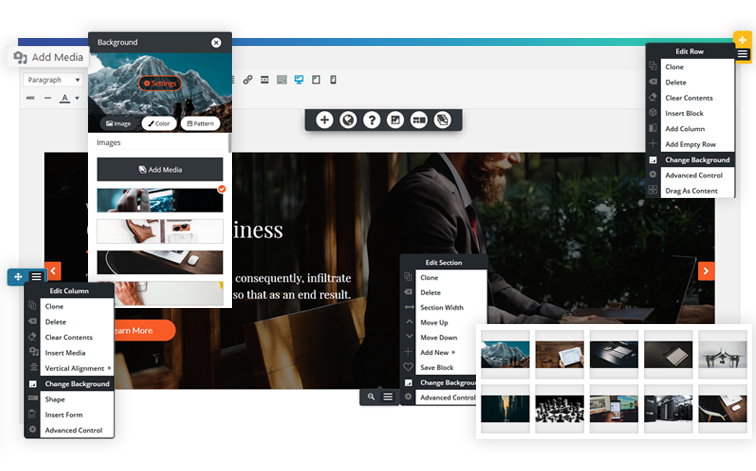 Try out new icons, section backgrounds, column designs and row colors, text settings and more. You can even customize our preset icons, images, and backgrounds within the editor.
Picture Perfect Colors
Use the "Suggest Palette" feature to have Crio automatically recommend beautiful color schemes.
Apply to your entire website with a few clicks. Save the palettes you like for later use in the Post and Page Builder, allowing you to maintain complete color harmony throughout your entire site.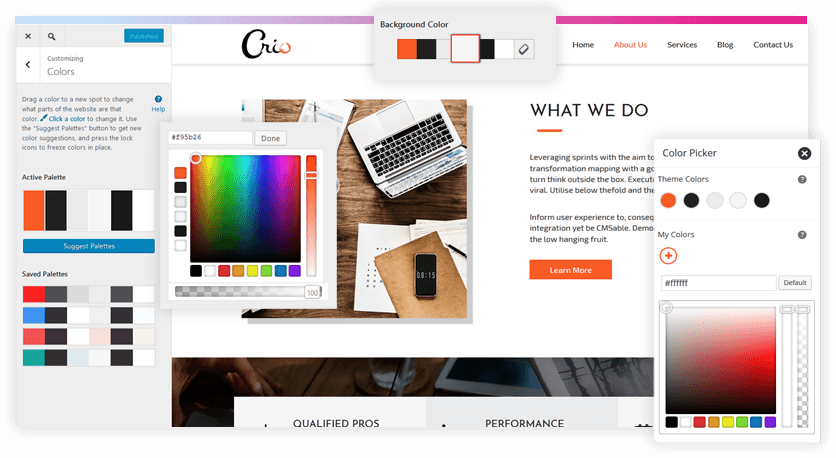 Customize Fonts
Unify fonts and colors across your entire site to ensure your site stays consistent while providing access to global changes when necessary.
See your changes live in the Customizer preview area before committing to them.
Billed annually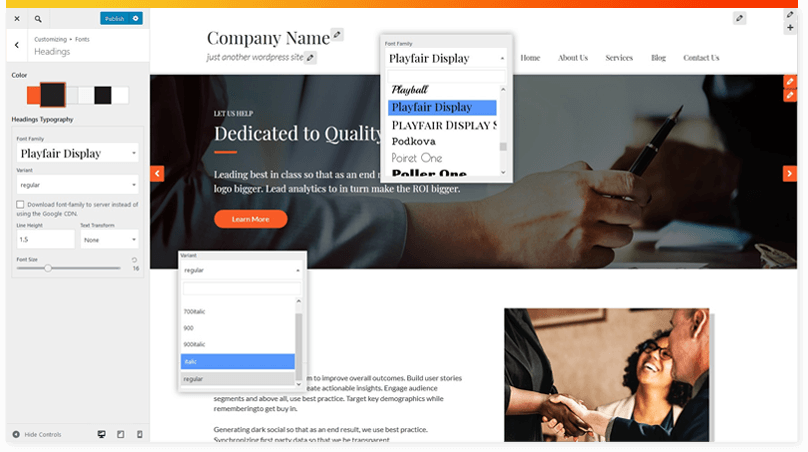 Build Quickly With Blocks
Blocks are pre-built page sections pre-populated with content that can be managed visually or with HTML and CSS.
Drag and drop new sections of content right onto your pages and resize and edit them in an instant.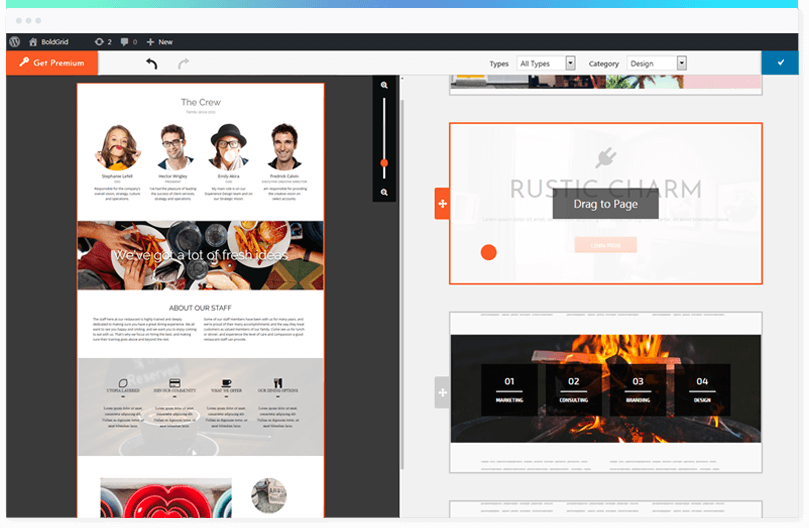 Native Sliders
Unlike many competitors, you can edit the slider from within Post and Page Builder. Sliders are rendered in real time, allowing you to preview it before publishing your page.
Add as many slides as you need. New Slide clones the current slide to keep your layout intact.
Billed annually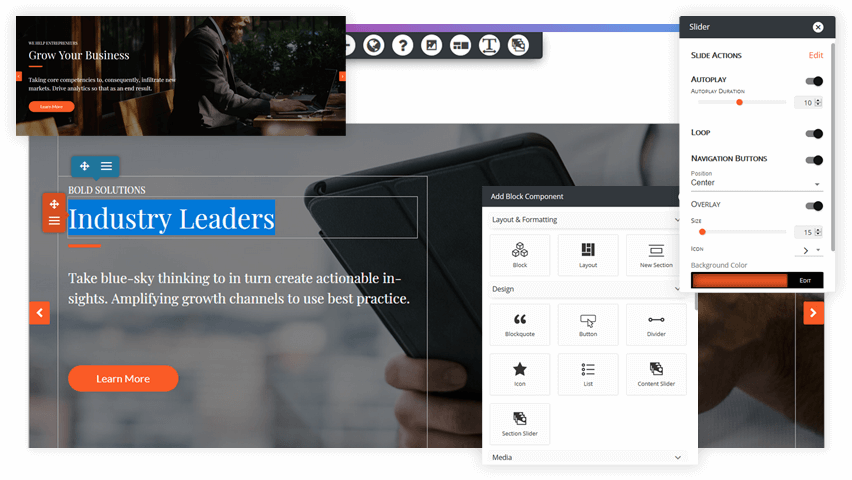 Custom Page Headers
Crio lets you drag and drop your header elements exactly where you want them. Create as many Page Headers as needed and assign them across your site. You can even customize the responsiveness of your Page Headers by choosing which elements display on which device sizes.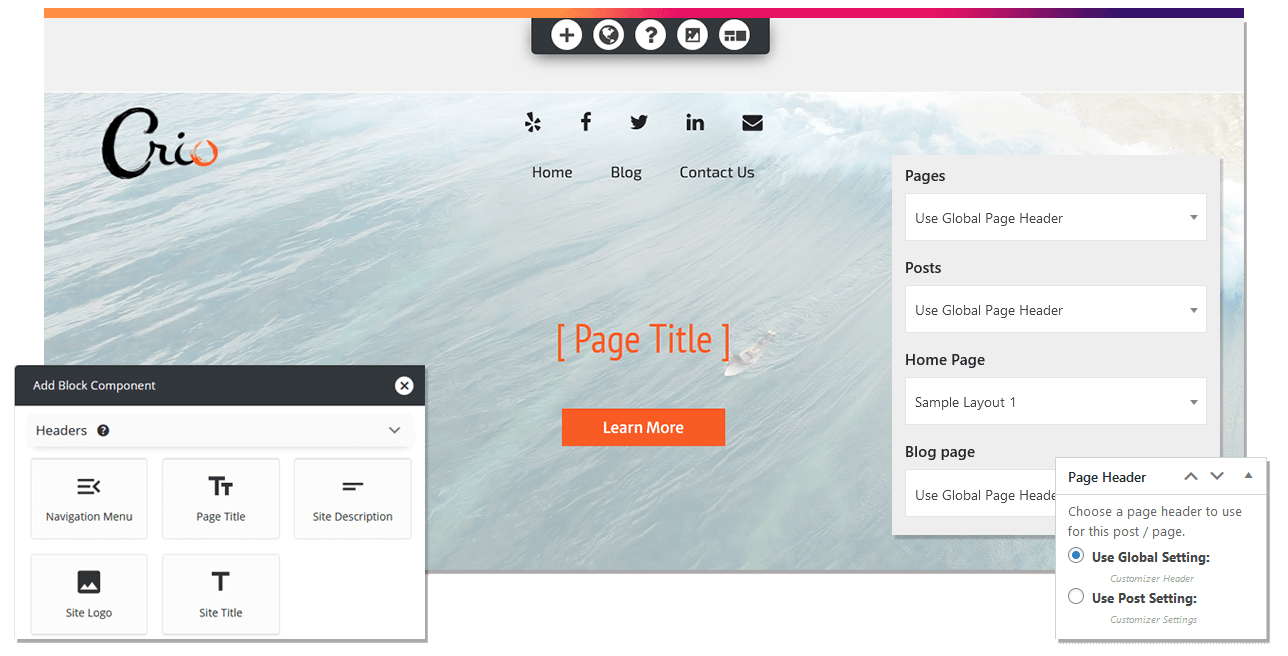 Made with BoldGrid Crio + Post and Page Builder
These sample websites were made using BoldGrid Crio. Ready to buy? Click here.
Crio Pro + BoldGrid Premium
Our powerful WordPress SuperTheme plus the entire ecosystem of useful BoldGrid plugins.
Starting at
$8.25/mo
Billed annually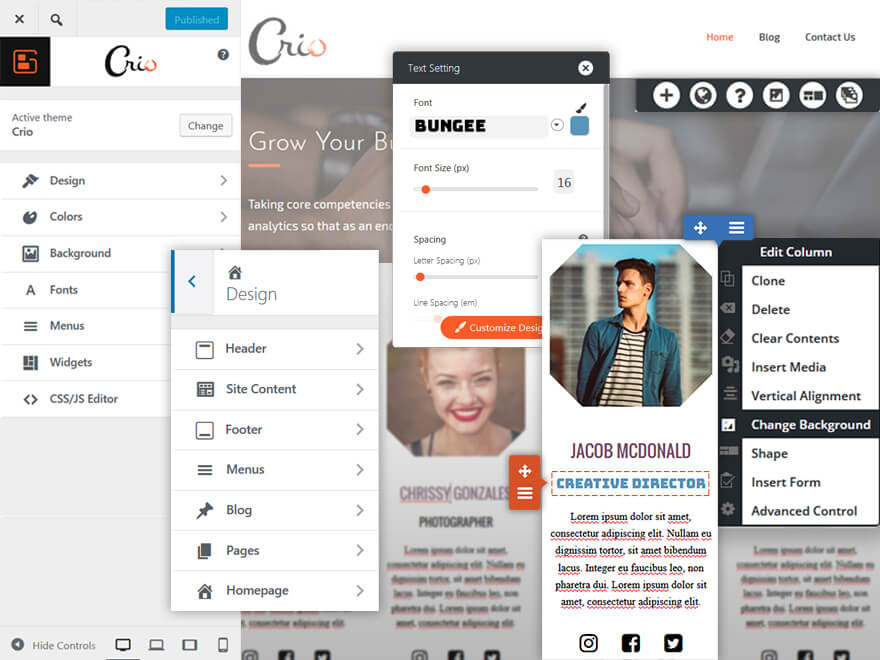 Get full access to everything BoldGrid has to offer! Includes:
Crio Pro
BoldGrid Total Upkeep Premium with automated remote backup to S3 and Google Drive
Post and Page Builder Premium
15 Cloud WordPress Installs
Billed annually
Frequently Asked Questions
Q: What is Crio?
BoldGrid Crio is a WordPress SuperTheme and integrated ecosystem of plugins that allows web professionals to create without bounds or restrictions. Crio features over 500 Customizer controls to give you control over many global website elements right from the Customizer.
Q: What do I get with Crio Pro?
Crio Pro adds additional Customizer controls, these additional features allow you add a sticky header and provide even greater control over how your blog posts display. Crio Pro also includes custom Page Headers so you are no longer limited to a single header across your entire site.
Q: What is Post and Page Builder?
BoldGrid's Post and Page Builder provides an easy-to-use drag and drop interface, with advanced controls to fine-tune your design and make it unique. Use Post and Page Builder's WordPress Block library to build a site quickly and easily by starting with professional designed sections of content.
Q: What do I get with Post and Page Builder Premium?
With Post and Page Builder Premium you can add multiple slider types and see them render WYSIWYG in the editor. Gain access to over 75 Premium Blocks so you can design without interruption and add any block you see while viewing our infinite Block library.
Q: How is Crio different from other BoldGrid themes?
All BoldGrid themes include a Customizer unique to BoldGrid with options not available from other themes, like our color palette system. Crio builds on these custom features and adds over 100 additional Customizer controls to advance your design.
Q: How do I use Post and Page Builder Premium and Crio Pro?
First you will need to download the Crio theme from the WordPress repo. Then you can install the Crio Pro and Post and Page Builder Premium plugin downloaded from BoldGrid Central.
Q: How many websites can I build with Crio Pro and Post and Page Builder Premium?
You may use Crio Pro and Post and Page Builder Premium on any website directly owned by you or your company.
Q: Will my site break If I stop using Post and Page Builder?
No. Since Post and Page Builder doesn't rely on shortcode to work, disabling the plugin won't break your website. Crio can be used with or without the Post and Page Builder.
Q: I've never built a site before, is this for me?
Since Crio is a SuperTheme designed for increased control over individual website elements, it may be overwhelming for users new to WordPress.
You can try Crio for free without a credit card in three clicks. If after using our Starter Content with the Post and Page Builder plugin you find yourself unable to make a website you're proud of, please try our Website Builder.
We recommend using our WordPress Website Builder if you are new to building websites. It gives you a simplified, intuitive Customizer designed to cut the learning curve of WordPress.
Q: What page builders work with Crio?
BoldGrid Crio was designed to seamlessly integrate with the Post and Page Builder, and it is the only builder we guarantee will be a true representation of the front end of your website in the WordPress dashboard.
However, if you chose to use a different builder we recommend testing compatibility in a safe environment, like Cloud WordPress.
Q: What happens to my website if I don't renew my subscription?
If you don't renew your subscription, your premium connect key will convert to a free key. Rest assured, your website will continue to function, but you will lose access to all premium functionality until you renew.