Unleash Your Creativity with Cloud WordPress
Quickly deploy as many Cloud WordPress installations as you need (premium only, free limited to one).
Use your multiple installations to show clients multiple designs. Easily transfer the site you need to your preferred host, delete the rest with a single click.
Use Cloud WordPress to test plugins and customizations without ruining your live production site. When you're finished, simply delete the Cloud WordPress installation.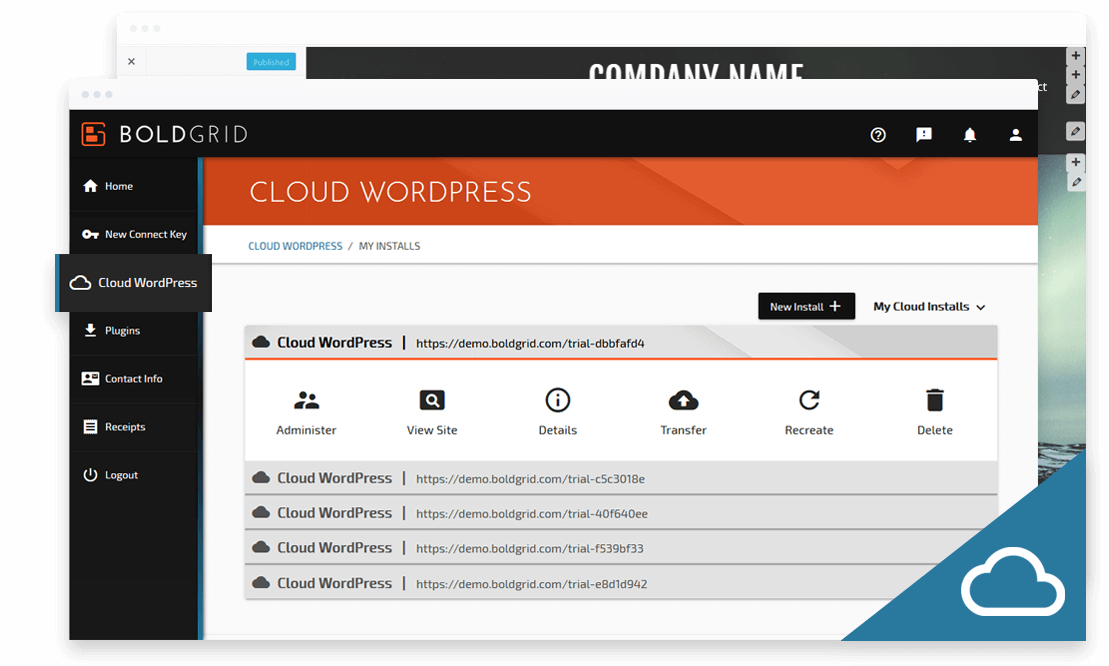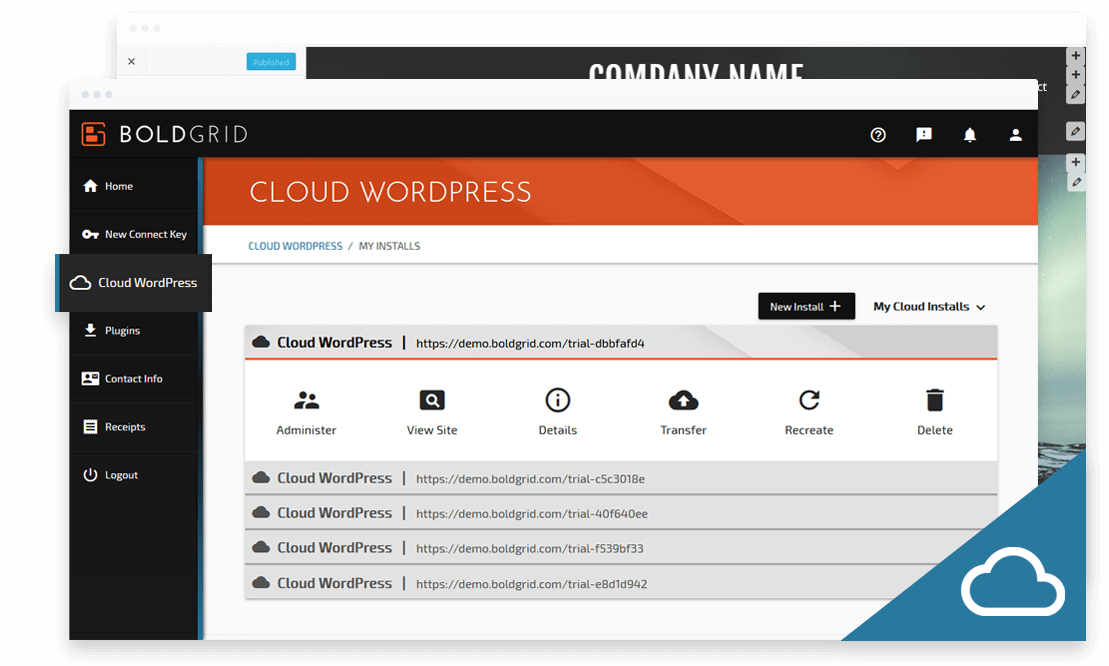 Shave Weeks off Design Time with the Advanced Customizer
Edit any element from within the customizer. Quickly adjust fonts and font sizes for headers, subheaders and website copy across your entire website with a simple, intuitive interface. Easily add background images or colors with a few clicks. Use the Custom JS and CSS options to fine tune your site.
Use the "Suggest Palette" feature to have BoldGrid automatically recommend beautiful color schemes that you can apply to your entire website with a few clicks. Save your favorite color palettes for later use.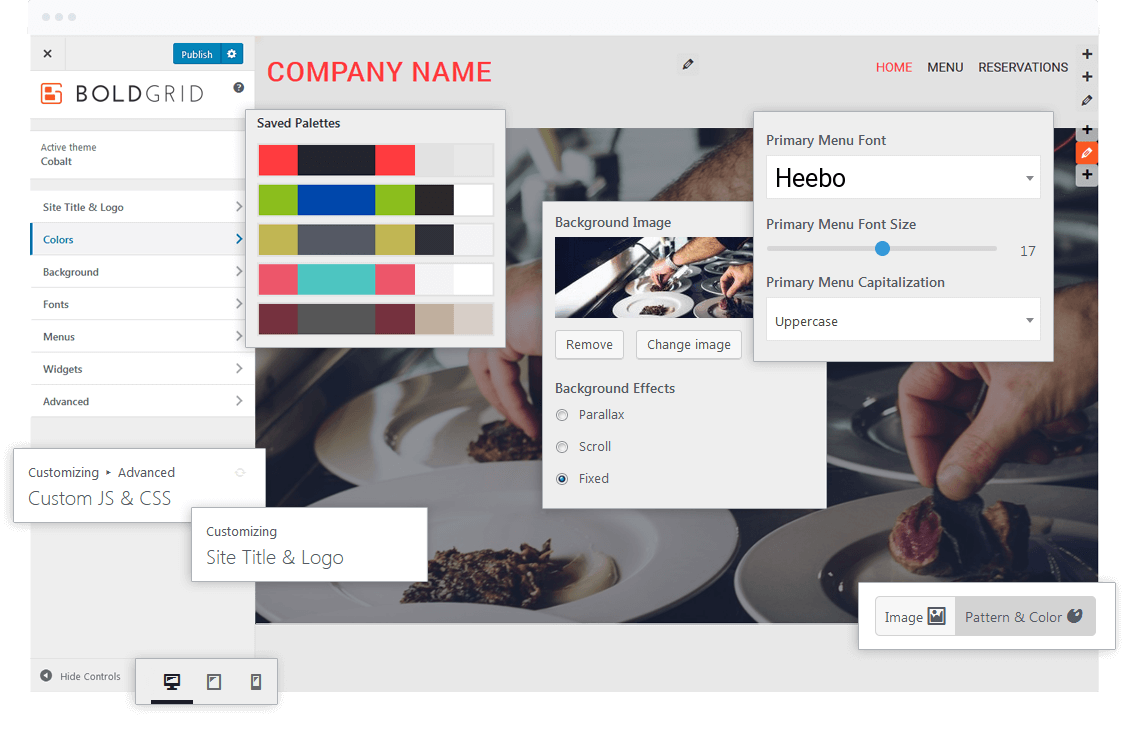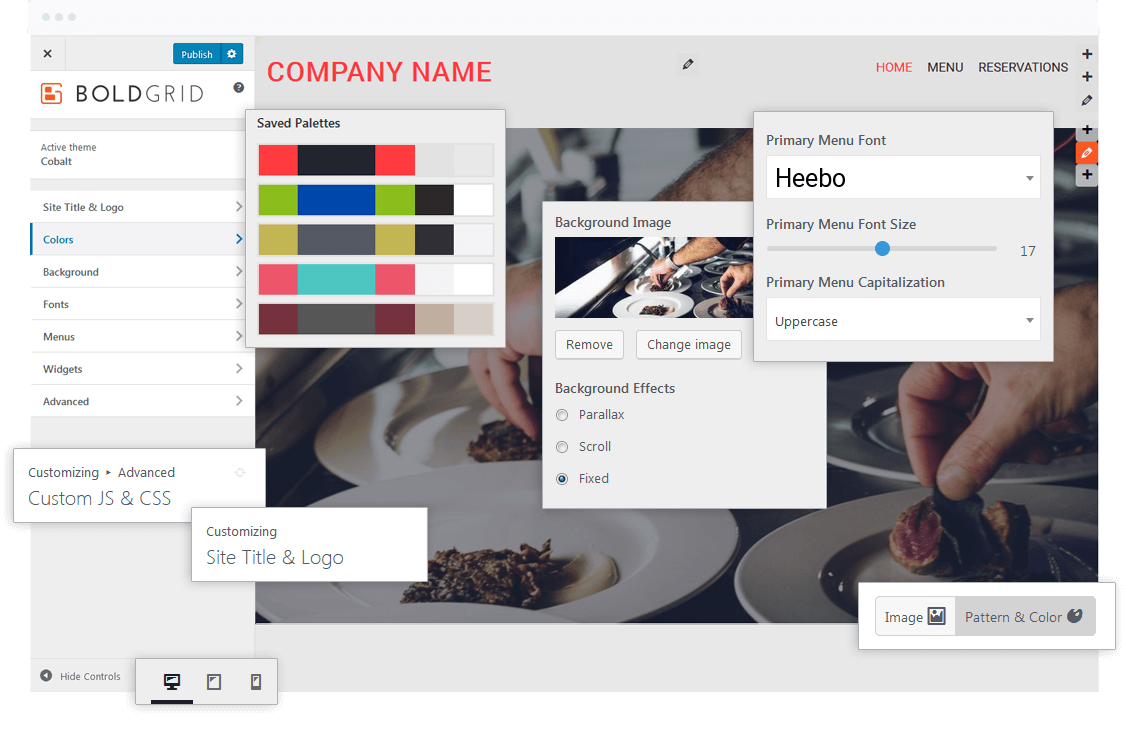 BoldGrid Saves WordPress Professionals Time and Money
Spend less time managing WordPress and more time being creative
Accomplish More with WordPress Admin
Direct access to themes and content
Activating the Inspirations plugin allows you to easily browse, select, install, and customize free BoldGrid themes from within your WordPress admin area. Themes include various page sets, integrated plugins, and more to give you a head start. And thanks to integration with top image banks, your media gallery is already robust with both free and premium content.
Blocks
Pre-built content layouts for fast, modular design
Blocks are blocks of content you can customize or create for yourself. Easily drag and drop content within your Blocks and even slide entire blocks to where you want them. Every theme includes a variety of Blocks so that you can try different design approaches with ease.
Learn more
Clean Code
Access and edit source code with ease
BoldGrid does not limit you. You can use your own custom WordPress themes or third party plugins as needed. And BoldGrid generates pristine code so that you can easily navigate source code and make your own customizations.
Learn more
Better Image Handling
Insert, replace, resize, and edit images on the fly
You can easily organize and replace images within your Blocks and resize them directly on your page. BoldGrid uses API integrations to allow you to download free images and premium content directly to your site from Flickr and Fotolia.
Learn more