You'll Soon Wonder How You Ever Built or Managed Websites Without BoldGrid.
Website design and management can be frustrating — trust us, we know. That's why we created BoldGrid. We wanted to make it easy for everyone to build, grow and manage their online presence without sacrificing the functionality needed for web professionals to succeed.

Now that you've tried BoldGrid Free, take a look at what Premium has to offer.
Billed annually

1M+
BoldGrid products and services used to build and manage websites.
Premium Blocks
Post and Page Builder Premium gives you the absolute best in block design at your fingertips. Over 75 additional blocks available across all categories that will immediately fit your site design.
Build your website in a quarter of the time when you use our premium blocks built by our design professionals.
Billed annually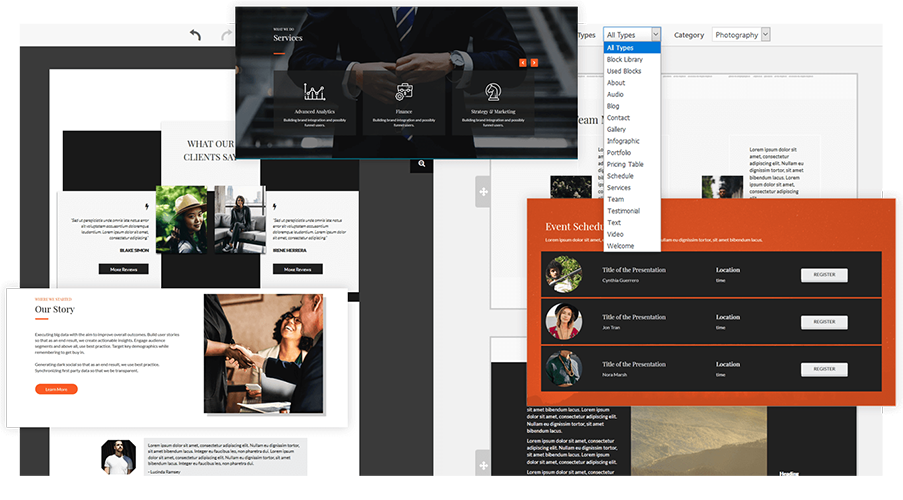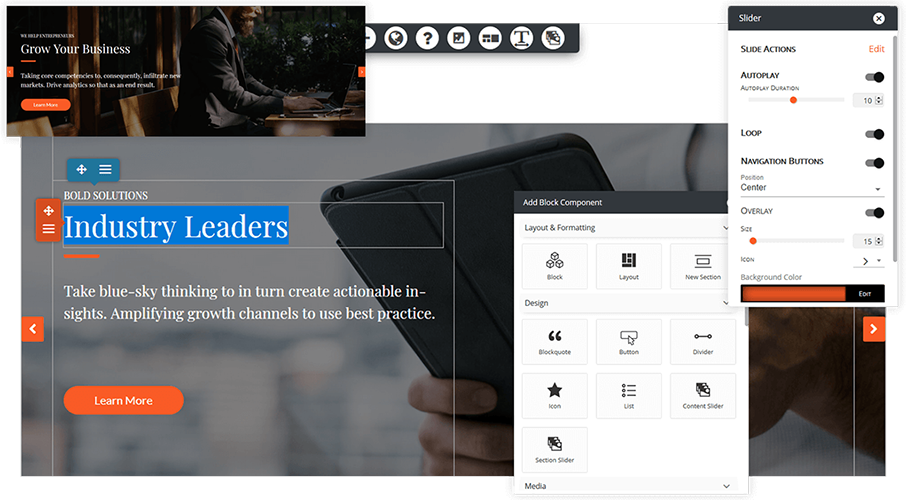 Native Sliders
Slider functionality is built directly into Post and Page Builder Premium. Customize your sliders from within the editor, allowing you to see exactly what it'll look like on the live page.
Tons of customization options, such as autoplay, navigation style, etc. Includes multiple slider types, like background and content sliders.
Billed annually
Remote Storage
There's no point in making an archive of your data if you're not going to keep it safe.
With Total Upkeep Premium, you can automatically store archives on Amazon S3 and Google Drive, ensuring that you have multiple, clean backups.
Billed annually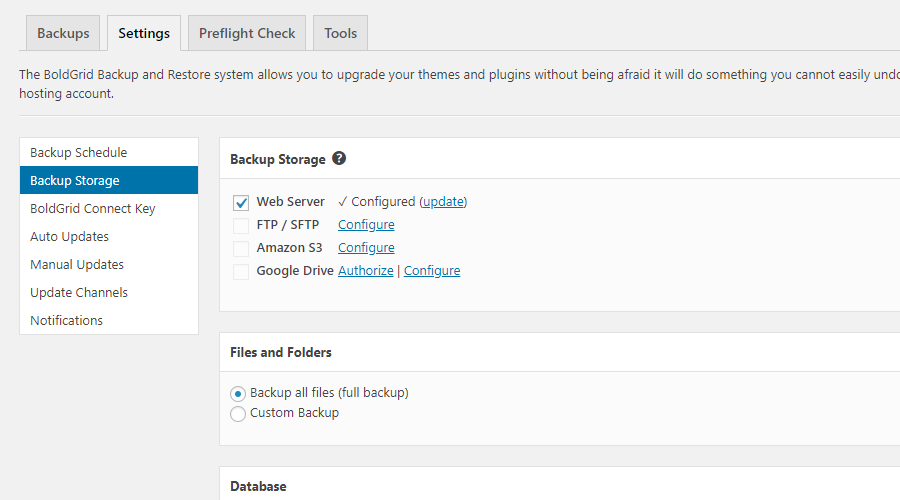 I love the functionality and ease-of-use for the Total Upkeep plugin. … [It] tells me that additional thought is being placed into the product, which I especially appreciate.
– Jeff S –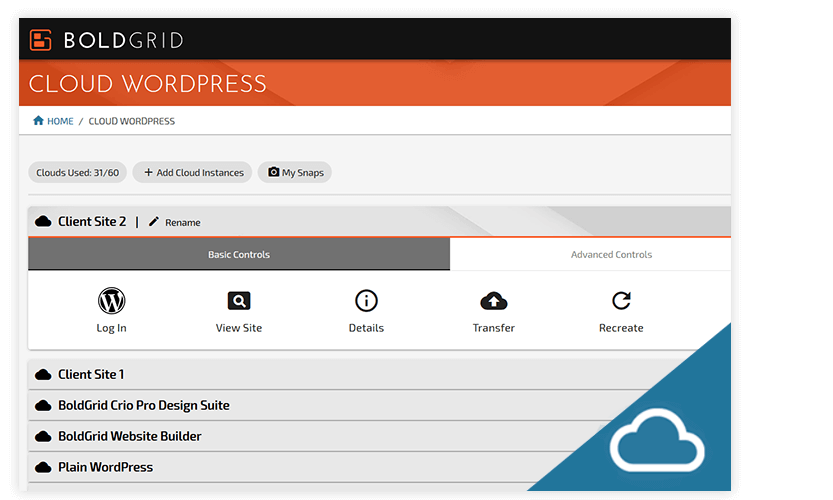 Additional Cloud WordPress Installations
Get fifteen Cloud WordPress installations with BoldGrid Premium. Your free key restricts you to just one installation.
Use Cloud WordPress to test plugins and themes, or work on your design in a sandbox environment that you can share with others. Use Total Upkeep to easily transfer your site to a live host.
Billed annually
Advanced Controls for Premium Users
Recommended for advanced users, Premium Cloud WordPress includes a file manager and access the database. In-depth testing of new themes, plugins, or other functionality is easier than ever!
These advanced controls are also a great way for intermediate users to dig deeper "under the hood" of WordPress without risk of breaking a production site or your server.
Billed annually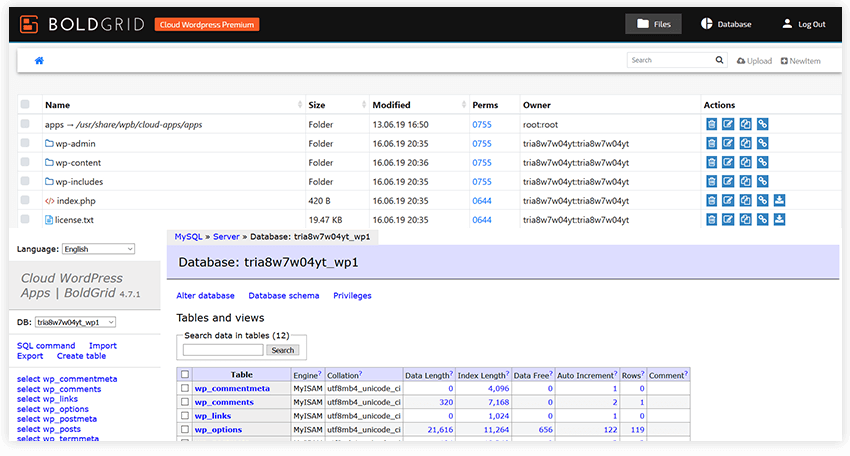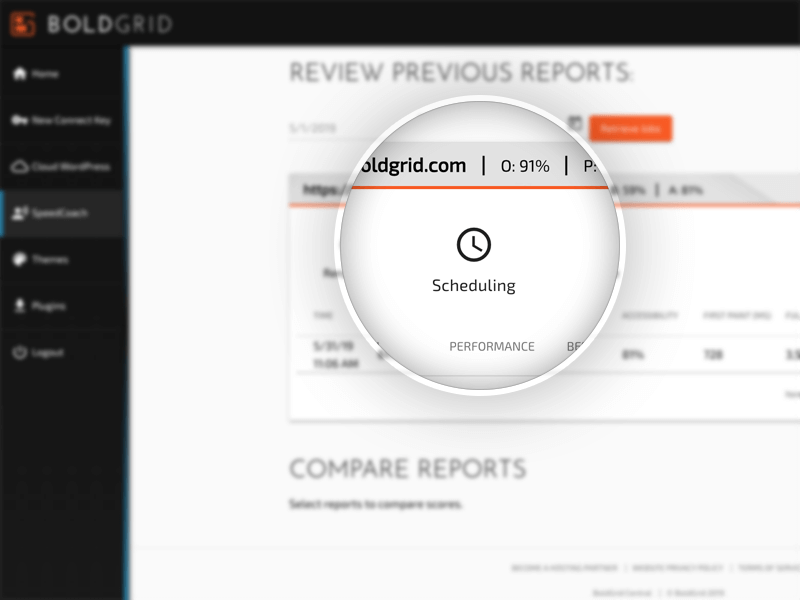 Automated Website Speed Test
Premium Speed Coach allows you to schedule automated daily tests to ensure your website performs as properly. Results are saved to your Speed Coach dashboard for easy retrieval and comparison.
You can also adjust the number of daily tests within the dashboard. This feature is useful for those making lots of website changes on a regular basis, ensuring that your changes isn't affecting your site speed.
Billed annually
With BoldGrid, I can design anywhere. It's got everything I need to build amazing sites without having to cobble a bunch of plugins together. They're truly ahead of the curve.
– Amy L –
Recently Modified Files
This feature allows you to search for all files modified within a certain time period. You can also look for other versions of that file within your backups.
Save a Copy Before Updating
When using the WordPress Plugin Editor function, Total Upkeep Premium will save a copy of the original file, just in case you need to undo any changes you make.
Historical Versions
Lets you search through past archives for a particular version of a file that you need and then easily restore that version.
Individual File Restorations
As a website owner, at some point, you WILL accidentally change a file that breaks your website. BoldGrid Premium allows you to browse past backup archives and choose individual files to restore.
Update History
When websites break sometimes it's difficult to quickly figure out what went wrong (or who broke it). Total Upkeep Premium keeps a log of all plugin installations, software updates, and other significant actions, including who did what and when.
Blog Widgets
Embed your blog anywhere on your site with the Post and Page Builder Premium's blog widgets functionality. Select an individual blog post, or display an entire list of posts by category, tag, or just all available posts.
Value Redefined: A Complete End-to-End WordPress Design and Management Solution
Never worry about weaving together a patchwork of questionable plugins, or purchasing a bunch of expensive plugins that still may not work together. We've got everything you need to build and secure your websites, for one, low affordable price.
Inspirations
200+ customizable website templates, organized by industry and interest, and a guided setup to help pre-populate important site elements.
Post and Page Builder
Our WYSIWYG, drag-and-drop page builder. Create rich column and row based layouts, add and edit sliders and widgets from within the editor, responsive design and more.
Total Upkeep
Automated backup, fault protection, and migration solution. Remote backups via Amazon S3, automatic rollbacks after failed updates, easy site migration.
BoldGrid Easy SEO
Analyzes your page content in real-time and makes recommendations to help you maintain best SEO practices while writing content.

Cloud WordPress
Cloud WordPress allows you to create fully functional free WordPress demos (with or without BoldGrid) in a few clicks. Design, build, test and share your WordPress website with clients or teams.
Once you complete your order, you'll be able to download the premium version of your plugins from BoldGrid Central. Simply install that plugin like you would any other, and you're good to go!
Your number of total Cloud WordPress installations will increase to 15 and you will have access to advanced features like File Manager and Database access. Speed Coach automated testing will also be available to you.
You may use your premium plugins on any website directly owned by you or your company.
Generally speaking, if your web host supports WordPress, there's an extremely high chance that it also supports BoldGrid. If you have any questions, contact your web host.
The plugins included with BoldGrid Premium will work with any theme as long as they're coded according to accepted WordPress standards.
If you don't renew your subscription, your premium connect key will convert to a free key. Rest assured, your website will continue to function, but you will lose access to all premium functionality until you renew.
Lastly, here at BoldGrid, we have a personality disorder that we would like to confess. We are…
Obsessed with WordPress
We are a team of WordPress developers and supporters that live and breathe in the WordPress community. We are so excited that 1M+ BoldGrid products and services have been used to build and manage websites. We will continue to serve you and other WordPress users in the best way possible, by creating products that are practical and useful.
If you have any more questions about BoldGrid Premium, please reach out to us.
You can also join our Facebook User Group to discuss WordPress and BoldGrid with other like minded developers and administrators, as well as submit feature requests and bugs.
BoldGrid Premium Suite vs. BoldGrid Free
PREMIUM
$5/mo
Buy Now

Billed annually


Try Now

Billed annually

Drag and Drop Editing

A true WYSIWYG editor, Post and Page Builder allows you to create visually without shortcodes or coding.

Free Theme Library

200+ fully responsive WordPress theme options, separated by industry and interest.

Integrated Stock Images

Easily find the perfect image with our integrated stock image search functionality.

Free Block Library

Build pages in half the time using beautiful, professionally designed content to build your website. Blocks can be edited via the visual editor or by modifying the HTML and/or CSS.

Premium Blocks

Access additional Premium designs. Edit these blocks with the visual or text editors to perfectly fit your needs.

Native Sliders

Create and edit sliders from within Post and Page Builder. Sliders are rendered in real time, allowing you to see what it looks like before publishing a page.

WYSIWYG Blog Widgets

Add blog widgets to any page. Widgets can contain a single post, or a lists of posts. The widget renders live, so you can see exactly how it'll look before publishing.

Branding

An attribution link to BoldGrid will appear in the footer of your website. Premium allows you to hide all BoldGrid branding for a more professional or white-labeled appearance. Please note Crio requires Crio Pro for Custom Attribution.

Custom
BoldGrid
Cloud WordPress Installs

You're allowed to deploy up to 15 Cloud WordPress installations with BoldGrid Premium. Free users are restricted to one.

15
1
Cloud WordPress Advanced Controls

Recommended for advanced users, Premium Cloud WordPress includes a file manager and access the database.

Automated Website Speed Tests

BoldGrid Premium allows you to enable daily automated testing in Speed Coach. Results are saved to your Speed Coach dashboard for easy retrieval and comparison.

Automated Backups

Select a date and time for automatic backups and you're good to go! Download, restore, or delete backups with a single click.

Remote Storage

Ensures the safety and integrity of your backups by archiving them remotely. Premium options include S3 and Google Drive. Free is restricted to FTP / SFTP.

Amazon S3 / Google Drive / FTP / SFTP
FTP / SFTP
Update Protection

If any issues are found after updates, you can one-click restore your website or wait for the countdown to end and your site will automatically restore itself.

Customized Backups

Control which files, folders, and database tables are included in each backup.

Easy Site Migration

Simply install Total Upkeep on both WordPress sites, create a backup archive on the first site, then restore that backup on your second site.

Single File Restoration

Need to restore only one file from a backup? The Total Upkeep Premium gives you the option to restore a single file within the backup browser.

Update History

Keeps a running log of signification actions to your WordPress site, including which users updating a plugin, theme, or WordPress itself.

Automated SEO Tool

Easily your site ranked in the search engines. SEO Page Checker analyzes your page content in realtime and makes recommendations to help you maintain best SEO practices.

Enhanced Photo Galleries

Create beautifully styled image galleries in seconds. Drag and drop your new gallery anywhere you want.

Form Builder

Create WordPress forms in minutes. Create forms by simply selecting the fields you need and sliding them into the order you want in a snap.