A Powerful, Focused WordPress Backup Plugin to Help You Protect Your Website
You're looking for a tool to protect your site. We can help. BoldGrid Backup comes with automated remote backups, tools to restore your site even if your WordPress installation is corrupt, the ability to automatically roll back failed updates and more.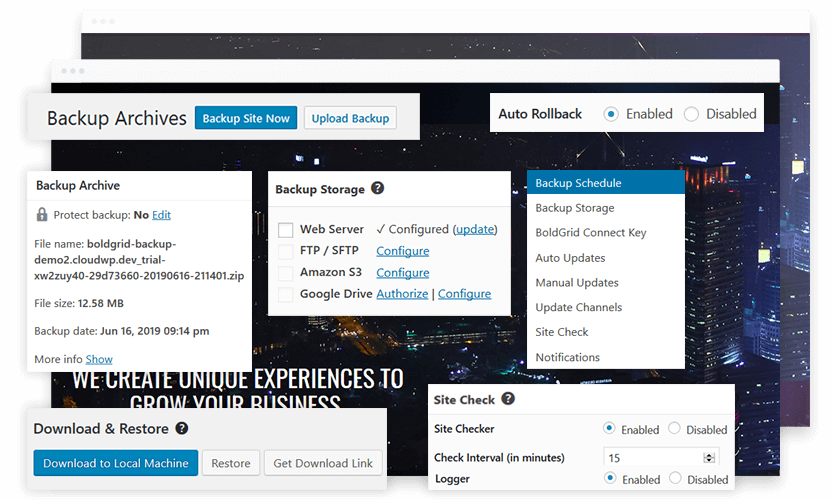 Partners & Supporters
Protect
Automated, powerful tools to ensure you always have a clean backup.
Easy, Automated Backups
Simply select a date and time for automated backups, or manually create a backup at any time with a single click.
Remote Backups to S3 and Google Drive
Safely store backups remotely via Amazon S3, Google Drive, or FTP / SFTP. Works with the automatic backup feature.
Safe, Consistent Backups
BoldGrid Backup checks to ensure your web hosting account offers necessary support, ensuring the integrity of your backups.
One License, Unlimited Websites.
Prevent
Toolset to prevent website crashes from happening in the first place.
Site Check
Monitors your site for errors that could lead to a site crash. If an error is detected, you'll receive an email with the option to auto restore your site to your latest backup.
Automated Site Protection
BoldGrid Backup will automatically create an archive before theme or plugin updates and will restore the last backup if an update fails.
Save a Copy Before Updating
When using the WordPress Plugin Editor function, Backup Premium will save a copy of the original file, just in case you need to undo any changes you make.
"My website and hosting account got hacked, so I couldn't trust any of the local backups. With BoldGrid Backup Premium's remote backup feature, I was able to grab a clean archive from Amazon S3 and restore my site in an hour. It saved my business."
– Nemania Vujatovic, eCommerce Store Owner
Prepare
Get your site back online within a few hours if the worst occurs.
Easy Site Migration
Install BoldGrid Backup on both websites, create a backup archive on the first site, then restore that backup on your second site. Use our "magic link" to automate the process.
Fix Crashed Websites
Use our restoration script from the command line to restore a backup from outside of WordPress in the event WordPress itself has been corrupted.
File Browsers
Backup Premium gives you the option to restore a single file within the backup browser. You can also search through all backup archives for a particular file and restore that individual file if necessary.
Backup Premium
Powerful & Easy to Use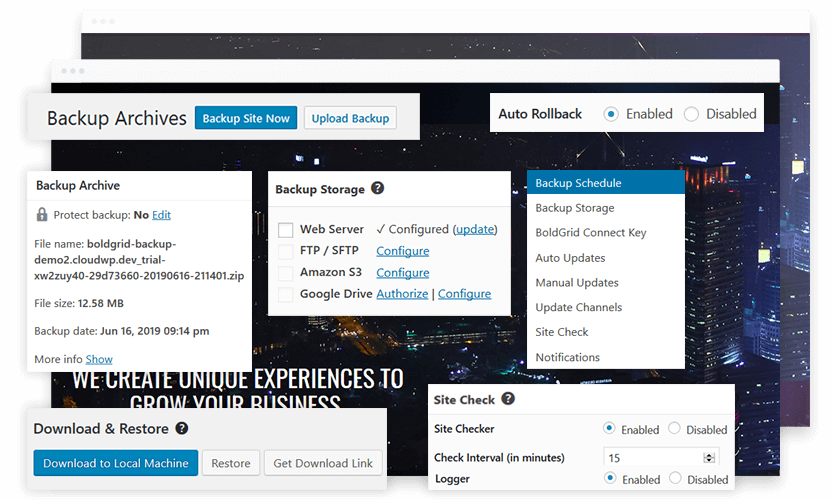 BoldGrid Backup is an automated backup, fault protection, and migration solution that allows you to secure, restore, or move your website with ease.
Google Drive & Amazon S3 Support
Update History
Individual File Restorations
Update History
The Backup Premium Plugin is also available as part of the suite of plugins, tools and services activated by the BoldGrid Premium Connect Key.
Try BoldGrid Backup for Free
There are two ways to try BoldGrid Backup for free. You can download our FREE Community Edition and install on your personal or business website, or you can use Cloud WordPress to install it on a demo installation. If you use the Cloud WordPress option and you like what you see, either upgrade to premium, or come back and download the community version!
Download From the WordPress Repo
Free BoldGrid Central signup required