The WordPress Website Builder Advantage
WordPress powers 30% of the web. WordPress provides advantages for designers and developers over typical WYSIWYG site builders, as they can limit design choices, offer a limited number of templates, dictate where your site can be hosted, and charge hefty add-on fees for various website features.
Why Use WordPress + BoldGrid Then?
WordPress can indeed be a great place to begin, but if you have little coding or design experience, it can quickly become confusing and frustrating.
BoldGrid circumvents the steep learning curve innate with WordPress by making it intuitive and easier to use with features like drag and drop design, free pre-built themes, and more.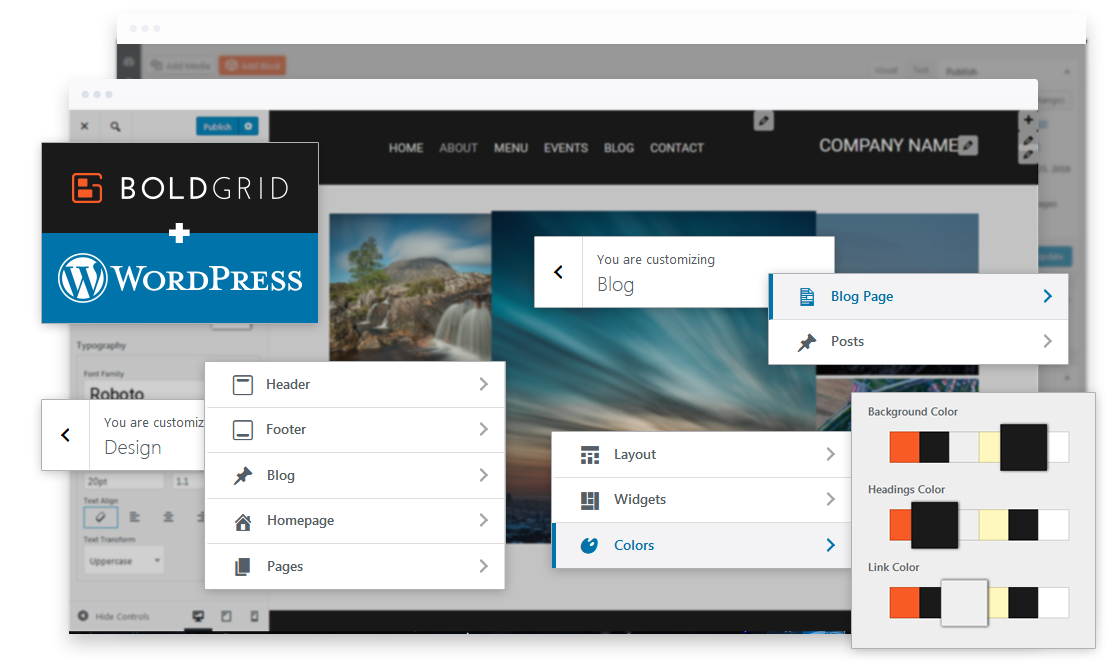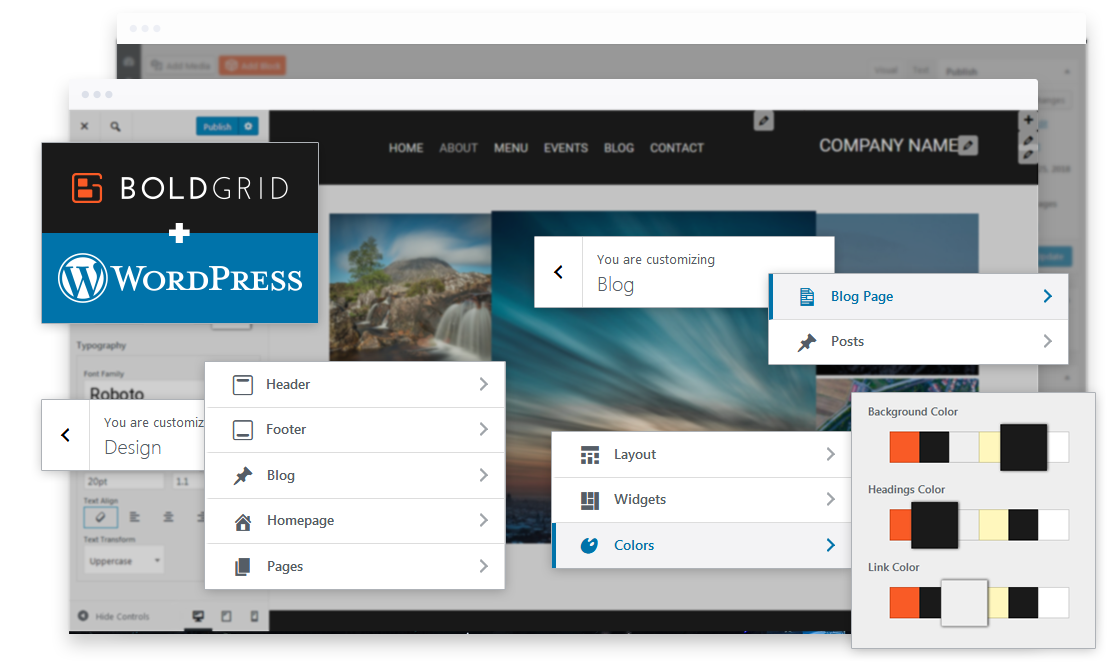 Making WordPress an Easy Website Builder
Drag and Drop Editor
What you see is what you get
Easy to use Post and Page Builder. Drag and drop to change your page content. We have created various content layouts called Blocks to save you time. Quickly swap out images, text, videos, Blocks and more!
Themes Customizer
Change colors, layout, images, and more
BoldGrid makes it simple to change your layout or color scheme. Use premade color palettes or customize your own. Choose background images or patterns to fit your taste. Fast logo changes and more with BoldGrid's customizer.
Mobile Friendly Themes
Look great on any device
BoldGrid themes are optimized for mobile viewing right out-of-the-box. The Grid system ensures your designs stay responsive. You even have mobile editing views so you can make changes specific to mobile devices.
Built-in, Real Time SEO Analysis
The WordPress SEO plugin by BoldGrid analyzes your page content in real-time and makes recommendations to help you maintain best SEO practices while writing content. You just have to set your target keyword or phrase and the BoldGrid SEO dashboard will update your stats on all important on-page SEO factors.
Supported on 1000+ Hosts
BoldGrid is compatible with almost any web host that works with WordPress. If you're searching for a host, BoldGrid also offers a list of supporting hosting companies that offer an easy way to quickly get started with BoldGrid.
Access to Cloud WordPress
Cloud WordPress allows you to create WordPress installations in the BoldGrid cloud. Use it to try new plugins, create temporary sites or customize themes without editing your primary WordPress website. Administer your Cloud WordPress sites from within BoldGrid Central.
Free WordPress Themes and Content
WordPress Themes designed for BoldGrid are turn-key website solutions
More Than Just Templates
Your site looks great right from the start
BoldGrid already includes professionally designed custom themes for you to use for free. Most site builders offer templates that look great until you actually try to use one and realize the images and content are what help make the templates look great. Restoring that template to its "preview glory" proves nearly impossible for most users.
Free and Premium Content Included
Preconfigured with content that is relevant to you
Start with a professionally pre-built website, not a blank slate. Each BoldGrid theme is installed exactly as you see it; complete with professional photography and example content based on an industry or topic of your choosing.
Why Choose BoldGrid?
Be bolder than other WYSIWYG website builders
Complete Ownership of Websites
Unlike other popular drag and drop site builders, you actually own the site you create with BoldGrid. All included text and images in BoldGrid themes are yours to use. And you can host your BoldGrid created website anywhere.
Limitless Website Features
Even if the feature you need to have on your site is not native to your BoldGrid theme, the WordPress plugin community has you covered. You can still make use of the WordPress plugin repository for further customization.
Full Hosting Support
BoldGrid comes pre-installed and ready for use when you host with an Official BoldGrid Host. And unlike with other site builders, Official BoldGrid Hosts offer real Technical Support as needed.
The BoldGrid Advantage
Compare BoldGrid to other WYSIWYG website builders
BoldGrid
Visual Composer
LayersWP Pro
Divi
Beaver Builder
Cost
$60
$34
$59
$89
$99
Number of Themes
Thousands *
1
15
6
30-50
Drag and Drop Interface
Unlimited Pages
WooCommerce Compatible
Integrated Forms Functionality
Developer Friendly

BoldGrid offers full source code access on GitHub, as well as complete developer documentation to assist with the creation of themes, extensions and other modifications.

–
–
BoldGrid is NOT Your Average Post and Page Builder
BoldGrid comes equipped with all the plugins you need to build secure and powerful WordPress websites. Never worry about digging through the massive WordPress repository to build a patchwork of questionable plugins that may not be compatible.
Included Premium SEO Plugin
–
–
–
–
Advanced Blogging and Post Building

BoldGrid allows bloggers to build posts using an intuitive rich text editor. Bloggers can also easily re-purpose previously developed content layouts.

–
–
–
–
Included Premium Backup Plugin
–
–
–
–
Advanced Image Editing

With BoldGrid, edit your images directly in the browser without using any third-party software.

–
–
–
–
API Integration with Premium Image Services

BoldGrid connects your media library to professional and creative commons image libraries giving you direct access to an endless amount of free and premium images to search yourself.

–
–
–
–
Access to Unlimited Premium Themes

Get unlimited access to our library of beautiful, professional themes and download as many as you want – all for the price of one.

–
–
–
–
Access to Premium Blocks
–
–
–
–