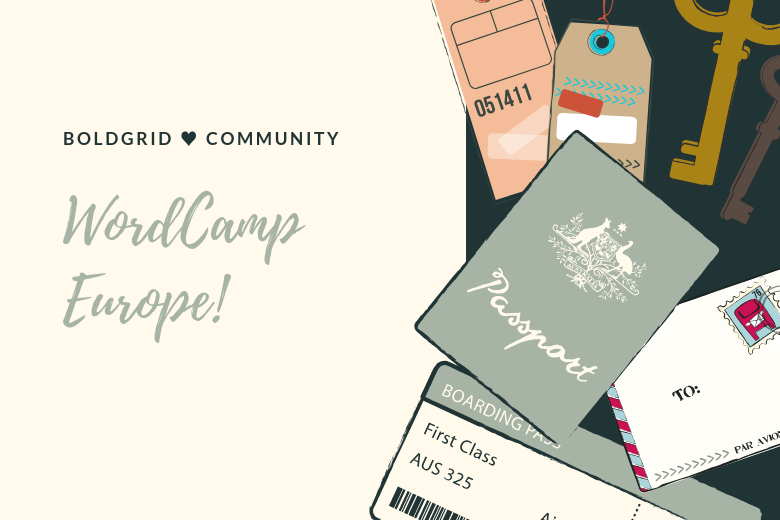 BoldGrid ♥ Community at WordCamp Europe
WordCamp Europe Recap
This weekend, our community manager Jesse Owens and our open source evangelist Mike Demo headed to Berlin for WordCamp Europe.
Demo and Jesse had an opportunity to interview Marcel about his walk a few weeks ago on the BoldLife Podcast.
WP D&D
Wednesday evening, Demo and Jesse joined a party of brave adventurers to rescue a small medieval village from a vile creature of darkness.
Organized by Dungeonmaster Luc Princen, and accompanied by Carole Olinger, Alain Schlesser, Andrey Savchenko, Sergey Biryukov, and David Mosterd.
Demo (Ranger) and Jesse (Monk) began to feel the effects of their overnight travel, so they (heroically) sacrificed themselves battling evil and retired for the evening.
Contributor Day
Jesse volunteered to lead the Training Team's table for Contributor Day, as the team worked to complete a lesson plan curriculum. The day was a phenomenal success all around, as 167 new contributors, over 230 experienced contributors, and 34 team leads gathered to make WordPress better.
Mullenweg Speaks on Gutenberg
Matt Mullenweg's keynote talk about the present state and future of the (Gutenberg) WordPress Editor was delightful, informative, and packed to the gills.
Coffee Break
BoldGrid's sponsorship this year was the Coffee Break sponsorship, where along with WPMU Dev we treated the community to coffee, pastries, and other refreshments just after Matt Mullenweg's keynote. In past years this sponsorship typically included branded disposable coffee mugs, but in order to meet the organizing team's goal of reducing the environmental impact of the event, we opted instead for napkins, sugar packets, and a banner.
What Does Community Mean?
In this author's opinion, one of the best talks of the weekend was Joomla Co-Founder Brian Teeman's The Power of Free.
In it, he went in-depth about what it really means to have the freedom of community in an open-source project. Particularly interesting is his explanation regarding the use of the word "Free" in Free Open Source Software when it should more accurately be "Freedom."
Official Afterparty
At the 80's-themed afterparty, Demo and Jesse got into the 80's vibe by interviewing members of the WordPress community on a Cassette Tape recorder. Yes, a real one. And they turned it into a Podcast.
Looking Forward
We're looking forward to sponsoring WordCamp US in November this year, and we're especially looking forward to visiting the amazing location for next year's WordCamp Europe- Porto, Portugal.
We're also in the process of producing a mini-documentary about our experience at WordCamp Europe this year, look forward to it coming soon!