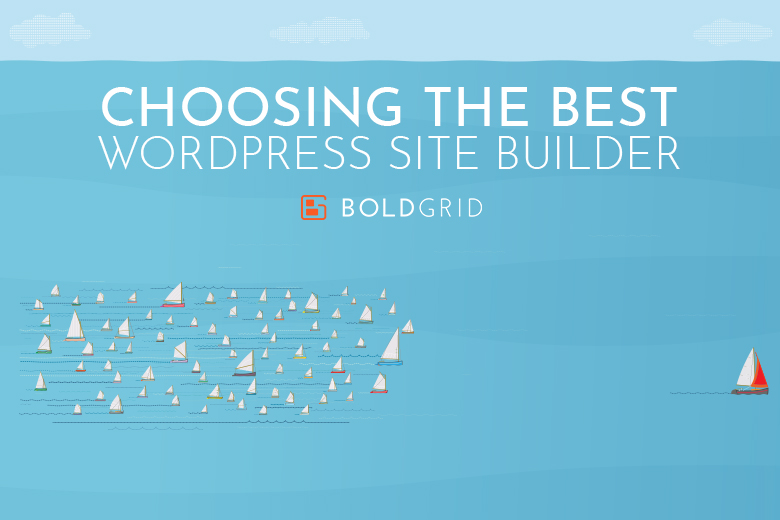 Choosing the Best WordPress Site Builder
Fact: A WordPress site builder is the fastest, easiest way to DIY your own website.
Let's face it, unless you have prior coding experience, creating a website from scratch can feel downright impossible. Just put one period in the wrong spot and – Boom! – the formatting of your entire page is thrown off. And, trust us, nothing is more frustrating than spending hours trying to figure out where you made a coding mistake.
Luckily, website builders make the process fast, easy, and fun – with no coding experience necessary!
There are dozens of different website builder options available today, each with its pros and cons. In this article, we're going to discuss understanding your website's needs and choosing the right builder to fit the job.
Now let's get going!
Why Use a Website Builder?
Let's start with the basics: Why would anyone want to use a WordPress website builder versus, say, hiring someone to design the site? In a nutshell: Hiring a web design professional can get quite pricey, and most new business owners are on a tight budget.
Using a website builder is a far more economical option – plus, it gives you total creative control, allowing you to customize design and functionality however you see fit. Here are some other benefits:
No coding required:

Website builders are designed for absolute beginners and they make everything as easy as possible. Most use a drag-and-drop format, allowing the user to simply choose the elements they'd like to include – from menus to images to text – and drop them onto the page with a simple click of the mouse.

Easy access from anywhere:

Because website builders are internet-based, you can access them from any computer or device you're working on, so making changes on the fly is easy.

No design experience needed:

Don't have an artistic bone in your body? No worries! Professionally designed templates make designing your site a breeze. All of the elements are already there, from color palettes to pre-formatted content blocks.

Your site can be online within hours:

Because many of the elements included with a website builder are pre-designed or formatted, and the drag-and-drop is so simple to do, your website can be ready and online within a matter of hours.
How Do I Choose the Best Website Creator?
Most website creators come with the same basic elements listed above. The key to choosing the BEST WordPress website builder is understanding your business and what your website will require.
Some questions to ask yourself include:
Does the website builder offer templates appropriate for my industry?
Will the pre-formatted content appeal to my audience?
Can I customize features such as color palette, font, and menus?
Does my website require special add-ons, like a shopping cart or an image gallery?
You may find that some builders, while they offer all of the basics, don't let you customize beyond what's already provided.
Why Choose BoldGrid?
BoldGrid for WordPress is a simple all-in-one website builder that is appropriate for ALL businesses. Some of our favorite features include:
200+ included website templates ensure that you find a design that is perfectly suited to your industry.
Pre-written content (created by industry experts) makes it easy to find something appropriate for your audience – tweak it to make it your own.
A simple drag-and-drop editor easily makes changes across the whole site or page-by-page.
An included SEO tool analyzes your content in real time, giving suggestions for improvements.
You can easily create and add dozens of different forms.
All designs are mobile-responsive – which means your site will look great no matter where your audience is logging on.
A WordPress Site Builder That Does It All
A WordPress site builder will make the process of creating your new website fast and easy. BoldGrid is hands-down the best choice for both ease and functionality, plus it's appropriate for ANY industry. If you'd like to learn more about how you can use BoldGrid to create your new business website (and totally blow the competition out of the water), reach out today to speak to one of our knowledgeable service reps.