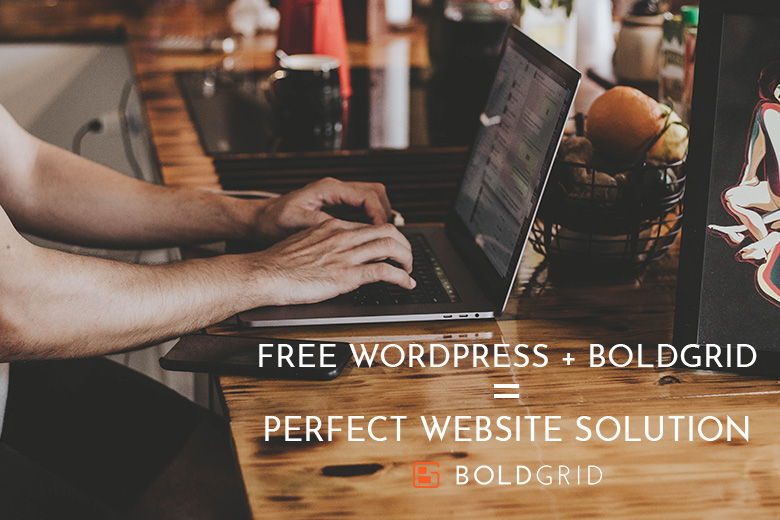 Free WordPress + BoldGrid = Perfect Website Solution
There is a lot of noise online when it comes to website building tools and solutions. It can be difficult for someone looking to build a website to make a decision on the best approach. A free WordPress page seems like a no-brainer as this open-source software is so widely popular among both new and seasoned web developers already. In fact, WordPress is already being utilized by over 60 million websites! That's an impressive statistic to consider when building your own spot on the web.
However, unless you are already experienced with web development, building a WordPress website comes with a learning curve. That's where BoldGrid comes in! We saw the struggle from folks seeking to build their own website, and their frustration in terms of learning curve and features, so we built an easy to use platform in response.
Do You Need to Know Coding?
Nope, absolutely not. Boldgrid is a drag-and-drop website builder with you in mind. No coding knowledge or experience required to build a beautiful and functional free WordPress website. Our Page and Post Builder uses blocks to auto-generate your various page sections to fill with your content, creating a web design that looks like a professional did it for you. No more worrying about HTML, resizing images or editing photos – our blocks were designed to help you create in an instant.
Do We Need a Graphic Designer?
Boldgrid has over 200+ customizable website templates ready for you to try. We have organized them by both industry and interest and our tool guides you through the set-up phase to assist in populating all the template elements. If you can use your computer and your mouse, you can use BoldGrid to build your site. You'll be inspired by your own creativity and visitors will be impressed with your website creation abilities.
Do We Have to Start from Scratch?
If you have a current website that you'd like to migrate to WordPress, we have your back. Our Total Upkeep plugin is easy to use and is included in your annual BoldGrid subscription. Secure your site, restore it or move it easily and without fear. Not sure if you want to move your site to WordPress, try out our free demo before you commit.
What Happens After the Site is Built?
Building a super-appealing and easy to navigate website is the first step, but what happens once you launch? With our product you also get BoldGrid SEO, a tool for analyzing your web content and recommending the best SEO practices so that your site gets found. Rank higher in the search engines so that the world can see the stunning website you've built.
Will This Work for Web Designers?
Just because this tool was designed to make web design more accessible, doesn't mean that we've left those experienced with web development out in the cold. BoldGrid Crio is our own WordPress supertheme built specifically with web designers and developers in mind. Crio is intuitive, easy to use and has some stellar back-end customization features that we feel are pretty powerful. Want to know more about Crio? Try it for free here.
We saw the need for people to quickly and easily create and manage professional WordPress websites so we built BoldGrid in response to that need.
Finally, a website creation tool that takes the pain out of creating a website without diminishing the design quality or functionality!
Boldgrid is a complete end-to-end powered solution for anyone seeking to build their website on the free WordPress platform. It's affordable too! For one low annual subscription, you get all the features mentioned above to create professional websites without all the hassle. Find out more about our solution to building easy websites by visiting BoldGrid.com.