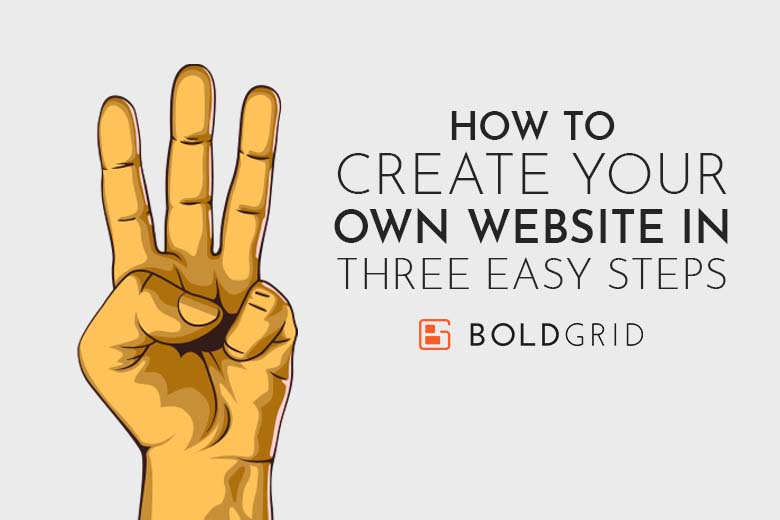 How to Create Your Own Website in Three Easy Steps
Looking into how to create your own website this year? Been wondering how difficult it might be to get started as a web designer? These are quality questions for anyone hoping to claim their own corner of the Internet.
In the past, building a website was a complicated endeavor that required the assistance of someone who understood web development–and had coding skills. Today, that's no longer necessary to create a functional and professional website. We are going to break down the web creation process for you into three steps.
Domain Name
The first thing you need to do is claim your domain name. Picking the right domain name is important as it will be the address you use to direct people to your site. If the name is too long, too complicated, or too hard to remember folks will have a hard time locating your website.
The other challenge is that many domain names have already been registered which means you could need to get creative to come up with a name that isn't already claimed by someone else. The good news is that you are no longer limited to .com or .net sites as many more options have become available (such as .biz or .info).
Once you are ready to pull the trigger on your name, you'll need to claim it by purchasing the domain. Our domain name registration can be purchased on its own or you can get your domain for free by bundling it with our web hosting.
Website Builder
The next step in learning how to create your website is to find the right website builder. Unless you are a web designer already, you'll be seeking a WYSIWYG (What You See Is What You Get) or Drag and Drop website builder.
These tools allow people who have no experience in web design or development to quickly and easily build a quality website that is easy to navigate, attractive to visit, and filled with just the right content.
There are many options to choose from when it comes to a website builder but we are partial to our BoldGrid Post and Page Builder. Pick a theme you like and start dragging and dropping images and copywriting right away.
No one will ever know that a professional web developer didn't have a hand in building your site. Feel free to try out our website builder with our free WordPress demo before making your decision.
Web Hosting
Once you have your domain name and you've built a site you love, you'll need to pick a web hosting provider to officially publish your page and go live. If you build a basic WordPress website (and we recommend that you do), then our WordPress Hosting is the perfect solution to get you going with ultra-fast speed, free data backups, and protection from hacking and malware attempts.
That's it! Those are the three steps you'll need to take to get your idea from dream stage to fully published on the Internet. If you are a big fan of package deals, our Website Creator package automatically bundles the BoldGrid website builder and WordPress web hosting, and includes a free domain name.
Let InMotion Hosting be your one stop shop for learning how to create your own website and get it ready for the world to start visiting. Whether it's a personal page, fan page, community page, non-profit site or business website, we've got you covered from start to finish. No longer be intimidated by the idea of building your own website. We've made the process easy for you!