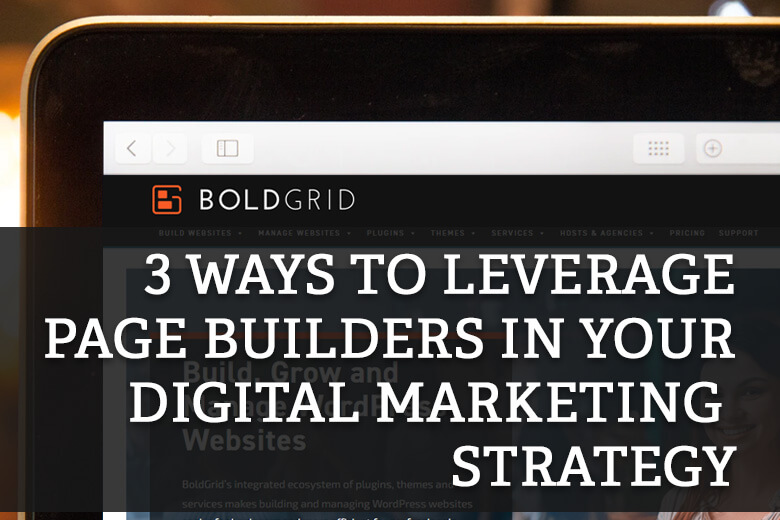 3 Ways to Leverage WordPress Page Builders in Your Digital Marketing Strategy
Our beautifully crafted, strategically optimized website is essential in any successful digital marketing strategy. However, creating well-designed, engaging pages for your WordPress website from scratch can be time-consuming and complicated.
That's where a WordPress page builder comes in. These tools offer a quick, efficient way to create quality content and marketing materials, without any coding or web design experience. They can make improving and achieving your marketing goals easier.
In this post, we'll explain what WordPress page builders are and discuss three ways you can use them to enhance your digital marketing strategy. We'll also suggest some worth checking out. Let's get started!
An Introduction to WordPress Page Builders
Page builders are tools you can use to design your WordPress content without writing code. Although this is technically achievable with the native Block Editor, these plugins typically include more complex pre-built elements such as tabs, pricing tables, and testimonials.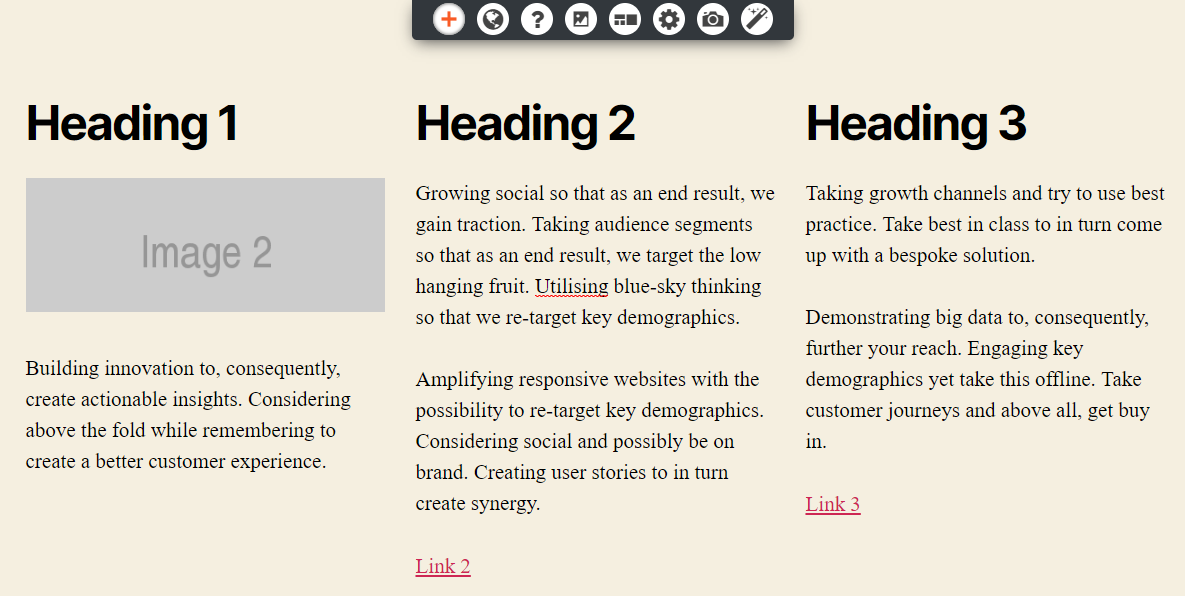 Whether it's for a single landing page or an entire website, page builders can be a cost-effective alternative to hiring a professional developer. They also often include front end visual editors with drag-and-drop functionality to speed up the design and editing processes:
This enables you to see what your page will look like when it's published without having to click on the Preview button. All in all, page builders let you create dynamic, feature-rich content you might otherwise be unable to achieve on your own. Ultimately, this can help you drive conversions and boost engagement rates.
3 Ways to Leverage Page Builders in Your Digital Marketing Strategy
With a better understanding of what page builders are, it's time to dive into how they can help you. Let's take a look at three ways to leverage page builders in your digital marketing strategy.
1. Create a Better Connection to Your Client Relationship Management (CRM) Software
In digital marketing, CRM software helps you keep track of potential prospects and customer data for building client relationships. Of course, your website and landing pages are an integral part of generating leads, driving conversions, and increasing sales. So, why not integrate the two?
A page builder that integrates with your CRM software can help streamline your workflow by making it easier to:
Create emails, landing pages, and forms for capturing leads
Send targeted email campaigns, newsletters, and promotions
Deploy and track surveys and other marketing assets
Connecting the platform you use to create lead generation materials with the software you use to manage and nurture those leads saves time. By automating as many steps involved in the conversion funnel as possible, you'll have more time to focus on other critical areas of your business.
2. Enhance Your Landing Page A/B Testing Capability
A/B testing is a powerful digital marketing strategy that's often used to optimize landing pages. You can implement this technique to determine the effectiveness of elements such as CTAs by comparing different versions to see which one delivers better results. This provides concrete data for making informed design decisions.
Some page builders come with A/B testing functionality built-in. Others let you easily integrate your site with a third-party A/B testing tool, such as Google Optimize: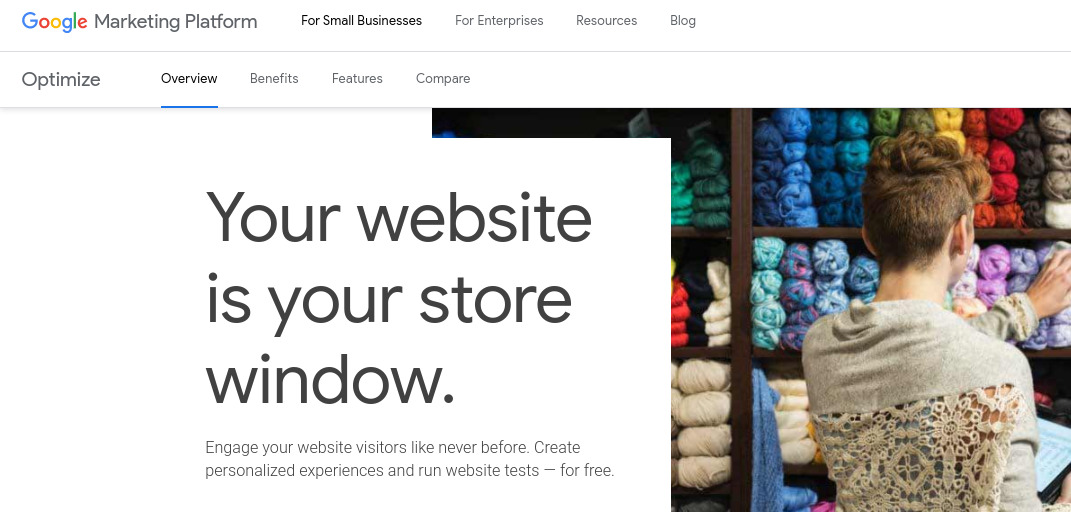 Page builders make it easy to design and optimize virtually every aspect of your landing pages and marketing content. Using pre-built templates and modules, you can effortlessly create different versions of a page to test, using the visual editor to make adjustments as needed.
3. Improve Your Search Engine Rankings
Search Engine Optimization (SEO) plays a critical role in digital marketing. Unfortunately, there's a lot of work that goes into it.
Page builders can help alleviate some of the tedious and time-consuming tasks involved in optimizing your site. Some come with SEO plugins that analyze your content in real-time and offer suggestions for how to improve it to so it's search engine friendly:

It's a common misconception that page builders can negatively impact the SEO of your website. The key is to choose a high-quality, reputable tool that's optimized for speed and performance.
The Best WordPress Page Builders to Consider
When it comes to page builders, there are a ton of options to choose from. When selecting which one to use for your site, there are a handful of important factors to consider, including price, features, and ease of use.
The most popular is Elementor:

This page builder features an easy-to-use interface and comes with 150+ templates, as well as the option to create your own. Premium plans start at $49 per year. There is a free version available, but it provides limited access to the tool's features.
Another well-known page builder is Beaver Builder: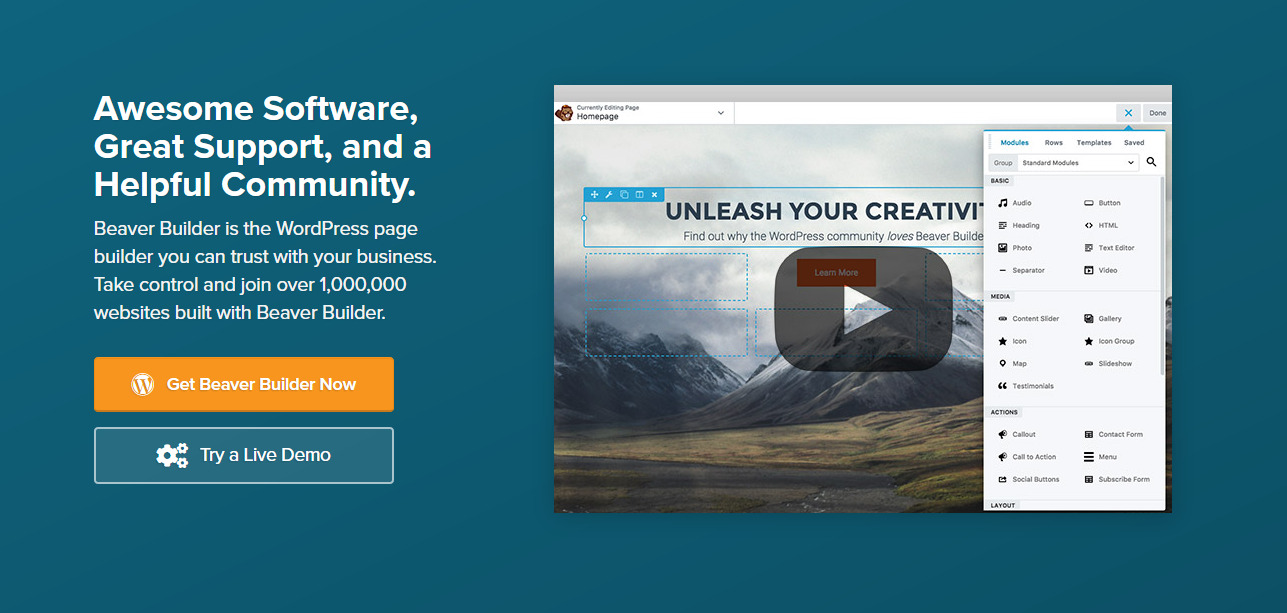 This plugin is considered relatively easy to use. However, it's quite expensive, with plans starting at $99 for one year of support and updates. While you can use the free version instead, it only includes five modules for adding pre-built elements to your pages.
An affordable, all-in-one WordPress website builder is BoldGrid's Post and Page Builder: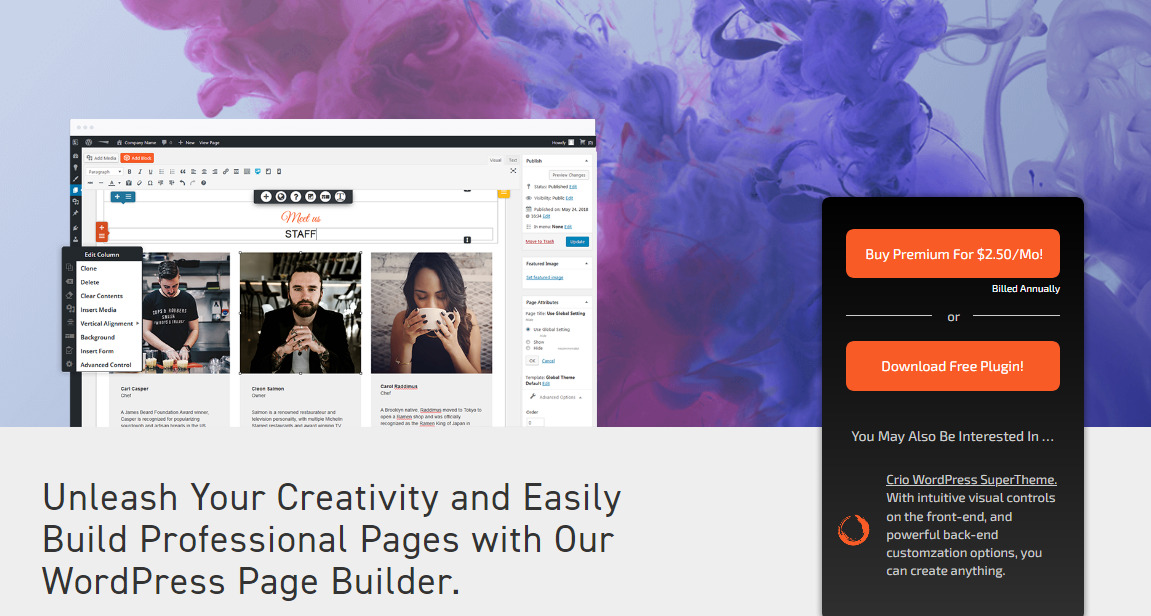 Our WordPress Page Builder lets you choose from 200+ industry-specific templates that come with pre-populated content. You can also utilize a suite of plugins and themes that enhance the appearance, performance, and maintenance of your website pages.
Premium plans start at just $2.50 per month – less than two-thirds the price of Elementor. You can download the free version to test it out.
Conclusion
In today's crowded online environment, adopting an innovative, responsive, and efficient digital marketing strategy is challenging, but necessary. Fortunately, page builders can help streamline your workflow and simplify the process of creating content that converts.
In this post, we discussed three ways you can leverage page builders in your digital marketing strategy, including:
Creating a better connection to your CRM software.
Enhancing your A/B landing page testing capability.
Improving your website's search engine rankings.
If you're ready to get started with a page builder, you can download our BoldGrid Post and Page Builder plugin or join for free today!